Tools & Materials to Install or Replace Interior Doors
Posted:
February 13, 2020
|
|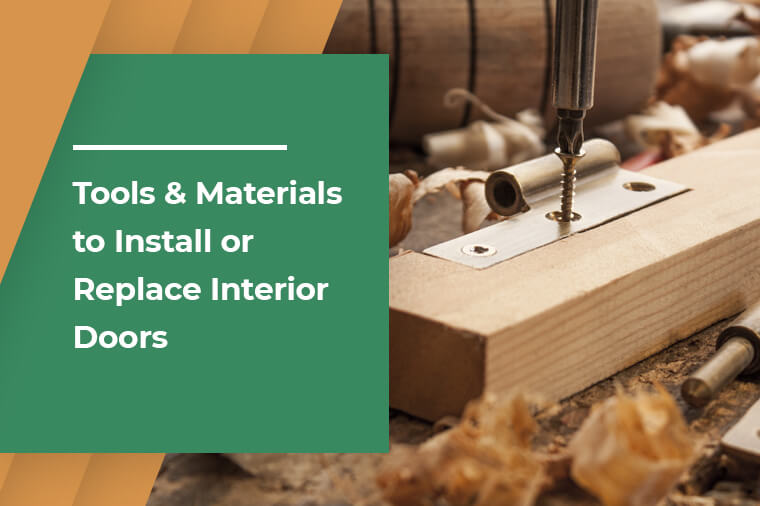 Installing or replacing interior doors is a bit tricky but not if you know what you use and how. Use your old door as a template when you install a new one. Before removing the old door mark ten inches up from the floor on the wall as a reference marker. There are several hardware tools you will have to use. Here are some.
Drills and Drivers
Drills are mainly used for punching holes in the wall or the wood. It can be used to make screw holes. A drill or driver has a keyless chuck, which accepts a wide number of round and hex shank drill bits. It also holds hole saws and rotary sanders for easy sanding. These units also come with a slip clutch so that you can adjust the torque enabling precise and constant screwing. An impact driver is also a very useful device but instead of just drilling it also punches the wall. This helps in quicker results and on tougher surfaces. It has a collet, which accepts hex shank driver bits. It can be used to drive long screws. This includes fat lag screws as well.
Circular Saw
This device helps you to cut the wood or trim it. It also clamps the material to be cut in a secure manner with the saw advancing slowly enabling you to get very precise cuts. The saw makes the cut using wither the edge of the clade or by an abrasive wheel. The cut is also narrow kerf and relatively smooth. Accurate cuts are possible due to the clamping mechanism. Address the burrs, which are left on the side of the material with sandpaper before you proceed to the next step.
Door Hinges
A door hinge is a very important part of any door. It keeps the piece of the door in place and is directly responsible for the opening and closing. It gives the door support. They work as the fulcrum and offer mobility to the door. Too much tension on it can affect the door closing and opening and too little tension can make it too loose to close. There is a variety of door hinges you can try out in the market. But ensure that you use a six both door hinge for efficient weight distribution.
Which lock to go for
The lockset of your door is the most important part since it controls the safety of the house. In case you wish to buy a lock make sure that you go through your options and pick one, which is secure for your house. These locks come in different types and all cost differently. Get a pro to fic the lock as it is much harder than fixing the actual interior door. If the lock is electronic it will also require circuitry.
Knob Locks
Knob locks are the most common type of door lock used in garages, patios, rooms and virtually anywhere. These have locks on knobs on each side of the door. One side has a lock and the other a keyhole. This is used to unlock the lock from outside as the body of the lock is inside.
Lever-handle locks
Commonly found on interior doors lever handle locks feel really nice. They are easier to access and most lever handle locks don't require keys. Locking is done through a push or twist on the inside face. They are not very hard to break open hence shouldn't be used on main doors.
Deadbolt locks
Deadbolt locks are the most secure and inexpensive common front lock. They use a metal bolt, which slides into the door jam. A latch within a door and a keyhole on the outside control the bolt. Four types of deadbolt locks are available Single deadbolts, double deadbolt locks, Jimmy proof deadbolts, and Captive deadbolts.
Keyless entry pads
These electronically controlled keyless locks are opened using a numbered code. Most have a number keypad where a code is set. These locks are much more expensive but they are virtually impossible to break into. They either feature the keypad numbered system of the card or tag system. Existing locks can also be replaced with a keyless keypad lock.