Things to Know About MDF Interior Doors – Basics, Benefits and Maintenance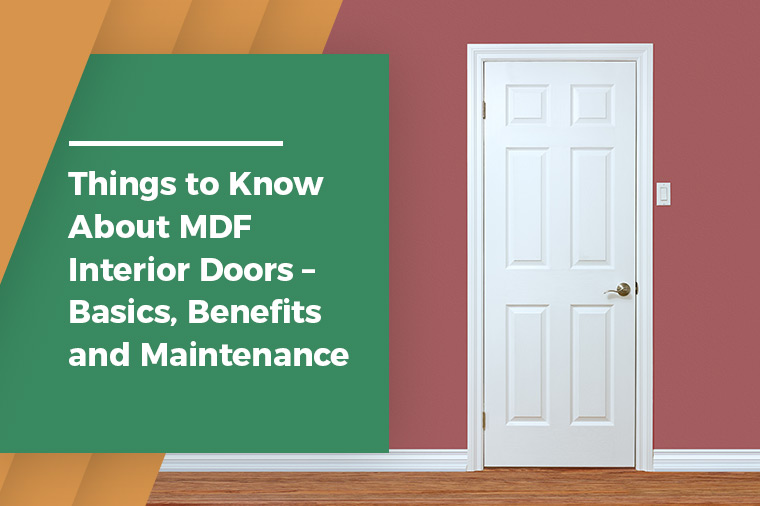 On the surface, selecting the most appealing and the suitable interior door may seem similar to choosing a design, but there's substantially more to the task. Doors not only act as room separators, but also play the role of noise controller and privacy provider. MDF doors are built of a medium-density fiberboard, which is a processed wood product, and are usually applied in paint-grade applications. MDF doors are superior in terms of quality compared to molded doors and can be apportioned for the purpose of constructing vertical panels and rails. They may be built as a full door or in concert with wood. MDF wood affords the profile of a door with a crisper touch than a molded door, and it highly resembles a wood door once painted. MDF doors are also substantially heavier than other doors while delivering a superior level of privacy and noise control. Given all the advantages they provide – and their affordability --MMF doors are often considered to be the best home interior doors.
Basics of MDF Interior Doors
Usually, in the construction sector, it's common practice to discard almost one-third of a tree's bark when processing it to solid lumber. Beginning in 1966, some New York manufacturers started using the leftover wood scraps to develop a wood-like composite, a development that led to the creation of MDF, which utilizes up to 95 percent of the tree's bark.
MDF is the by-product of the remains of a tree that is left out of solid lumber creation, which includes planer shavings and sawdust. Of late, many manufacturers have taken to fusing some other organic materials -- like post-consumer recycled wood and wheat -- to create MDF doors. This has refined the doors by providing offering a more uniform and sleek surface. This entire process is completed in just a couple of days, at which point the MDF is ready for a variety of uses.
Benefits of MDF Interior Doors
MDF's numerous benefits make it a highly popular choice. It is easy to shape, and, unlike wood, it does not contain knots, making its surface smooth and spotless. Additionally, MDF interior doors are considered to be much sleeker, uniform and simpler to clean and maintain than other types of doors. MDF doors can also be easily painted and finished. Furthermore, they are very receptive to a faux wood finish, which adds a more elegant look.
Additional benefits include durability, strength and sturdiness. MDF doors are known for resisting denting, deforming, rotting, and other types of damage that standard wood doors are typically susceptible to. MDF doors are awesome sound resistant, giving you enough privacy at every corner of your house. They are fabricated from sustainable material and leftover wood products, rendering them thoroughly eco-friendly.
Maintenance for MDF Doors
MDF doors are actually quite simple to maintain and are cleaner than solid wood doors, as they are free from rotting, warping and other types of damage. Additionally, their sturdy fabrication means that maintenance is typically limited to a fresh coat of paint or finish, along with occasional cleaning with a damp cloth.
An Affordable and Sustainable Choice for your Home
MDF interior doors are a great choice for your home due to their affordability and sustainability. They are essentially maintenance-free and serve as a long-term, reliable option. They are easy to paint and finish as well, giving them an elegant and delicate appearance.
Medium-density fiberboard, which is also termed as MDF, is composed of the leftover tree scraps that are widely used in home construction. In MDF, carpenters have perfectly created a cheap and durable substitute for wood doors for your home. So, if you are planning to build or renovate your house in Miami, Florida Lumber's quality MDF interior doors are your optimal choice.