Should Door Knobs Hardware match throughout the House?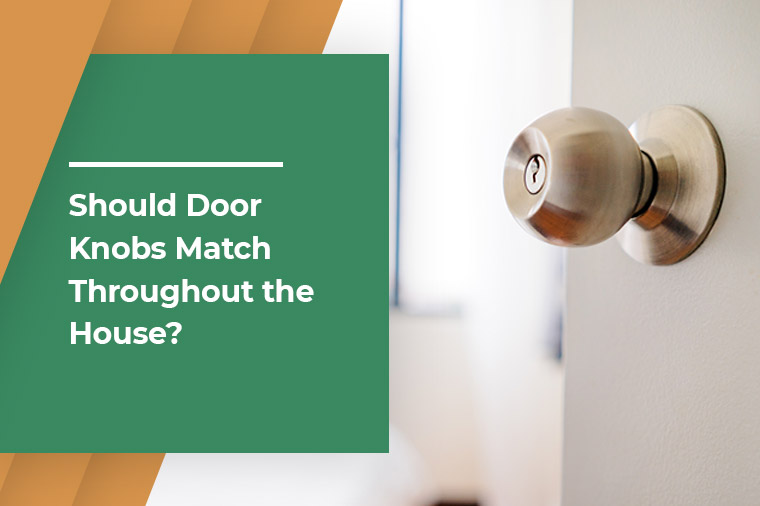 Are you planning to redecorate your home or replace the doorknobs in its rooms? Yet, you aren't certain whether you should keep the same doorknobs all through the house? This blog talks about where to fall back on when you're in such a fix.
Every homeowner can carefully mull over while deciding whether to keep the same door knobs everywhere in the house. But, sadly there's no clear-cut answer. The whole jig is all about maintaining the balance and aesthetics of your home.
Should door knobs match throughout the house?
When it comes to any facet of decorating a house, the decision should hinge mainly on design, practicality, and individual preference.
Every room in a house is different. Each of them will have its design scheme, color, and style. Having said that, you still normally find some commonality pervading all through space.
Regardless of the theme defined in each room, the home in its entirety has the same primary theme with certain personal touches added here and there to make sure each room looks dissimilar.
As far as matching all doorknobs are concerned, the idea can be a bit over the top, in particular, if the house has more than one story. As an example, downstairs door knobs may not be identical to those upstairs. Amid such a scenario, you can choose a specific yet different type of door handles for your bedrooms and bathrooms. Like that, an element of consistency can still be maintained.
Over time, this design format has gained popularity as it caters to public needs in general. Here, the majority of doorknobs in your home will complement one another.
But, inside the room interiors, for example, kitchen and bathroom, the doorknobs may have a difference in finish. Even though their design may remain the same, you can settle on two separate colors for the inside and outside of the room.
Thus, while approaching a room from the outer side, the door hardware will match the rest. Once the door is closed behind, its interior color will conform with the overall style of the room. In this way, the setup of the interior and exterior won't crash.
This particular option doesn't come up with a mandate to keep matching door knobs all across. For instance, you may find an amalgam of styles that round off the theme in your home. In the case of modern homes, the choices of stainless steel, chrome, or nickel come handy.
On the contrary, to add a more traditional, rustic touch, you can search for doorknobs of appropriate design and those made of wrought iron or antique brass. In this manner, the hardware is suitable for all rooms besides in line with the overall style and design concept.
In case you fail to come across a selection of door hardware that has caught your fascination, you can opt for mixing and matching techniques by adhering to the following simple rules and make certain there are noticeable uniformity and coordination.
Keep consistency with the same finish be it polished nickel or oil-rubbed bronze. As for light fixtures or cabinet hardware you can play a bit by choosing a different finish. However, see to it all pieces of door hardware have the same finish for keeping up coherence and consistency.
Paying attention to size is another important aspect that calls for consideration. Make sure every selection you choose has a similar size. Surely, you wouldn't want a few items of door hardware sticking out in oversize while having others look diminutive.
Additional read: DOOR HARDWARE PARTS TO KNOW BEFORE UPGRADING IT
Reasons for matching
Occasionally, you may find people coming up with their individual preferences to ensure the doorknobs match perfectly all through the house. This makes things simpler as you don't have to worry about putting a particular theme in place all around and it's a more cost-effective choice as you can buy them in bulk at affordable prices.
Leading interior designers consider a doorknob as an element that ties up space. Since each of the rooms in your home has its distinctive character in terms of colors, lighting, and items of furniture, with different doorknobs everywhere jutting out, it adds clumsiness and causes more confusion because of the lack of coordination.
Conclusion
Given that the doorknobs or door handles in your home have become old and jaded don't look any further than Florida Lumber. We have got an all-inclusive collection created with a lot of style and practicality that guarantees perfection and poise for each of the rooms in your home. From stainless steel, nickel, chrome for modern homes in Florida to the more traditional brass and wrought iron types, we have them all.