Here Are 8 Amazing Benefits of Choosing Sliding Closet Doors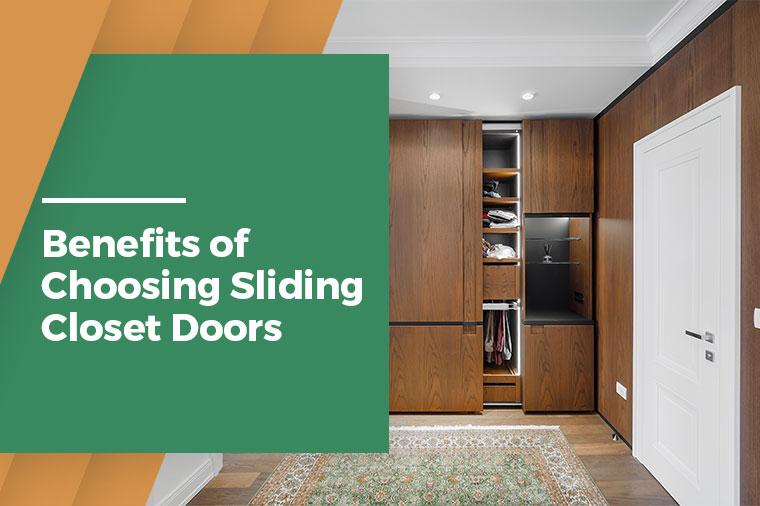 Decor and fittings such as closets aid in the organization of stuff in your home and enhance the artistic appeal of decor. A house owner can use closet design ideas and different shapes to make a statement and add up a more stylish quotient in your home.
And if you are looking for any such add-on then sliding door wardrobes are the ones. Sliding doors are an option worth considering if you're looking for an improvement or simple innovative wardrobe door suggestions.
They have literally taken over the wardrobe sector with their wide range of features that we can't find in traditional wardrobes.
With the variety of customization options available, it is possible to do a lot with a limited amount of space. Sliding door closets not only help you in making your wardrobe visually appealing, but they also help you better organize your stuff.
Check out more information about the advantages of sliding wardrobe doors and why you should get one setup if you're still unsure about it.


8 amazing benefits of custom sliding closet doors - Let's find out!
1. Maximize Room Space
Sliding doors, as you know, require no approval into the room and take up far less space. Sliding doors necessitate more space to accommodate within your room, which may be a concern in a narrow area with furniture as well as other doors.
And, to enhance the helpful square footage of your room, the sliding wardrobe continues operating almost completely within the unveiling on a narrow top or bottom roll path. With a sliding wardrobe, any location can be a premium and is well worth the investment.
We can even personalize sliding door closets to make the most of the available space. This sliding wardrobe saves a huge amount of space for other furniture pieces wherever they may be needed, whether in your bedroom, lounge room, or children's room.
2. Have a wide range of styles
Sliding wardrobe doors are attractive and sophisticated. However, traditional woods can still help you achieve a modern classic look if that is what you are going for.
You can choose between a variety of styles for your wardrobe with sliding doors because you shouldn't have to be concerned about weight. These styles include glass, mirror, routable MDF, vinyl enclose, melamine, and a variety of different colored boards.
Glass, mirrors, and shiny laminate are common materials for sliding wardrobe doors to complement their minimalist design. The mixture of multiple materials in your wardrobe can also be easily customized. Overall, there are a ton of options when it comes to using sliding wardrobes to decorate your home.
3. Out-of-the-box decor
If your home has outdated home decorating, we can focus or influence the transition on closet designs.
If the doors are made of glass, other alternatives include tinting the glass or leaving it transparent. We can also improve the visual appearance by installing contemporary door handles.
You could also use different materials instead, like acrylic or melamine. To improve the overall appearance of your bedroom, the aluminum frames that are used can be painted or shaped to take on particular shapes.
When open, swinging doors can obstruct this flow and present hazards. Sliding doors, on the other hand, keep it all looking tidy and structured and preserve a seamless, even orientation across the wall surfaces of your room.
Additional Read
4. Aesthetics
Implementing built-in wardrobes with sliding doors can be an excellent way to modernize the appearance of your bedroom and make it appear more structured and elegant.
The delicate finishes make a home appear more aesthetic, and these wardrobe doors do exactly the same thing by enhancing opulence and space.
Mirrored wardrobe doors are a good choice for smaller bedrooms because they make the space appear brighter and bigger. The wardrobe entrances will reflect the natural light coming in via the windows, adding radiance and vibrancy to the space.
Another great way to advance your bedroom is to use colored panels for your wardrobe doors, turning them into a design element or central figure for the space.
5. Reduced maintenance
Ease of use and maintenance is a major consideration when purchasing furniture or installing fittings at home. When making the decision, family members' safety, especially that of young children, should also be taken into account.
Sliding closet doors provide the following advantages in this reference:
Security - Protection To decrease such incidents, modern sliding doors include additional security features such as locks. This can maintain any unwanted visitors from seeing your valuable items.
Prevention from accidents - Accidents are reduced because old sliding and double doors are bulky, putting people at risk. Sliding doors, on the other hand, provide a relatively safer environment for kids to play in than double doors, which can injure them.
Low Maintenance Costs–The new configuration of sliding doors features aluminum components, contemporary rollers, and light glass, making maintenance requirements simple and occasional.
6. Easy to install
Accommodating a standard wardrobe into many bedroom models, particularly in older homes, can be challenging. This is due to the fact that bedrooms are frequently weirdly shaped like slanting ceilings.
Even if you are successful in installing the wardrobe in your bedroom, it will not fit properly, and you risk losing a significant amount of space that could have been used for additional storage.
We can easily incorporate the sliding closets into any bedroom because they are highly customizable. You can give them a narrow or wide, smaller or larger shape depending on the quantity of space you have available.
7. Multi-purpose usage
If you have racks in your bedroom, you can convert the storage into a wardrobe by adding sliding doors and a clothes rail.
These days, a sleek sliding wardrobe isn't just for the bedroom. They are ideal for other rooms where you might need a little more storage because they have sliding doors.
We can use these sliding wardrobes in the home office to keep your supplies, pictures, and music collection more efficiently organized. Even the living room or the kids' playroom can be utilized by them for the storage of their belongings.
And, with all the available colors and finishes, they'll blend in flawlessly to the current visual appeal of your room based on your specific needs - whether it's your home or office.
8. Cost efficient
Many people believe sliding wardrobes are costly, but this is not the case. Even though the total cost is determined by your personalization and the size of the wardrobe, it also varies based on the materials you choose.
Keeping everything else aside, sliding wardrobes are more cost-effective than other options.
However, always use high-quality materials and hire professionals for construction. Using high-quality materials and hiring experienced professionals will make sure that the product is long-lasting and durable. As a result, it will be a one-time investment that will pay off over time.
No matter how skilled you are in making the decision or having it done, consulting a professional is mandatory for these types of work that have an impact on your home's overall appearance.
And if you want to speak with an expert about constructing made-to-measure fitted sliding closets for your home, please contact us and we will gladly assist you in getting started.
We have several years of expertise in designing bespoke wardrobes for our customers, and we can assist you to reshape your bedroom space with our high-quality fitted bedroom furniture and even materials for the same.
To wrap it up!
Overall, it is clear why so many house owners are installing wardrobes with sliding doors, and, to be honest, we can't simply ignore the advantages of this incredibly posh wardrobe design.
And believe me when I say that installing sliding wardrobe doors improves the overall aesthetic of your bedroom. If you want to change the look of your home quickly and easily, it is one of the best investments you can make.
The sliding door layout is a modern way to enhance the appearance of a room. Your home will benefit from more space, better management, lower costs, and ease of personalization after you configure sliding doors.
Sliding doors allow you to innovate with various colors, components, and suggestions without spending a lot of money.
If you are confused about it and looking for assistance, then you can reach out to us at floridalumber.com and we would love to help you out!