Flush door vs. Panel door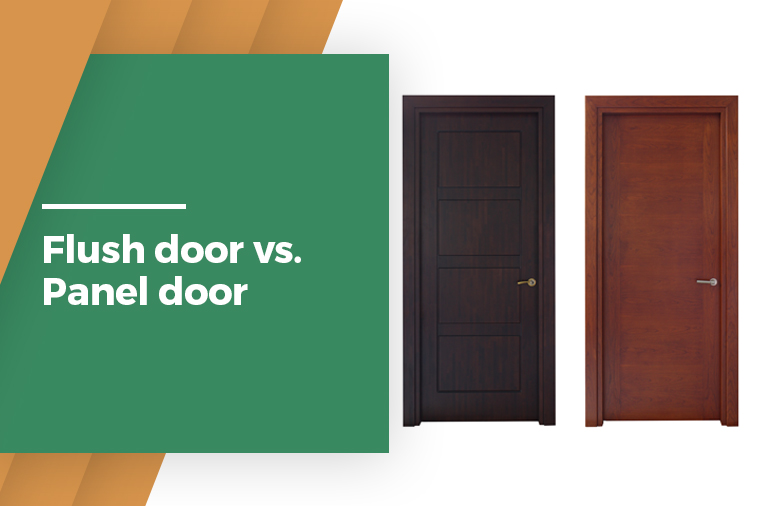 With so many possibilities, picking the right door panel for your needs might be difficult. Furthermore, there are other aspects to consider while making a purchase. Because the door, for example, protects your home from invaders, you must consider its durability and strength. You should also consider the door's design and style, as it now compliments your home's interior and exterior. Examining the door's construction, design, and appearance may assist you in making a decision. Because of its distinct style and attributes, many homeowners prefer flush doors or panel doors.
This essay details the differences between the doors to help you make an informed selection. To discover more, keep reading:
10 differences between flush and panel doors
It's simple to tell the difference between a panel door and an a flush door because of their differing constructions and many other features. Some of the differences are:
Appearance
When new doors are required for existing systems, the existing door style will most likely determine the appearance of the new doors. Here is something that will help you differentiate between the two doors in terms of appearance.
Flush Doors:
Flush doors are a simple door style with flat chamfers on both sides. They might be either internal or exterior, and their aesthetic is straightforward and basic. If the doors are put on tracks, they may move past one another; the hardware will be hidden. In a closet, this design may work great.
The term stems from the fact that the doors' surface is flat.
Panel Doors:
The name pretty much says it all: instead of a single piece of wood or other material, the door is made up of panels. Each of these panels will be linked together to form the door. When new doors are essential for concrete institutions, the existing door style will most likely determine the appearance of the new doors.
Aesthetic:
The aesthetic gives the design a new feel. Thus, it is essential to pay attention to the doors' aesthetics.
Flush Doors:
A Flush door, which features only one smooth surface, offers a more contemporary and minimalist appearance due to its more straightforward construction. But don't completely disregard them! They're perfect for creating clean lines and an inviting sensation of simplicity in various contexts due to their basic design. As with so many things, it all comes down to personal choice.
Panel Doors:
Paneled doors, on the other hand, offer a lot more aesthetic appeal and are a great way to freshen up your home's appearance. Their more refined stiles-and-rails construction allows for more intricate molding and beading, resulting in a gorgeous door that instantly improves the aesthetic appeal of any room.
Strength:
When choosing furniture for your house, it is important to prioritize quality. Thus, having a strong door is also crucial.
Flush Doors:
The flush doors do not last as long as a paneled door. Depending on the quality and kind of door, it can endure anywhere from 10 to 25 years. When manufactured of low-quality faux wood, a flush door is less durable than a paneled door.
Panel Doors:
The panel doors will last longer than a flush door. It might survive for years if properly maintained, and the original quality is good. Because paneled doors are constructed of natural wood, they are more durable than flat doors.
Composition
The materials used in the structure of the door play an important role. Here's how you can differentiate.
Flush Doors:
Flush doors are Interstitially bonded plywood to a hardwood structure with solid wood fillers. It's common to use plywood with flat surfaces on both sides. The surfaces are veneered or laminated to complete the look. Usually, they're made at a factory.
Panel Doors:
Wood, plywood, block board, MDF (medium-density fibreboard), veneer, asbestos cement sheets, pre-laminated particle board, glass, and wire mesh are the materials used in the panel doors. The panels are held in place by grooves etched into the stiles and rails. A stile and rail door are other names for a panel door.
Additional Read:
WHAT TYPE OF INTERIOR DOORS ARE BEST?
Performance
Reliable furniture that can be used long-term is the need of the hour. Here's how you can differentiate.
Flush doors:
Flush doors are widespread in special-purpose buildings such as schools, hospitals, and companies due to their increased performance. On the other hand, their superior acoustics make them suitable for usage in studies, playrooms, and living rooms in the home. Furthermore, its high fire resistance provides significant peace of mind in the case of a fire in a family home.
Panel Doors:
Like all other doors for residential or commercial use, panel doors are manufactured to stringent standards, guaranteeing that each one meets the most significant levels of security, acoustic performance, and fire protection. In response to variations in humidity levels, the actual panels of a panel door may contract and expand, extending their life and enhancing their look.
Application
Having to know where to use is as essential as knowing which one to use. Here's how you can make a choice.
Flush Doors:
Flush doors may give beautiful lines and simplicity in structures where aesthetics are important. They may also be able to fulfill the most demanding security, fire resistance, and acoustic specifications.
Panel Doors:
Paneled doors are used commonly in heritage or listed buildings where the doors must mimic the original structure or adhere to strict planning restrictions. To complement existing doors, bespoke paneled doors, whether flat or raised and fielded, are sometimes required to complement existing doors.
Durability
Doors without durability are useless. To make a better choice in terms of durability, consider the following points for the two.
Flush doors:
Flush Doors have a pleasing aesthetic. There are hollow core doors to choose from. They have a lengthy lifespan. They have the rich, inviting look of a conventional door. These are finely durable. Not much as Panel doors, but they have considerable durability for a fresh aesthetic look.
Panel Doors:
Panel doors are incredibly sturdy, which makes them ideal for use as an external doors. Their materials can endure and hold up to daily usage and are unlikely to shatter or split.
Termite resistant
Termites can really be a pain. It is crucial to have termite-resistant doors. In order to make a better choice, consider the following differences between the two.
Flush Doors:
The companies manufacturing flush doors make every layer of the flush door termite-free. The flush doors must undergo many chemical processes for every layer to be termite-resistant. But, generally, the flush doors are termite-resistant. Unlike other woods, these can be resistive toward termites.
Panel doors:
Panel doors are not termite-resistant. Panel doors might be more appealing than flush doors, but they cannot stay resistive to termites. However, companies have now started making various termite-resistant panel doors as well.
Installation
Paneled and flush doors have equal installation requirements; therefore, it's unlikely to influence your decision. Regardless of the door design you choose for your project, the quality of the manufacture and installation is critical. It is very subjective, and the installation of either of the doors can be dependent on a lot of factors.
Maintenance
A door can only operate as well as it is installed, regardless of its quality of manufacture. Fire and smoke seals, hinges, and closers must all be serviced regularly to prevent damage or other failures from influencing performance.
Regarding upkeep, panel doors are neither as termite-resistant nor as simple to maintain as flush doors. Flush doors, in comparison to panel doors, are better insulated. As a result, flush doors have a longer lifespan.
Conclusion:
Cost is the most common reason for choosing a panel door versus a flush door. Panel doors are usually less costly than flush doors, whether inside or outside. Flush doors, on the other hand, have several disadvantages.
Furthermore, flush doors are often delivered unfinished, meaning they have not been cleaned, lacquered, painted, or weatherproofed. Flush doors are often created by builders or other professionals in these circumstances to guarantee that they suit the doorframe and the home's exterior.
Looking around for the style and cost is the best way to choose whether you want a panel or flush door.
For more information visit Florida Lumber.