A Buying Guide for Door Hardware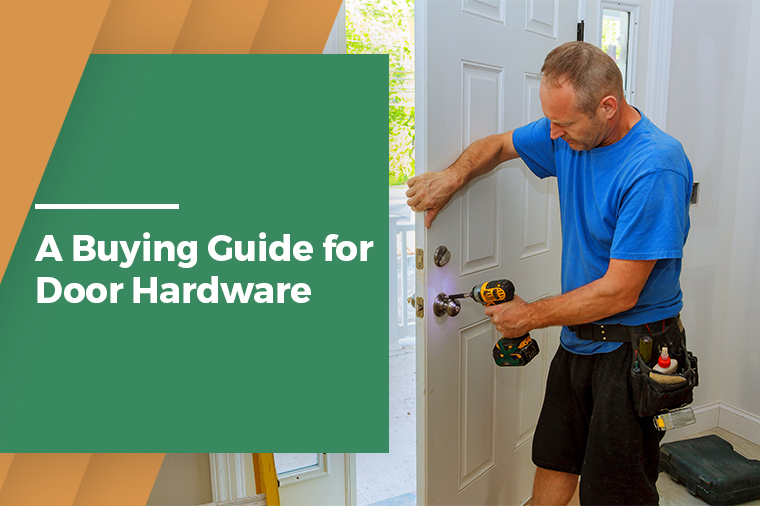 Doors are a workable and essential addition to any property, serving as a divider as well as a base station between rooms. The right door decor will help you blend your home decorating from room to room.
By selectively choosing your door hardware, you could not only improve the look of your decor but also add functionality and security to your apartment.
Many people's first problem when shopping for new door hardware is selecting the most appropriate aesthetic and finish to match their home. That is undoubtedly important, and for many, selecting the appearance of their new hardware is the most enjoyable part.
However, what is similar or even more significant to take into account is the configuration and features of the hardware, which is the move that most customers find perplexing.
We've developed this simple guide to selecting the right door hardware for your home to take the confusion out of the procedure.
So, without any further ado, let's get started!
The question you must ask before purchasing Door Hardware?
What is the ultimate (or door) aesthetic?

How will this part complement my current decor?

What is my financial situation?

What hardware size is needed for this door, cabinet, wall, etc.?

What is the installation procedure like?

What are the prerequisites I need to keep in mind?
The checklist you must consider before purchasing Door Hardware -
Here's a checklist of things to look for and consider when buying door hardware:
Think about the weight of door hardware:-
It's difficult to tell if something will look "cheap" once installed simply by looking at a photo of the hardware. A product with a higher weight is typical of higher quality and will look good regardless of price.
I'm one of those people who read reviews, but it's important to note that not all reviews are created equal. Some people have very high standards, while others have somewhat lower ones.
It's a hard decision to make. In any case, reviews can aid in purchasing decisions! A large number of positive reviews is an excellent indicator of a fantastic product.
When it comes to hardware, it's simple to tell the difference between good and bad materials. For example, excellent materials include metals, glass, wood, and leather. On the other hand, stay away from painted, hollow, and plastic products. Examine the specifications because product images can be misleading.
Take a measurement before buying:-
Never make a purchase without first verifying the door hardware's dimensions. You wouldn't want to place an order only to discover that the item you received was too big or too small in terms of hardware.
Here's a note for you - Before ordering or going out for buying, take out your measuring tape and take measurements carefully.
Check everything & then make a decision:-
The fact that we can purchase the same hardware for such a wide range of prices may surprise you. Find the best price by searching for the name or model number. You can even browse various nearby stores to find the best combination of price and quality.
Here are the tips on Purchasing Door Hardware:-
Checking the door hardware functionality
The very first thing we should do before beginning the process of choosing the door hardware is to determine the interior door hardware functionality. You need to first go through your requirements so that you will get the best results possible.
The hardware requirement for bathroom doors is different keeping easy accessibility in mind.

The hardware requirement for the entrance door is different keeping security in the mind.

The hardware requirement for bedroom doors is different keeping privacy in mind.
So, keeping in mind your home interior, design requirements, and location - make the right decision.
Be Deliberate with Measurements (Be Deliberate with Preparations)
"Measure twice, cut once," as the adage goes in carpentry. When purchasing door hardware, a related rule is applicable: so take all of your dimensions and double-check that they are accurate before making your final purchase.
Because the last thing you want is - getting the wrong size which is too big or too small for your door. And various items you purchase are non-exchangeable or non-refundable - so you'll end up wasting your money and time as well.
And also, if possible ask anyone else to come with you or even choose a professional to do it for you. Having a second set of eyes on the problem can make all the difference in the world.
Consider all types of hardware:
There are many useful and popular types of door hardware accessible, including the following:
Door Pull Handle: This is required to open and close the door. There are numerous variations of this obtainable, and you must select one based on your requirements.
Multi-point lock set - If you'd like a lock with multiple levels of connection, you can purchase the Multi-Point lock Trim Set as interior door hardware.
Euro Profile Cylinder: This lock system is primarily used in industrial settings, though it is also utilized in residential settings. Because it has both side keys, this lock is ideal for bathrooms.
Door Knockers: This is the hardware that you'll need for your front door. They are also available for bedrooms. It can be used to knock and is an old-fashioned method of declaring one's existence. If you prefer a more traditional look, this is a lovely option.
Door stoppers: These are essential pieces of home hardware. Door stoppers literally protect doors from closing and can help to avoid accidents. They are being used to keep doors in place and are available in a multitude of styles.
Door Hinges: This is yet another piece of equipment to consider. There are numerous options available, ranging from steel material to earthy colours. Quality hinges for your doors can end up making them more sturdy, even if they are not the most noticeable part of your home.
Touch-Free Door: If you prefer a touch-free experience, opt for touch-free door hardware. It has a fingerprint sensor, camera lock, password lock or even other sensors.
Taking Measurements: Backset, Borehole Spacing & Door thickness:
The second stage in this direction is to take some measurement results and collect information about your door to guarantee that your new hardware aligns and works seamlessly. The backset borehole size (if any), and door thickness are all required standards.
Backset:
Backset is the distance between the core of the borehole and the corner of the door. Some door equipment comes with an adjustable backset, but the majority does not and must be defined.
A 2-3/8 or 2-3/4 backset is typical for standard residential entrances.

A 2-1/2 backset is common for mortise locks.
Cross bore and borehole:
The bore is the hole that runs from one side of the door to another. This is the location of the doorknob.
The basic dimensions are 2 1/8" bore hole and 1" cross bore.
Some collections have concealed mounting hardware and necessitate a much relatively small borehole dimension, so based on what you choose, you may need to adjust the door if you are replacing the existing hardware.
Door thickness:
Another factor that could affect how your door hardware appears to fit during setup is door depth. Every manufacturer produces hardware in a variety of thicknesses.
Most residences' interior doors are 1-3/8" thick, while the majority of residences' exterior doors are 1-3/4" thick. If your door does not fit either of these dimensions, adapters or extension kits may be available to order.
Door Handing:
Next, find out your door's "handing," which is simply looking at which way the door opens. We'll have to understand the handover of your door when placing an order for lever grips or handle sets. The orientation in which your door swings is always decided by approaching the door from the outside.
A word about door handling: Usually, if you're standing on the outside of the door, it will access aside from you, although it isn't always the case in wardrobes, cabinets, as well as other related spaces.
If you purchase the improper door handing, you will have locks on the wrong doorway or levers that are pointing in the opposite direction, preventing the door from closing correctly.
Blank Door or Pre-Drilled?
Because various door hardware requires various borehole configurations, it's important to take into account whether you'll be purchasing hardware for a door which already has pre-drilled holes or if you'll be doing the drilling yourself.
You'll need to evaluate the boreholes in a current door if you're simply changing the hardware. New doors are frequently either blank or pre-drilled with boreholes.
If you plan on buying a door with pre-drilled holes, make sure to get precise measurements from the manufacturer. Make no assumptions about borehole measurement techniques because measurements, particularly backset, can differ between manufacturers.
To wrap up!
Building a house is a thrilling and gratifying experience. When you finally decide on the ideal property, we are aware that one of the next steps will be to select door furniture that goes well with your interior design aesthetic.
Our experts can assist in guiding you through every step of this process, whether you are looking for something subtle or daring. We hope that after reading this post; you are better prepared to make an informed decision about how you want your door hardware to look.
Try exploring our current selection of door handles to see everything from basic brass fittings with little detail to modern designs with slick finishes. We also have everything from classic elements to industrial accents.
Additionally, if you need assistance selecting door hardware that matches your home, we can do that for you as well. Contact us and we'll be happy to help if you need more information.