12 Ultimate Closet Door Options to Explore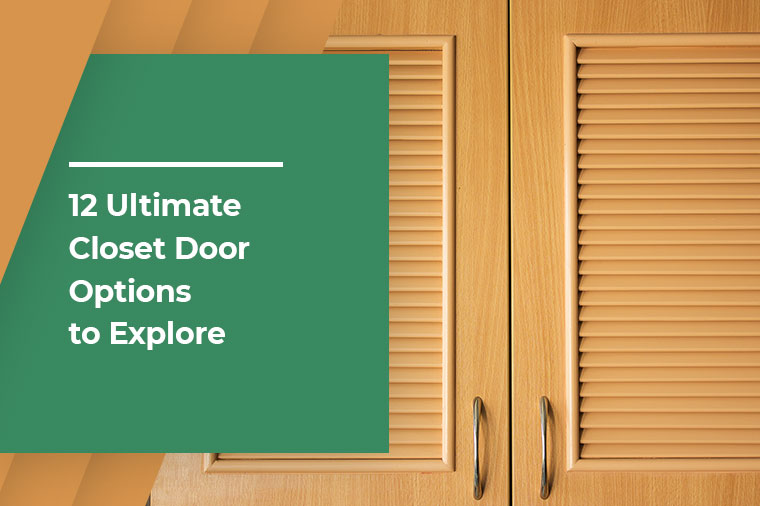 A closet door - as the name implies - keeps your closet and wardrobe concealed. But if used in the right way, it can offer you more. Most importantly, closet doors serve as an important piece of decor to make your room look more attractive. Just replacing the existing items adds in a major upgrade in the appearance of a room. However, choosing the right kind of door for any given wardrobe is not easy. Rather it is very easy to get confused in choosing the right item because of the large varieties of products that are readily available in the market.
Let us explore the different options for choosing the best door for your closet.
1. Bi-fold doors
The popularity of bi-fold doors is significantly high. One of the major features of the range of doors is they offer a space-saving option. You can also personalize them in different ways as per your taste and choice. To avail the easy route, you can dab the doors in your chosen shade. On the other hand, if you want a more contemporary look, consider installing molding wood. The range of wood molded in different geometric shapes is exceptionally popular in recent times.
A smart and easy way is to cover up the outer surface of the doors is with wallpapers. Choose the print of wallpapers cautiously to make your décor statement bold and meaningful. As already mentioned above, this range of doors for closets takes up very little space on the floor. Moreover, this door type is reasonably priced and fits into every budget.
2. Chalkboard paint doors
This range of wardrobe doors remains covered with chalkboard paint and is ideal to use for both children and adults. To get your version of chalkboard paint doors all you have to do is painting the doors to convert them into a chalkboard. This variety of doors is popular among children because they have a natural inclination for doodling. Chalkboard paints are readily available at local hardware stores. You can invest only a few hours on a weekend and take up this DIY project to impress your little one. Chalkboard paint doors are a great way to improve the overall appeal and appearance of a room.
3. Draped closet doors
Every closet does not require a door and yet they manage an individual's privacy. You need to be little bold and innovative if you want to install this line of décor in your room. Yes, curtains do serve a great alternative for closet doors. A simple white fabric hangs wide and high over a closet can be an outstanding approach providing the closet with both classy décor and impregnable privacy. This way you maintain simplicity to the room décor, showcase the innovative bend of your mind along with adding a unique charm and appeal to your room. Remember the approach of applying drapes to closets is not only one of the best ways to make a versatile decor statement but also equally helpful in saving space.
4. Industrially manufactured doors for closets
Double doors that slide to two sides to make way into the closet are popular among homemakers. This range of doors is ideal for small homes that usually have a space crunch. Metal sliding doors is an outstanding variety in this category of products that provides a sheer masculine look to your room. Moreover, they radiate an industrial vibe that no other category of these doors can offer. This is also a great option to give a contemporary look to the room. The option is best suitable for men, who want a cool, simple yet heavy-duty door for their closet that does not make them feel a pinch in the pocket.
5. Louvered doors
Louvered doors for closets are doors although they look more like shutters. A great advantage in choosing this variety of doors is they allow a sufficient quantity of air and light to flow through the closet. Subsequently, clothes remain fresh for a longer time. If you want to add an artistic flair, choose designs that are included with decorative panels. A wide variety of such designs is readily available in the market. A louvered wooden closet is a great way to add warmth to your room. It is relevant mentioning this range of doors is easy to care and maintain. You just have to dust them off time to time and that is sufficient for their maintenance.
6. Mirrored doors
If you want your bedroom look chic you can hardly ignore this option while choosing a door for the closet. A mirrored door for the closets caters to two purposes - it serves as a door as well as a mirror. In fact, you do not need investing money on a full-length mirror when you get mirrored doors installed in the closet. This line of room décor is a great way to make your room appear bigger and brighter. Consider a mirrored door that also has woodwork to add to the chic of the room. This range of doors is in trend and they are indeed a tried and tested solution to multiple purposes.
7. Glass doors
There is a range of products in the market to cater to your refined choice and innovative mind. Consider a double door unit made of frosted glass if you are keen to keep the storage space hidden. Moreover, this option also sprinkles freshness in your room without tampering the existing levels of comfort. To add innovation to your décor, consider layered glass panels with wooden framing just like traditional doors. However, the acrylic option proves to be more durable and you can easily find a wide range of options in this category to appeal to your rich taste.
8. French doors for the closet
If you want to give your bedroom a versatile style that never goes out of trend, then French doors for your closet is the ideal option. This range of doors opens outward into the room and thus, you get plenty of space to look into the rock bottom of the closet. You may spend some additional money and add molding to the French doors for a chicer appearance. Consider painting it in a glossy white shade to make it appear clean as well as contribute to its ageless appeal.
9. Palette of colors
Simple white doors are one of the most common varieties used to guard a closet. You can always put on your hat of innovation and take this simple solution to higher levels of décor and stylishness. One of the appealing solutions is to give your simple white doors a dab of colors. Consider the doors as a canvas create your own patterns and art with a paintbrush. Even if you are not great painter, the effort will expose you to immense fun and your closet will bear a signature identity of its owner. Never hesitate to try out the unique patterns with colorful stripes and bold geometrics.
10. Single panel door
Double closet doors are simply great, but it is also worth mentioning that single panel doors are no fewer inferiors. This range of doors for closets is similar to any typical door in a modern home. However, on the flip side, a single panel door takes up a lot of space whenever you swing it open to access the closet. On the other hand, you can use the door as a canvas to deck up the appearance of the entire room. If the room is small, consider hanging a mirror on the door surface. This helps both brightening up the room and making it appear larger than its size.
11. Sliding barn door
If you are game to infuse a rustic vibe in your room, a pair of sliding barn doors is perhaps the easiest solution. Sliding barn doors are basically double-door units and come in two varieties:
Pocket (sliding barn) doors - the doors slide through and disappear into the wall on two opposite sides of the closet entrance. So, you get every bit of space while accessing the closet. But installing this facility requires re-structuring the wall and so you have to hire expert professionals, which makes the overall project little costly.
Hanging (sliding barn) closet doors - you make use of a closet door roller kit with this variety of sliding barn doors. The roller kit allows the doors to smoothly slide out of the wall. These roller kits are easily available across local hardware shops.
12. Wallpapered doors for your closet
Last but never the least; we have an easy and inexpensive way to give your old closet door a brand new look. Wallpapers are available in countless designs, patterns and colors. They are pretty affordable and can be easily installed and disposed of. Thus, this approach is ideal for people living in rented space where they do not have the liberty to overhaul their closet.
How much do closet doors cost?
Modern doors for your closet come in a wide variety and so is their price. The cost depends on the type of door you choose. A single door unit with hinges costs within the range of $20 and $100. While a mirrored sliding closet door costs between $50 and $200. The installation cost will further take the figures some $5o to $100 higher. Sliding doors made of wood can cost anywhere between $500 and $2000 depending on the design and the type of wood you choose. Panels made of mahogany or walnut is obviously more appealing and costly at the same time. The installation cost may add a further $100 to $1000 more to the final figures and that mostly depends on your location.
The price of multi-fold doors ranges between $25 and $200 and that makes this reasonable option very popular among homemakers. The cost increases anywhere between $100 and $500 if you choose solid wood bi-fold variety. Multiple doors are a version of the bi-fold variety mentioned above. An additional price of $50 to $100 is charged for installation, which requires the trained hands of a handyman.
A pocket sliding barn door costs about $400 to $1000. However, f the wall has to be restructured, an additional cost is added. This usually ranges between $1000 and $3500. A barn sliding door that opens along a track on the edges of the wall costs within the range of $200 and $1000. If you go DIY with its installation you make a little saving. However, if you call for expert installers an additional cost of $300 to $1300 is charged.
Conclusion:
These are some of the ideas on closet doors we thought worth sharing. Hope they serve their purpose and motivate you to wear your hats of innovation. Do feel free to share your ideas and experiences with us using our contact form.