Know the Best Wood for Outdoor Kitchens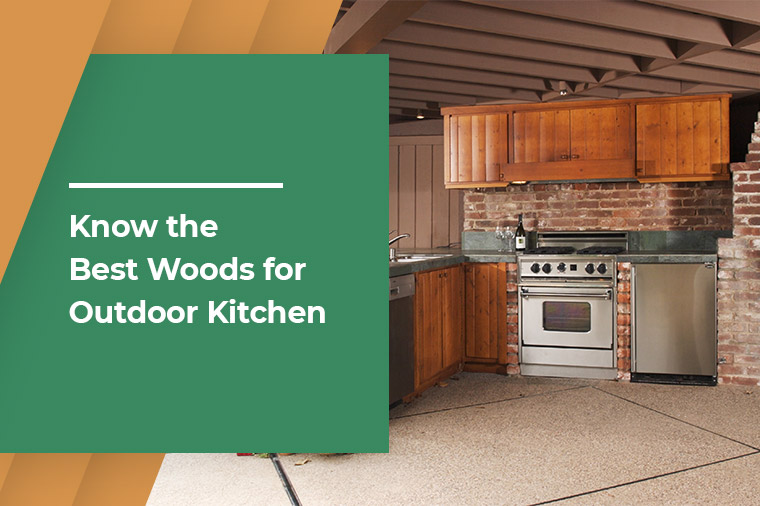 Having an outdoor kitchen is a classy investment. It is important to ensure all top-class materials get the best kitchen benefits. Know that the kitchen will be outside the home and will need protection. Hundreds of dollars go into making the kitchen aesthetically appealing.
Wood holds an important role here as it strengthens the outdoor kitchen as well as makes it durable. There are lots of outdoor woods available in the market. However, which one will be best to satisfy your kitchen requirements?
Woods, you need to avoid for an outdoor kitchen
The outside kitchen requires extra protection. Generally, the inside kitchen faces the majority of problems such as unwanted scratches, wear/tear, and liquid spill/plash. When it comes to the outside kitchen, these issues automatically become double.
Many homeowners prefer to use wooded kitchen settings to improve the overall appearance of the home. Lots of wood types are available in the market but experts suggest avoiding softwoods such as cedar, pine, and redwood. Generally, all these softwoods are susceptible to rot. These are not durable at all. Apart from this, this kind of wood brings insects and can catch fire easily. So, you can understand that how much risk it will be if you install the kitchen setting of softwood. Softwood also requires yearly maintenance and added waterproofing sealing. Because of this, consider scrapping and sanding the wood and reapplying the sealer on a regular basis (once in a year). Water can easily get into softwood texture and it leads to faster rot and decay.
Generally, to make the structure strong with softwood, you have to additionally build a concrete slab foundation. Concrete wicks moisture and also causes damage to the softwood to fasten. For all these reasons, expert professionals suggest avoiding these softwoods for an outdoor kitchen.
Best woods for outdoor kitchens
Ipe wood
There are some species that experts suggest using for outdoor kitchens. Those are proven to perform well in outdoor environments. Cumaru, Tigerwood, Ipe, and Massaranduba woods are popular for their versatility. All these amazing woods come from South America. They can last up to 75 years or more with minimum maintenance. Many homeowners prefer Ipe wood deck boards and decking in order to make the outdoor kitchen setting stronger and appealing. It is considered as one of the most durable and long-lasting decking wood type. It is not only durable but also cost-effective. Experts say that it is comparatively more durable than teak.
Apart from these, Ipe wood is naturally resistant to mold, mildew, rot, and decay. Wood-boring insects cannot chew through the wood and ruin the kitchen. It does not easily catch fire and splinter like softwoods. It even lasts more than 75 years in a commercial setting.
Cumaru wood
Cumaru is another popular and durable wood recommended by expert professionals. It is also known as Brazilian teak. Cumaru is a wood very similar to Ipe. It has a more attractive color variation that ranges from reddish-brown to golden brown. The chocolate brown color does not fade easily. It not only comes with a wide color variation but also comes with a long life span. It is typically 30% cheaper than similar options. It does not easily catch fire and let insects chew through it. It is a very good wood option when it comes to building an outdoor kitchen on a budget.
Tigerwood
It is the third most popular option according to the professionals. It is an ideal exterior hardwood option for an outdoor kitchen. Tigerwood is not as amazing as Cumaru or Ipe but it is a very dense and durable hard outdoor wood option today. In fact, experts' say that Tigerwood is comparatively more double than Teak.
When building an outdoor kitchen, it is important to consider other facts such as a right carpenter or a construction company, setting a budget, and knowledge about the materials. When it comes to choosing the right wood, research about the available wood types, compare the price, durability, the appeal is necessary. After that, you should make a decision. You can consult with a professional wood supplying company, visit their yard, or ask other homeowners to assist you.