13 Tips to Reduce Cost in Lumber Buying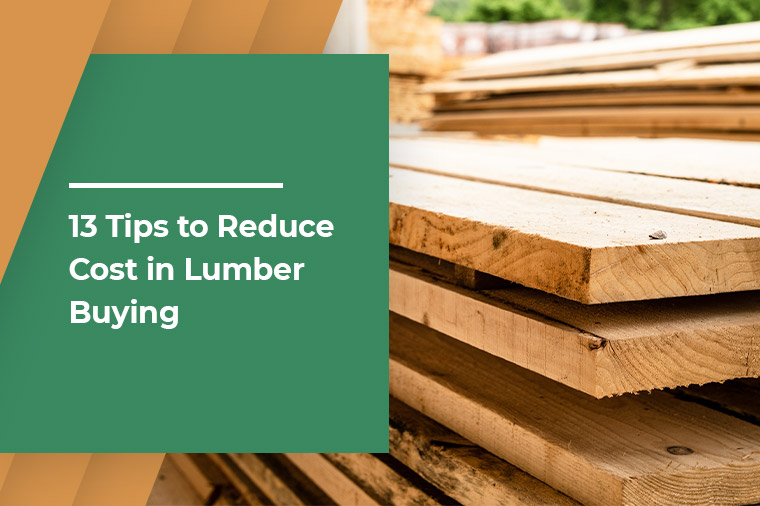 Everybody needs to have the best materials for their home development, however not every person is prepared to spend a ton on it, which is very reasonable.
Hence, it calls for a better lumber buying concept to guarantee you get the best without harming your pocket. There are different ways through which you can do this.
Additional Read: The Buying Guide to Purchasing Lumbers for Your DIY Projects
In this article, you will get the best 13 ways to obtain the best material for your house without spending much.
1. Use less expensive wood in invisible parts
Portions that are not visible to guests or others of the work shouldn't be worked out with similar wood as the noticeable parts. You can use the lower quality wood and also any other material for it.
For instance, cabinet bodies, cabinet supports, spaces, and shelves can be built with more affordable wood, for example, poplar or plywood wood.
Additional Read: Top Reasons for High Lumber Prices
2. Purchase shortboards
Many hardwood dealers hold expertise in 'first and seconds' and 'select' grades of timber. To meet this prerequisite, boards should be six or eight feet in length.
The shortboards are normally of the equivalent or better grades as the higher ones. They normally sell for 30% less than the price of the 'first and seconds' cost.
Recalculate your materials rundown to give yourself an edge over shortboards or sheets that are not 100% perfect, and comprise rough grains or knots.
3. Buy lower grades of lumber
#1 and #2 common come underneath the first and second' and select lumber. These boards are smaller and yield less clear cuts. They are normally sold for 30% less than the top-notch plumbers.
You may have extra waste, but with some additional exertion, you can reuse the scratch wood in an ongoing or future task. If nothing else, little scratch hardwood makes can be used as a nice fuel in your chimney.
4. Buy lumber in-group
It will be much more affordable for you to buy lumber in wholesale. You can take advantage of your lumber costs by giving a single one-time order for all the timber you need.
This would entitle you to the volume price discounts. Also, you will not need to purchase all the lumber yourself. Now, the intriguing part will be figuring out the amount of share of every individual. The volume rebate likely could merit the additional push to compute every individual's share.
5. Look for the sales
Carpenters love their timber. However, to a vendor, it is simply one more item that should be sold. Hardwood vendors will at times offer leeway or overload deals and sales to move stock that has been perched on the racks for a very long time.
You need to pre-decide your requirements and design out your material list beforehand. It might be the case that you would not like to proceed to purchase a lot of timber just because it is discounted.
This is just another tip to reduce your pocket spending limit for lumber work. But it doesn't mean you cannot buy them separately. It all relies on you.
Additional Read: Difference Between Buying Lumber at Lumberyard and Big Box Store
6. Stored lumber properly
You should store the lumber properly with the correct procedure. You should not store it like any other wooden scrap in your house. The appropriate method to store lumber is on a wood rack on a level plane.
You should stack the boards cautiously on solid level backings that structure a level rack. The base on which you are stacking should be strong enough not to break.
Also, it decreases the risk of the lumber boards being twisted and parted. Moreover, it will allow you to clutch the deals and discounts on lumber purchases for quite a long while.
7. Buy rough cut lumber
In case you have a benchtop planer and wouldn't fret about arranging up the boards, it is an incredible method to save your money. Approaching a 6-inch wide joiner will truly help in delivering perfect, square edges.
What to do with the planer shavings? They make extraordinary mulch. Furthermore, it is composted quite well in the compost bin.
8. Build a relationship with a local cabinet maker
Another fantastic idea to make you spend less is to develop a relationship with a local cabinet maker. Consider buying their scratches for generous deals and offers.
Most expert bureau creators and millwork shops produce more scratch lumber in seven days than that a specialist would use in a year. Try to make up a decent connection with them and you may have the option to arrange lumber through him at a good discount.
Additional Read: Guide for Buying Lumber from a Distributor
9. Use maximum lumber
Try consuming the maximum amount of lumber you can. As mentioned above also, you can use low-quality wood for the regions which have very little visibility to the guests.
It doesn't matter if your outer and visible side is pretty smooth but the back end is filled with cut marking and rough grains. No one has to look over there, so don't bother yourself with that.
10. Consider counterfeiting
With the correct stain, it is conceivable to make more affordable species appear more costly. Birch or birch makes an incredible cherry. Ash makes an incredible substitute for oak.
Delicate maple looks practically like hard maple. Delicate maple is a misnomer. It is hardwood. The holding boards with soft maple can also last for several years.
11. Forward pricing
This method is good for decreasing the expense of timber. Besides, it gives consistency which is serious among wholesalers and retailers.
Forward estimating includes the purchaser and the dealer making an arrangement to have a particular product go at a specific price later on when the purchase happens.
12. Buying cheaper substitute
As you make your purchase, regardless of whether for resale or for use on your home, it is imperative to analyze various items that can play out a similar errand and offer great quality in spite of a lower value range.
For example, Spruce Pine Fir (SPF) is supposed to be somewhat less costly than Southern Yellow Pine. Be that as it may, the two of them give similar aftereffects of practically comparative quality.
Additional Read: How to Buy Quality Lumber?
13. Reduce wastage
As mentioned prior, it is best to reduce your wastage of lumber to a minimum. Use its each and every corner possible.
It will not only save your money but also waste a good resource that can serve a good purpose. It isn't really about how the temporary worker utilizes the materials.
Also, it is likewise about the sort of material you are utilizing.
Are you planning to buy lumber in groups? We at Florida Lumber supply lumber to homeowners, contractors and handymen living in South Florida since 1966. Contact us to get a quote.