Difference between Buying Lumber at Lumberyard and Big Box Store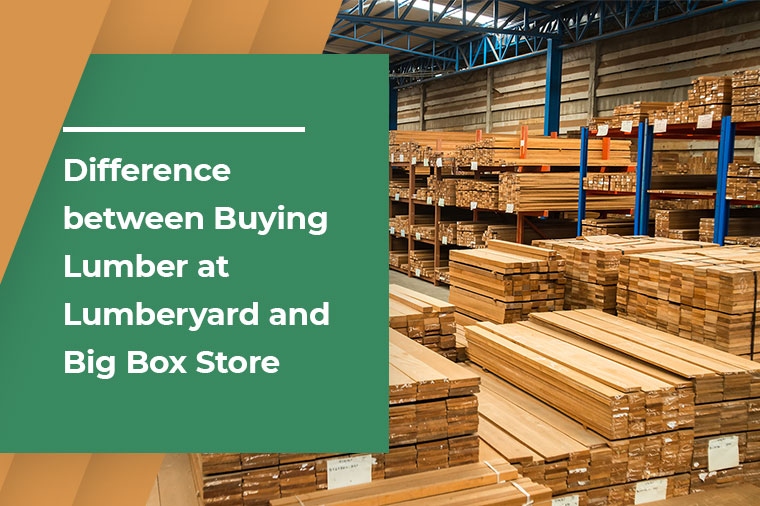 Difference between Buying Lumber at Lumberyard and Big Box Store Do you want to buy lumber for a school project or for carpentry? No matter the project, lumberyards, and big-box stores are two places where quality lumber can be found. A big-box store is a retail establishment where you can find a variety of affordable lumber. However, if you want to find lumber or wood-related products for the home-improvement projects or carpentry, then it is prudent to visit the lumberyard. You may find a wide variety of lumber of varying ranges at this place. The following points on the lumber yard vs. big box store should help you make an informed decision if you are in a dilemma.
7 Main Differences between the Lumberyard & Big Box Store
1. Pricing of Lumber
Prices on wood articles depend on several different factors. For example, the softwood is more economic than the hardwood, as the hardwood is more durable than the softwood. However, this is not the only factor that determines the cost of the wood. It also depends on how frequently and how much lumber merchant purchases from a supplier. The lumberyards usually purchase lumber in a huge quantity and they transact business frequently due to having a constant demand of products. Hence the reason why it is possible for a local lumberyard to keep the price of the lumber in comparison to a big-box store.
2. Expertise
At a big-box store, the members of the staff are expected to have basic knowledge regarding all types of products present on the shelf. Therefore, it might be difficult to find an individual who has in-depth knowledge regarding the usefulness of different types of wood when visiting a big-box store. On the other hand, a lumberyard deals with nothing other than lumber. You can find experts who have in-depth knowledge regarding the use of different types of wood. These experts can help you select the best material for your project.
3. Quality of Products
The big-box stores usually offer lucrative deals to the customers while sacrificing the quality of the products, as these stores are more concerned about the ROI and sales graph. On the other hand, the quality of lumber is the primary concern of the staff at a lumberyard, as these businesses only deal in lumber and it is impossible for them to retain the customers without offering premium quality products.
4. Choices of Lumber
The lumberyards only sell lumber and the products made of wood. Therefore, you may find a wide variety of woods at a lumberyard in comparison to a big-box store. A local lumberyard may even help you discover a piece of wood according to the unique needs of your project. You may even find rare varieties of wood in a lumberyard than a big-box store.
5. DIY Jobs
We recommend visiting a local lumberyard if you are fond of DIY projects or if you have a school project to complete. It is possible to shape lumber according to the unique requirements of a project using a Sawzall or circular saw. However, there are risks of an accident when handling these tools and risks of making uneven cuts due to having a lack of experience. In a big-box store, a member of the staff should be able to cut lumber down to a certain width or length. However, these individuals will not shape a piece of wood according to the needs of your project. The professionals of a local lumberyard will perform this task alongside helping you find a reliable and efficient contractor for any project of construction or renovation.
6. Care for Wood
There is no doubt that the lumberyards take better care of lumber. The professionals of these businesses know about the environmental conditions under which a particular variety of wood may thrive or may deteriorate. They make sure that each piece of wood is properly stored and is given the best level of protection. In big-box stores, the lumber receives nominal care. The heavy foot-traffic and the careless handling of the customers may even damage the lumber in stores.
7. Environment-Friendly
The Earth is your home and lumberyards keep your home free from any type of wastes. These businesses do not just keep emission-free and organic products. These businesses also recycle everything down to the wood pulp or sawdust. Therefore, nothing goes to waste in a lumberyard. When it comes to lumber yard vs. big box store, lumberyard is definitely friendlier to the environment.
If you are looking for quality lumber in Miami, contact Florida Lumber.