Tips to Choose and Buy Wholesale Lumber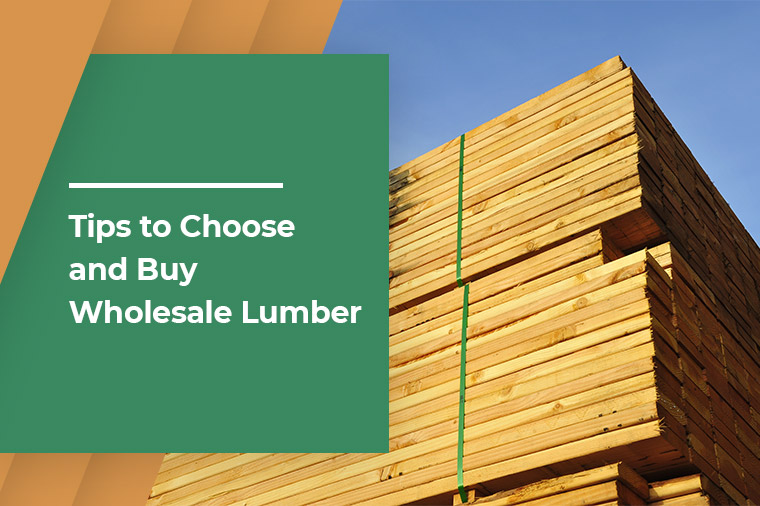 Lumber has gained noticeable popularity over the years. The main reason behind its popularity is its versatility. It is a renewable source and effectively lowering the impact on the environment. From the building industry to small carpenters, everyone is in need of good quality lumber. Wholesale lumber is presently available all around the globe. British Columbia alone satisfies a large demand for lumber today.
From ancient times, wood is demandable stuff. It helps from building a home structure to making modern furniture. No matter which type of requirement you have, choosing the best wholesale lumber requires some guidance.
8 Tips for Choosing Wholesale Lumber
1. Select a company with a good reputation - In order to get the best quality stuff, you have to choose a company with a good reputation in the industry. There are a lot of companies available in the market. You have to take some time to research each company to check if they are a good fit or not. You can take the help of Google local listing or visit the website to check testimonials.
2. Consider the ecological impact - You need to care for the environment too. And that's why you should choose a company that operates in an area, which does not harm the environment. There are some places with lots of trees over hundreds of hectares. You should choose a company that is trying to reduce the carbon footprint as well as improving the impact on the environment.
3. Know the right price - You know that price is a great concern. You should spend more or less than the market price. In order to know the standard price, you can check some companies and compare their prices and other charges. A higher price does not mean that the product will be best; on the other hand, the lower price does not guarantee the quality of the product.
4. Be sure about the quality- Buying lumber offline is the best option as you can directly visit the yard and understand the quality of the product. But if you are unable to do that, you can take the help of the Internet and do some homework to understand the quality.
5. Talk directly with the company - If it is possible, you can talk to them directly. In this way, you can get a more realistic view of their products. Even you can meet with them, discuss your requirements, and check the quality before making the decision.
6. Know your requirements - You need to understand the types of lumber to satisfy your requirements. Generally, people choose high-grade wood to make furniture and good grade wood to support construction work. If you are an amateur, you can take the help of a professional to select the right type of lumber for you.
7. Check the delivery scheme- Delivery services also play a greater role. You should check the delivery system of your chosen company before placing an order. There are many companies that deliver ordered lumber accordingly.
8. Select companies with good customer care unit- Along with these; you should also check the customer service quality. You can ask questions to check how flexible the company is in terms of orders. How they assist a customer after delivery or during problems related delivery- you should check that properly.
Understanding the Ways of Getting Lumber
It has been noticed that people or construction business owners need wood and plan to buy wholesale lumber to save some bucks. It is necessary to understand the actual differences between wood and how to buy lumber. Actually, lumber is a good alternative at a low price.
Generally, lumber gets harvested in three ways. The first type is clear-cutting and it removes all saw logs so that everything can be used to make papers. It takes 50 years after the first clear-cutting for the next crop of timber to be harvested. The 50-year time span is needed to thicken the new sprouts and allows for growing other surviving trees at a normal range.
Here the logger takes the decision of what to harvest. They all the possible things to make money and leaves the rest. Smaller trees than 12 inches in diameter and larger trees have to market value. This is because these trees are defective or have no market value. A beech tree can be a good example of this. Cherry and Walnut trees are generally higher than 10 inches and they are usually get removed. Actually, it takes nearly 12 years before woods can be harvested again.
Selective logging helps in removing only the selected trees. Local foresters help in removing both mature and worthless trees. In this way, young trees stay there to fill the gap. In this way, forest harvest can take be logged just in half a generation.
It also has an environmental effect. And that's why you need to choose a company that proper care about the ecological impacts. Different ways are available today to buy lumbers. You can buy in both tree and log form. But people find it the most complicated way to buy. Branches can cause some problems. You may also face some irregularities and that can even be hard to notice.
If you are going to buy logs, you need to have some idea about how to dry the wood without causing any harm to them. Learning how to use the lower grades of lumber from logs in existing projects is a plus. It is considered as the cheapest way to avail of lumber. But for that, you may need to deploy a team of woodworkers as well as a lot of time. Industrial needs may not be filled in this way.
If you do not know nearby lumber shops, you can take help from the local people. You can search online. Or you can communicate with construction companies to know how they manage lumber in your area. Generally, suppliers deliver lumber accordingly at any place. But the order should contain a specific quantity. Apart from these, suppliers have their own and specific rules and you have to check that also.
There is another way to avail of it in a cheaper way and that is buying wood in lower grades. In this way, you can have the knowledge and ability to select through a stack of lumber to get clear cuttings.
Conclusion
If you are in search of wholesale lumber, you should start the research work from today. It will be better if you deal with a global forest products organization. It will offer you a large area of choice. Price, quality, delivery scheme, and customer care service; you should check everything before placing an order.