What is the Purpose of a Pergola?
Posted:
November 20, 2020
|
|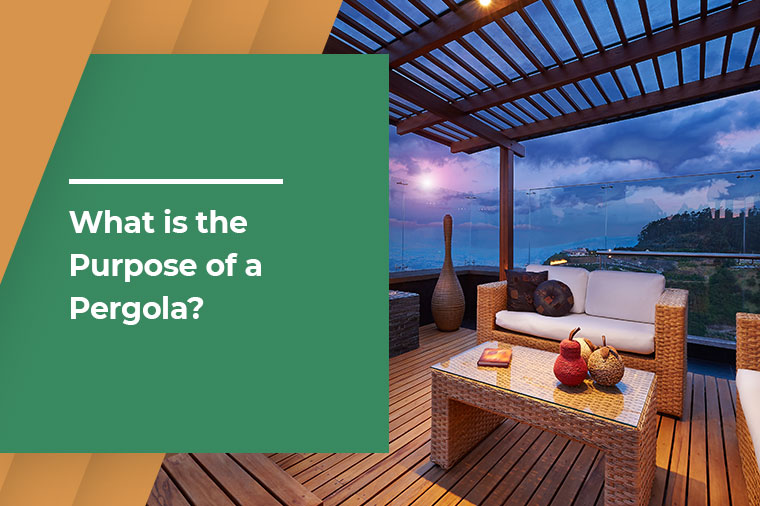 Have you first encountered the word 'pergola'? Well, it is nothing to be ashamed of if you haven't heard of it yet. A pergola is a widely-opened or arched shaped structure with four upholds beams. Moreover, it doesn't possess walls but a captivating roof design makes it somewhat enchanting such as lattice.
If you require acute quietude and want to spend some time alone with yourself, a pergola would be an amazing place! But keep in mind that the purpose of a pergola is not to provide shelter to its users. Okay, let's get started to see various aspects of the pergola!
Additional Read: The History of Pergola
The Purpose of a Pergola
If you are thinking about the leading purpose of a pergola, it can be used to serve a wide array of purposes according to the homeowner's preferences. If you need anything more to embellish a pergola, you can do modifications according to your requirements. A pergola can propel your Home's value, modified the appearance of your garden, providing shade and privacy, and creating an outdoor extension of your sweet home.
1. Pergolas add shade and beautify your backyard
Are you confused or curious regarding pergola that it really offers shade? Undoubtedly, pergolas are precisely designed to ameliorate beauty and add shade to your backyard space. The purpose of a pergola is to provide both! They are superior for providing acute relief from the scorching rays of the sun. Depending upon the design and type of pergolas, they do not provide complete shade.
You have the option to decorate it according to your choice. Are you longing for full or medium coverage? Adding a retractable canopy would be the best choice. Such options permit you to relish innumerable levels of shade relying on the sun's location or on the time of the day.
If you don't prefer the idea of a retractable canopy, there are countless ways to add additional sunblock to your pergola. It will demonstrate your preference or personal style such as bamboo, plants, and so on.
Thinking of beautifying your backyard? You may add an additional touch to your pergola is by hanging wisteria, grapes vines, growing roses, and many more. You can also enhance its aesthetics by adding dusk lighting through the cross beams and around the posts.
Additional Read: What are the Parts of a Pergola?
2. Pergolas add color and contrast to your living
Are you thinking of throwing a party? Well, it would be undoubtedly a top-notch idea if you have a huge and sprawling backyard deck. According to most of the homeowners, having a several-hundred square foot backyard is very stale without any decorations. Therefore building a pergola will help you to add a vertical and distinct profile. You will definitely love the contrasting appearance of the pergola whether you choose a free-standing feature or an attached pergola structure.
The signature clean white vinyl appearance of the pergola will provide you a subtle color enhancement. You may opt for an earthy brown deck board along with resplendent white vinyl looks. You may also think of tan or clay-colored pergolas. Adding an exquisite color accent to your outdoor space is one of the major purposes of a pergola. Apart from white color, there are also several colors that can beautify diverse homes. Therefore, pergolas can boost color and contrast to your living.
3. Pergolas provide privacy in your living
Pergolas don't necessarily come up with a roof and walls, but still, they can add a subtle touch of privacy and shade to your backyard space. Dolled up the structure with vines, sheer curtains, and sail-top cool design to ennoble shade and privacy. Privacy is a much-required thing if you want to relish the backyard oasis you have created. Are you still wondering about the purpose of a pergola? It can give you the utmost privacy you need.
Pergola's enchanting wrap-around shades provide utmost privacy from the eyes of snoopy neighbors. Additionally, with such invincible privacy, you will feel like you are in a beach-side luxurious cabana.
Additional Read: The Types of Materials used for Constructing Pergolas
4. Pergola bring accessories
Bragging tons of practicality and a whole truckload of styles, pergolas are the subtle way to fetch accessories to your deck. Do you know what the amazing purpose of a pergola is? It involves swinging plants that brings a scintillating, vivid, and colorful feel to your outdoor living area. If you want to decorate a bit, one of the most common accessories for decking up a pergola is lighting. You may choose accessories with string lighting and built-in lighting. You will definitely applaud the environment and practicality. There are endless accessory possibilities in a pergola.
5. Pergolas upgrade your garden and boost home value
The leading purpose of a pergola lies in boosting your home value. The installation of a well-crafted and sturdy pergola to your backyard can significantly ennoble your home value. It also creates a fantastic outdoor space. Please note that a poorly designed pergola can give your home an adverse effect.
A pergola is an unprecedented way to doll up your garden. Always choose a capacious design with an open-top lattice roof not to stave the adequate sunlight that comes in and thrive in the air circulation in your garden. You may also add some vines for an additional appealing touch.
Additional Read: Pergolas vs Arbors and Pergolas vs Gazebos vs Carports
Conclusion
Okay, now you have built up significant knowledge about a pergola, and its purposes to install in your backyard. So, are you ready to add an unrivaled touch to your garden? Make sure to contact Florida Lumber.