What is a Pergola? Pergolas vs Arbors and Gazebos and Carports
Posted:
September 07, 2020
|
|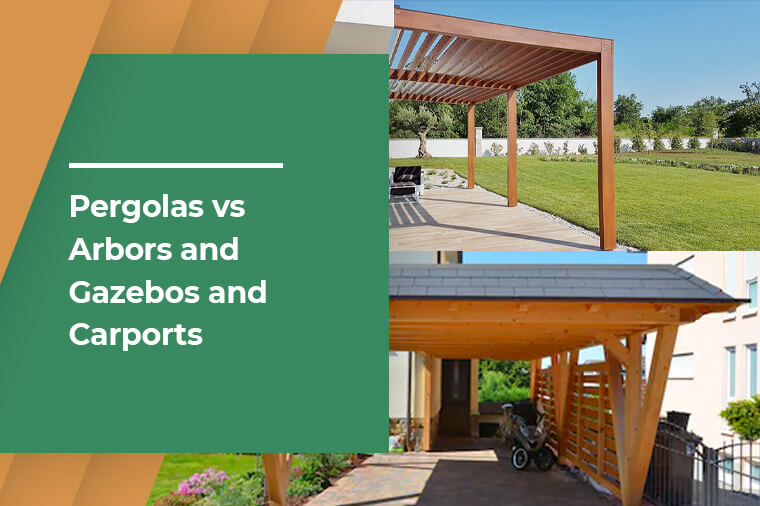 For outdoor decoration, pergola and Gazebos have become quite popular among all. This will make the roof of your house quite attractive and durable too. Apart from roofing, this can also be used to give an attractive look to the walkway and passageway. The word has been originated from the Latin word pergola. Another way to keep the garden decorated is to use Gazebo. This is a pavilion structure that is largely used in the garden or spacious public area.
What is a Pergola?
A Pergola is an outdoor structure that is used to support the roof and even this is used to make the entryway more attractive. The columnar design of this structure helps to give support to the roof. The grids of the roof can be left open so that it can keep the place covered by other elements. There are many things that one should know before even planning for introducing pergola in the property they own.
Pergolas vs Arbors
Here you may get a bit confused with arbors and pergola. Arbors also look quite similar to pergola but there are certain differences between these two. Here you can check the differences.
Arbor that is constructed in the garden is quite simple in design. There is an absence of the columns which you can notice in pergolas. Whereas pergolas are made with large structures.

In comparison to pergolas, these are quite small in structure. The structure is curved at the top. But in the case of pergolas, the tops are often flat.

The primary material used in the arbor is vinyl. Pergolas are mostly done with wooden structure and hence this gives a more attractive look.
The dimension, height, and length of pergolas are different than that of arbors. This is available with masonry columns that generate a classic look.
Pergolas are also used to make a connection between the outdoor living space and indoor rooms. Hence, this is used as an extension. Whereas, arbors are not attached to a house. But this can be designed in such a way to attach to a fence. The house gate or the entrance is designed with arbors. These are some basic differences between arbors and pergolas.
Hopefully the above discussion gives a clear idea as to what exactly the key differences are between pergolas and Arbors. Talking to a professional expert will give more information in this regard which will give you more visibility about the fine differences between the two.
Pergolas vs Gazebos and Carports
The gazebo is a wooden structure and it is used in the garden. The gazebo is always designed with a closed roof feature which is not seen in pergolas. A gazebo can also be divided into two parts one is a raised floor and another is a rounded shape. Again, you may have heard about carports. This is a shelter made to keep automobiles safe in a house. We again insist you get connected with one of the leading professionals of the industry to decide what exactly will suit your requirements and why.
Wrapping up
Well, differences are always visible between a gazebo or a pergola and an arbor. But in giving an attractive look to the garden or residence, all these are in huge demand. To create a beautiful and comfortable living space the significance of pergolas can never be denied. This will make the outdoor quite functional too. These are not only beneficial for the homeowner, but also the technology can be used in business places too. The pergolas are available in several parts like pergola columns or beams or rafters' stringers, etc. Hence, at first, gain knowledge about the pergolas and start working with it.