Pergolas - What it is, History, Parts & Materials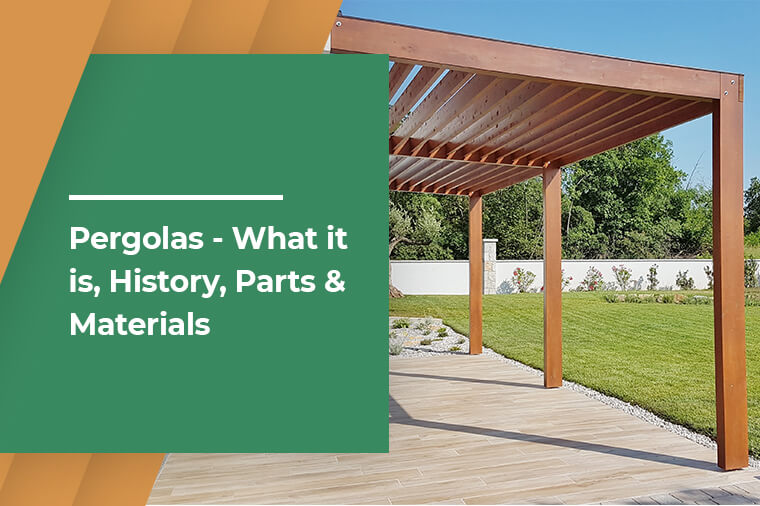 The demands for pergolas are raising day by day. The primary reason is due to low maintenance. This is an outdoor structure and this is used to support a roof. The columns of a pergola help to carry on this supporting task. This can also be freestanding which can be attached to a house.
What is a Pergola?
Pergola is the concept that helps a lot to give a roofing structure proper support. These are also used to create an effective and functional living space in the garden. This is used both for residential as well as for commercial purposes. These can also be customized depending on the requirement of a customer. In short, it can be said that a pergola is nothing but an outdoor garden feature helping in designing a shaded walkway, sitting area, passageway, using vertical posts or pillars, which helps in supporting, crossbeams.
The History of Pergolas
The word pergola is having its origin from a Latin word termed "pergula". It refers to a "projecting eave", which can be found commonly in the shape of an extended roof or arbor.
If you are planning to make an outdoor structure, you should know about the history of pergolas. This design is primarily made of stone and brick. Since the early 1400s, we can notice the use of this type of structure. This concept was hugely used in Egypt for different types of garden structures. It was in the year 1645 when Sir John Evelyn named this structure and called it a pergola. Later on, in the same year, he used the word in English Context.
Since the 17th century, the use of this construction became popular and this was being used in garden landscaping. This was mainly done by erecting a pillar made of stones. More development of the designs can be noticed during the 18th and 19th centuries. This started getting huge popularity mostly from the 21st century and started being used for residential purposes too. Apart from stones and wood, these designs are also being done with the help of other easily available materials such as aluminum, steel, Vinyl, etc.
Parts of a Pergola
The structure of a pergola is made in different parts. Everyone should understand the different parts as mentioned below.
Pergola Columns: Three columns are necessary to make the structure freestanding. If you want to have it in the attached style then two columns will be necessary. The columns will support the beams, which are the base of the width of the pergola. These are also available in various styles and designs.
Beams: Columns support the beams and these beams support the stringers and rafters. Two beams are required for a freestanding pergola and in case of attached style require one single beam. The end parts of the beams can easily be customized to give the home a stylish appearance.
Rafters: Rafters run perpendicular to the beams and these are positioned across the beams. The ends of every rafter can also get a customized look and it will help to create the desired aesthetic that you want.
Stringers/Purlins: These are installed just above the rafters and these are positioned perpendicular to the rafters. These are positioned parallel to the beams too. Stringers are square in look and are spaced evenly across the top of the pergola. These can create more designs and shades to the outdoor space.
Pergola Materials
Traditionally pergolas are mainly designed with wood and stone. But these days, the concept has changed a lot and different types of materials are being used to construct a perfect pergola. Materials like aluminum, steel, PVC, vinyl, fiberglass, etc. are widely being used to design a pergola. Here you can take a look at the various types of material used for constructing pergolas.
Wood Pergola
There is no doubt that the wood pergolas will always give a classic essence to the outdoor living space. Cedar, redwoods, etc. are widely used to construct a stylish pergola. This can create a natural look to the garden and also make the place exotic. This can be painted in various styles, which will no doubt make the pergola quite beautiful. There is a chance that wood pergolas can be faded with the weather and hence proper maintenance should be initiated so that the life of these wood pergolas can be extended. Termites and other elements can damage the wood pergolas and hence it is necessary to take proper care. Again, the wood should be entirely sanded at the time of installation so that it can remain safe from a splinter.
Aluminum Pergola
In this modern era, people are using various types of material to attach more essence to the pergolas. Aluminum is also used widely to construct pergolas. The prime reason for the popularity of this type of pergola is that it is highly customizable. These Aluminum pergolas weigh lighter than wood and do not require much maintenance.
The material is nonporous and hence this helps to keep the pergola well maintained, as there is no fear for rotting. The aluminum is coated with aluminum oxide and this can protect the pergola from any type of rust. Again, this is also available in various attractive colors once it is finished through liquid pain, anodizing and powder coating. You also do not need to bear huge cleaning costs to keep the pergola protected.
Steel Pergola and Metal Pergola
There is no doubt that steel is extremely durable and pergolas made of steel can sustain for a long time. This material is almost 2.5 times heavier than aluminum and it helps to create a large structure and cover wide areas. Powder coat is used to carry on the finished work of this pergola. Sometimes liquid paint is also used. This will help to keep the pergola free from oxidation and getting rust. Maintenance is to be done depending on the location where this pergola is installed. At the residence, you can definitely use steel pergolas and this will no doubt generate a gorgeous look devoid of paying an extra amount. The spot finishing can keep the pergola free from rust and corrosion.
Fiberglass Pergola
If you are looking for something trendy within the budget then Fiberglass Pergolas will be the best option for you. There is no doubt that this is an exceptionally strong material and this creates a wider space amidst the columns and thus creating an open structure. This looks completely different than wood and other low maintenance materials. Whether you possess a vintage house or a modern one, this style goes suitable for all types of houses. This can also be applicable in residential as well as commercial areas. If you want to do customization to the colors of the pergolas then you can also do that with fiberglass. This will make the pergola durable too. Fiberglass is lightweight and the hollow component in the material helps the sunlight to pass through the glass. Again, you do not need to bear high maintenance costs to protect these pergolas.
PVC Pergola
Another is PVC pergola, which is made of cellular PVC, and this is a widely used alternative to the wood. This will keep the moisture outside and the pergola will not get damaged easily. Due to this feature, it will not rot or split as the wood can do. PVC is available with 100 percent termite resistant and this can prevent various elements that can damage the pergolas. These are easy to paint and this material can hold the color nicely. You can use a non-toxic cleaner to clean the material at a regular interval.
Vinyl Pergola
If you want to create the outdoor space more uniquely without expending much then Vinyl pergolas will be the best option for you. This material is extremely durable and also it does not compromise with the look. Hence your outdoor living space will become quite attractive with Vinyl Pergola.
Concrete Pergola
Pergolas made with concrete can get a trendy and stylish look. You can afford this type of style at a very low budget and you also no need to pay a high cost for maintenance. Here you just need to apply power wash or spot cleaning which will keep the pergola well maintained for a long time.
Conclusion
Well from the above discussion you will get a clear picture of the parts and materials used for pergolas. If you wish to construct the one for the outdoor living space then you should concentrate on those areas. Most of the materials require low maintenance and hence you can opt for the best style at a low budget.
If you are looking for more information on pergolas, contact us today.