How much does Rebar Cost & Prices?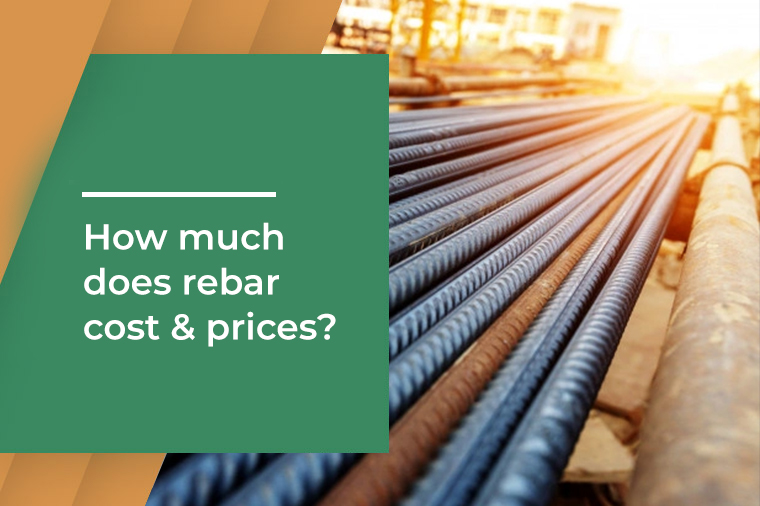 No construction project is complete without steel reinforcing bars, also known as rebars. Weve seen how rebar is made, what are the correct rebar sizes and looked upon every intricate detail of rebar.
We'll discuss how rebar is priced. When you are building a new home, or adding an external feature to your home, understanding the cost of rebar, raw materials, and installation and installation is necessary and one of the important elements of construction.
How Much Does Rebar Cost?
Depending upon the number of rebar, they are sold at varying prices. The per foot prices of rebar vary from $0.70-$0.80.
But for large construction projects, it is often seen that the rebar is bought in bulk, they are bought by the ton. The cost of rebar is estimated based on their properties such as thickness, length, volume, and type.
Considering the per foot prices, 1 ton of rebar should cost around $600-$700 but they cost as little as $400-$500 depending on the location and the manufacturer.
Additional read: Things to Know About Rebar - Basics, Benefits and Types
Rebar is made of steel and the cost of rebar depends a lot on price fluctuations of steel. This means there is no average rebar price, they are bound to change with the change in the price of steel commodity. To get the best price of rebar you can do is look at the past trends of rebar and get a quote from the seller.
For example, during the market crash of 2008, the steel prices skyrocketed but in 2016 the steel prices touched historical lows. In 2008 a ton of rebar was sold at the price of $1,203 but in 2016 the prices cut down to one-fourth and one ton of rebar was sold at only $409.
Rebar Cost Factors
Not only the steel commodity prices can affect the prices of rebar, but other factors related to the project can also impact the final price for rebar installation.
Prices can be high based on the job location, contractor, project complexity, etc. Traditional rebar installation prices are majorly based on labor hours needed for installation, plus overhead and their profit margin.
However, depending upon competition, many sellers will decrease their bids and decrease their overall time on a job. They would introduce labor productivity, by introducing a construction timetable and using a rebar terminator. This will reduce the overall man-hours and decrease their time on a job.
What is the cost of Rebar Per Pound?
You can also buy rebar by the pound, if not looking to buy a ton. It will only cost you around $0.70 to $1.25 per pound. However, there are very few rebar manufacturers who sell rebar by the pound as it is not a profitable and correct scenario for them.
Depending upon the thickness, density, and size of the rebar, 1 foot can be equal to 1 pound. But, if there are thin rebar then, it would be 1 ½ foot to 2 feet to equal 1 pound of rebar. Selling in pounds is a difficult business, thus most manufacturers sell rebar entirely by measurements.
Cost of Rebar per Ton
The most common purchase method of rebar is buying in the ton. The most common rebar sizes, #3, #4, and #5 come in bundles of 266, 149.7, and 95.9 20-foot sticks per ton. This is enough to fulfill the residential job requirements. Also, fluctuations in the steel market impact the price of a ton of rebar daily.
Rebar Coating
Rebar is often coated with special coating, the most common coating is epoxy. This gives rebar 2,000 times more durability than the standard black-bar rebar. Also, the epoxy-coated rebar offers better resistance to corrosion and your rebar wont lose strength in the long run.
However, the corrosion-resistant rebar is a bit costlier than the regular rebar. Most sellers charge an additional amount of $0.10-$0.20 per pound of coated rebar. We believe this additional amount is minimal and worth investing, as it will save your rebar and concrete from rain and snow.
Rebar Installation Cost
The cost of rebar installation isnt very expensive, its the other preparation such as removing old concrete, evacuation, etc. that adds up. General rebar installation costs only $1-$2 per square foot, so a 1,000 square foot installation will only cost you between $1,000 to $2,000.
Well, it's not only the work accounting in rebar installation. For example, if the foundation is costing you $8,000 then installing rebar for a foundation will cost you $500-$1000 only out of the foundation installation cost.
Conclusion
Thus, we can conclude that rebar or reinforcement bars only cost $0.70-$0.80 per foot, or roughly $0.70-$1.25 per pound. However, the most common method of buying rebar is buying in tons and rebar installation is quite cheap.
If you are looking for some serious construction work, then it is advisable to try corrosion-resistant coated rebar. If you have any further queries related to rebar pricing and installation, then you can anytime connect with us. Well be more than happy to help.