How to Choose Rebar and Rebar Sizes for Your Project?
Posted:
November 11, 2020
|
|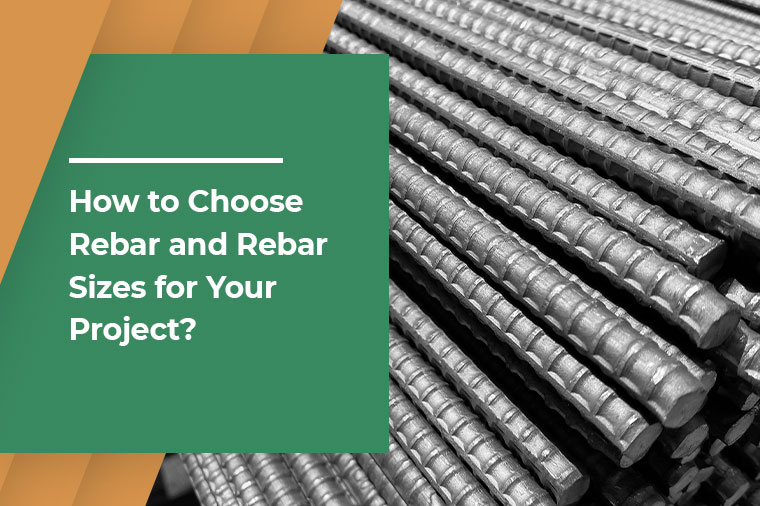 Rebar is strengthened and reinforced concrete which is the most significant component in building construction. Being a promoter, you might be thinking of which type of rebar sizes and shapes are required in building construction.
Therefore, opting for an appropriate one helps make your project a grand success. This blog is for those who want to make sure their rebar concrete is completely reinforced. Consider these below-mentioned factors now about how to choose correctly for your project.
Additional Read: What is Rebar?
How to Choose the Right Rebar? 3 Tips to Consider
If you are thinking of how to choose the correct Reber, please consider these tips:
Tip 1: Select the Proper Size
Rebar is used for construction purposes often and it is mainly available in three different sizes.
Lightest rebar whose size is 3-⅜ inches in diameter: This type of rebar is specifically designed to manage everything from driveway to patio construction. Moreover, it is also used in other projects which involve a small load.

Rebar with greater load-bearing capacity: This type of rebar sizes include 4-½ of an inch in the wall construction and columns.

Rebar with superior load-bearing capacity: Such type of rebar is using in the foundations of buildings. Here ⅝ inch of rebar is often used.
Tip 2: Find Out the Desired Length
Opting for a desired length of rebar is a considerable thing for your project. If you lack the correct tool to cut down the rebar size into the required lengths, then it would be better to have a clear perception of the measurements. Most importantly, you should consider purchasing small pieces than longer ones to easily bind together utilizing tie wire.
Tip 3: Hire a Professional
Have you begun a building project that needs the installation of rebar? Hiring a professional rebar supplier will ease your burden and they will lend you an effective helping hand. Be accurate while choosing the length, width, and weight of rebar to ensure the integrity of the structure. That is why hiring a professional is a significant consideration while choosing rebar.
How to Choose the Best Rebar Sizes?
Every construction project is highly incomplete without the use of rebar. Rebar is also known as reinforcing bars. It is mainly used during construction as a grid to pour the concrete. In today's market, there are wide varieties of rebar sizes available. However, the properties of each rebar size are different from one another.
Whenever you are opting for a construction project, then you should always choose an accurate size of the rebar to meet up with the requirements of the project easily. Basically, the rebar is determined by "Grades" in the market. These grades tell us about the capacity of the weight they are capable of handling.
These grades are available in the market in two designed units, metric as well as imperial units. Usually, the numeric designation determines the least yielding strength of the rebar. For instance, you are using rebar having 60 grade and imperial units. This means that the minimum strength of the rebar is about 60 kilopounds/square inch (ksi) or 60,000-pounds/square inch (psi).
In metric units, the same grade of rebar will be determined as 420. This means that the least yielding capacity is 420 megapascals (MPa) or 420,000 pascals (Pa). Similarly, if you are going for 50 rebar grade then the least yield strength will be 50 ksi or 350 MPa. So, it is too important to select rebar by inspecting the grade and ASTM (American Society for Testing and Materials) approval in any of your construction projects. This will help to offer a standard for what type of grade should be perfect to use in numerous settings.
Additional Read: What are the Types of Rebar?
Choosing the suitable rebar sizes completely depends on the job you are performing and your purpose of using it. However, different grades of rebar are available in today's market. So, you should be careful enough while choosing a suitable grade for your needs.
Don't forget to measure the area before opting for rebar, especially when you are up to concrete pouring. Having an idea about the areas will help you to make sure that you are using an appropriately sized rebar so that you can easily bend it if required.
If you are planning to select a rebar size to pour concrete like a porch or driveway, then the most important thing that you need to do is to measure the area. This will help you to determine the perfect length of the rebar that you will need in that project. Don't opt for buying bigger length rebar than the actual size you will be requiring unless you have the proper equipment to cut it.
Buying a small length is not at all a problem as you can connect another piece of rebar with the help of tie wire. Instead of using two connected pieces for your corners, you must use the bent rebar pieces to avoid any weak points in your concrete.
Besides knowing the measurement of the area, you should also have an idea about the thickness of the rebar. This thickness is also represented in two units, metric and imperial units. In the imperial unit, a rebar of ⅛ inch thickness indicates that an 8 numbered rebar is having a thickness of 8 inches. In metric units, the thickness is denoted in millimeters (mm). Buying rebar of 11.3 mm thickness denotes number 10 as well as number 20 rebar having a diameter of 19.5 mm.
Additional Read: What are the Benefits of Rebar?
Conclusion
Are you confused about the rebar sizes you should choose? Not to worry, don't end up with hesitation and ask the professionals of Florida Lumber today to get a good idea of the correct measurement. We are specialized in providing a correct measurement of Rebar and materials that suit your requirements. Contact us today to get a free quote from us!