How Much Does Crown Molding Cost?
Posted:
December 23, 2020
|
|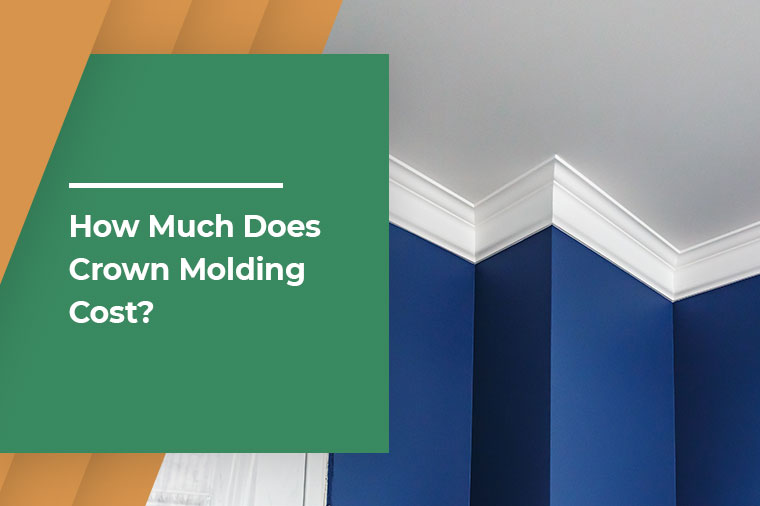 With crown molding, you can add a great touch to your interior. Crown molding is a technique that involves decorating the sharp edges of the ceilings of a room to make them appear more artistic and sophisticated. Since crown molding can come in various varieties, designs, and materials. It is better to know the crown molding cost in detail before you plan the project. The price often depends on many additional factors.
It includes the carpenter charges, the installation charges, the molding charges, and other works like finishing, painting, cleaning, and labor charges. So, you need to consider all these expenses together to get the total cost's expected value. The price depends on room size and design (the more intricate moldings are often expensive).
If you want to add a touch of glamour to your interiors, you can opt for crown molding. In this article, you will get to know about the crown molding cost in detail.
Average cost to install crown molding
Crown molding can come at different pricing according to your choice of design, finish, and room size. In general, the average crown molding cost ranges from $7 to $16 per liner foot. If you want to get crown molding for a standard room of size 15' x14', the cost will range from $464 to $1102. On the other hand, a small 10'x10' kitchen can cost you a minimum of $210 to a maximum of $570. All of these costs include the installation charge and labor cost. For those who want to get crown molding for an entire home, the price may lie between $2000 to $4000.
Please note that the cost can fluctuate according to the materials you choose and the different types of materials you need. If you chose the wood crown molding, which involves skilled carpentry works, it might cost you more because such jobs apply to an expert carpenter and additional materials.
Additional Read: The Ultimate Guide to Molding
Crown molding cost per linear foot by material
The Crown molding cost also depends on the material you are choosing. Crown molding can be done with multiple materials like regular wood, plaster, exotic wood, MDF, polyurethane, vinyl or PVS, metal, and Polystyrene. The cost starts from $1 per linear foot and can go up to $45 per linear foot as per your preferred raw material.
For wood, the cost ranges between $1 to $6 per linear foot. The cost for exotic wood is slightly higher, and you may need to shell out $10 to $45 per linear foot. For MDF, the price is between $1-$3.
Those who want to get plaster crown molding may need to spend $6 to $12 per linear foot. The average cost of PVC crown molding ranges from $1 to $3 per linear foot. Polyurethane crown molding has an average price of $2-$6. You can also choose the other materials which are also budget-friendly ($1-$2).
The most expensive option is metal crown molding, which starts from $20 and may go up to $25 and above per linear foot.
Wood Crown Molding
Wood crown molding is more popular. If you are using walnut, ash, or knotty oak wood as the raw material, you may need to spend $1-$6 per linear foot. On the other hand, exotic woods like mahogany, hickory, red oak, white oak, or even quarter-sawn oak can cost you more. If you use these types, you may need to spend $10 to $45 per linear foot.
The exotic woods are long-lasting and do not crack easily. Hence, they are best for intricate designs. Softer woods are the best choice for crown molding as they are easy to set up and mold. You can also buy ready-made fittings from a shop.
But, wooden materials may expand in hot and humid environments and shrink during the winters. Furthermore, they also need extra work like priming, preparation from experienced carpenters. So, it may be a little expensive.
Plaster crown molding
Plaster crown molding cost is within a pocket-friendly range. The most significant benefit of plaster is that you can cast it according to any design you like. Many people who want to add some gothic or roman or Victorian English design in crown molding opt for plaster. Furthermore, it does not shrink or expand and last for a long time with proper maintenance. So, it is also a great option.
But, plaster moldings are heavier and need to be customized according to your choice. Hence, you may need to spend higher installation and casting cost.
MDF crown molding
MDF or Medium Density Fiber wood crown molding costs$1-$3 per linear foot. Those who do not have the budget to use wood but want a similar finish can choose MDF. It is lighter, user friendly and is great for the DIY experts. Furthermore, MDF, being soft, is easier to carve.
Additional Read: Things to Know About MDF Interior Doors
Polyurethane crown molding
Polyurethane, which is made of dense foam, offers a wood-like finish within a reasonable budget. It is lighter and maintenance-friendly. They do not attract bugs or insects and often come with priming. The average cost of Polyurethane crown molding is $2-$6 per linear foot.
Polyurethane requires careful installation because it is prone to getting dents or damages. It also requires repainting as the paint may start to peel off after some time.
Vinyl or PVC crown molding
The PVC or vinyl crown molding cost is very reasonable (only $1-$3 per linear foot). It is incredibly durable and installation-friendly. The Vinyl molds are great for the kitchen and bathroom as they do not absorb any moisture and often hide cables or lightings for a dramatic and even finish. Those who need to get great results within a tiny budget can opt for vinyl.
Although they are not flexible and brittle, they will last for years if such moldings are correctly installed.
Polystyrene or Foam crown molding
The least priced crown molding option is Polystyrene. They cost only $1 To $2 per foot. These casting options are made with a Styrofoam core with casings of fiberglass and acrylic plaster. They are easy to install and flexible and are great for homes that may not have straight walls. They require fewer installation charges so if you are on a tight budget, Styrofoam casting molds are your ideal option.
If you have a family member who has asthma or allergy, it is better to avoid Polystyrene- it often gives off toxic gas fumes during cutting.
Aluminum, Copper, and Steel crown molding
Metal molding is excellent for outdoor places like the patio, balcony, etc. You can choose any metal as per your budget. The average crown molding cost for metals varies from $20 to $25 per linear foot. The metal pieces come in different sizes, and you need to install them without any cutting or prepping. Consider the environment and weather of your place before choosing metal because the metal may get damaged in harsh conditions.
Crown molding cost to install by labor
The labor cost for crown molding installation depends on the factors like the material type (wood. Exotic wood. Metal, PVC, Styrofoam, MDF, etc.), the project duration, and other unique factors like prepping or priming. In general, the labor cost starts from $6 per linear foot and may go up to $12 per linear foot if you hire an experienced carpenter.
In general, installation for each foot material takes roughly 10 to 26 minutes. The time differs according to your preferred material type. The labor charge cost may increase if the installation requires additional work like cutting, prepping the molds. Casting designs etc. Sensitive and soft materials also have a higher material charge, as they need more skill.
Crown molding cost for painting
After installation, the crown designs require paint to get an even finish. The crown molding cost for painting ranges between $1-$3 per linear foot. The painting charge is different for different materials, the design (intricate designs with many details take more time), the extent of the project, etc. If you need the molded designs to get painted, it is better to have a trial painting check to ensure everything looks right and get the desired finish.
You can get 1' casting mold samples with paint and install them to check how they look in your room. This trail check will help you to determine the right shade of color and the right finish.
How crown molding can make your home special?
So, how does crown molding make your home special? Well, it offers a luxurious feeling. With crown molding, you can create the illusion of a higher ceiling and improve the whole ambience. With proper molding, your home gets a complete makeover. Crown molding also adds value to your property, making it more desirable.
Getting started
If you want to add a touch of sophistication and luxury to your home, Crown molding is an excellent choice. But, before you start, you need to think carefully. Try to check the design and interior of your home to decide the designs. You also need to fit the budget and choose materials according to your account. You can consult an expert to get the best service and accurate quotes.