Crown Molding - Types, Benefits, Cost and Applications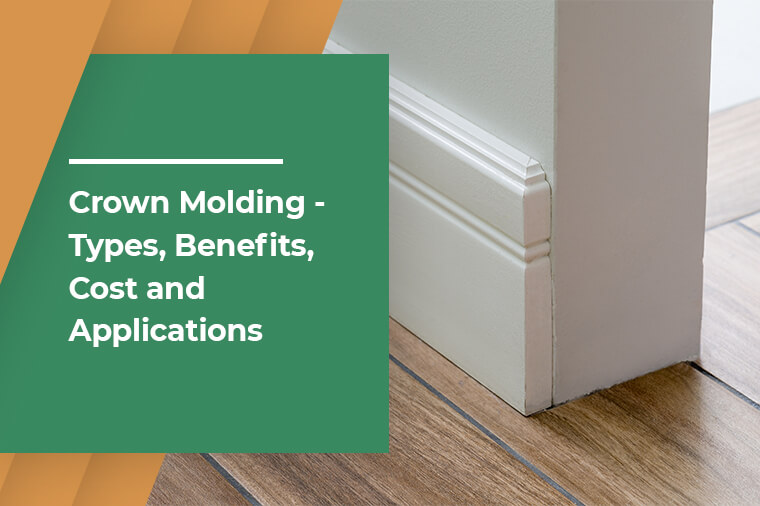 Interior decoration makes a property look soothing to the eyes. Crown molding is one of the advanced techniques of interior decoration or you can call it a decorative finishing element. This element is added above the doors or windows and no doubt it helps in generating a unique essence in the look and appeal of the property.
What is Crown Molding?
Crown Molding is an advanced way of interior decoration. This decorative element is placed at the junction between the wall and the ceiling. This is done with wood or plaster. But, in recent days this interior work is done with the help of polyurethane. This is different than that of baseboard molding and general molding at the doors and windows.
Types of Crown Molding
Crown Molding as an interior element has become extremely popular among professional interior designers. There are different types of materials which are used for making of crown molding and depends solely on the property owner to decide which one he/she wants to go with. Normally it is done with Wood and plaster but recently we can see the application of rubber or flex, Styrofoam, stick, etc in making this molding element. Below we mentioned a few popular types of crown molding elements.
Wood: Wood is preferred as the most important and conventional way of crown molding. Though this is an expensive material and skilled laborers should be appointed to cut and install this material.
Plaster: This is another common material used for this molding purpose. This material is custom-molded and hence those who believe in DIY to them this choice is not a suitable one. Those who want to work with plaster themselves it becomes quite tough for them too. It is also available at a higher price and hence it will not worth the DIY project.
Rubber or flex: Rubber is a flexible material and this feature helps to keep the molding light and workable too. This is no doubt a benefit but this will not make the molding durable. This will tear split easily and get scratched soon. If proper precaution is not taken at the time of installation, then this can dent easily. Apart from this limitation, you will get the benefit of a professional look. Rubber has its shine which gives the molding a great finish.
Styrofoam: To have lightweight as well as stylish crown molding, Styrofoam is considered to be one of the best choices. This is affordable and if you opt for foam crown molding then this will work nicely. But, one problem with this material is that it is extremely fragile. It gets damaged easily at the time of installation.
Peel and stick: If you prefer DIY for crown molding, then peel and stick can be a good choice. This material is made of thin plastic and it is available with cheap alternatives. The best thing about this material is that it is easy to install. But this material also has a limitation. It cannot provide a professional look once the work gets finished. The thin plastic is cannot hold the molding with the help of adhesive. You can opt for polyurethane which is durable and lightweight too.
Benefits of Crown Molding
To give your home a classic, aesthetic, and exotic look, the significance of crown molding can never be denied. It is available with lots of benefits that can make accurate addition to your property. Here we can take a look at the advantages are discussed below.
Add value to your home: With the help of this molding process, it can add value to the home. This will add interest to the house and your house will get a stylish and graceful look. You can opt for an elaborate style of molding which is perfect for the traditional home. The modern style will require clean lines at the time of molding. You can also opt for expensive wood molding which can return higher on your investment. To avail, this selecting faux crown molding will be the best option. This molding work will also become attractive with polyurethane and here you need less effort to get the work done.
Eliminate unevenness of wall and ceiling: This molding work is mainly done if there is a small inconsistency between the junction point of the wall and the ceiling. If the ceiling is uneven then the flexible feature of the crown molding helps a lot. Sometimes it is noticed that the presence of cabinets highlights the uneven ceiling then this molding technique will meet up the irregularities. Just above the cabinets, crown molding can be done to hide an uneven ceiling.
Hiding cracks in old home: Older homes normally come with cracks and a crown molding is extremely beneficial to hide these irregularities. This molding process can cover simple cracks and this is also used for decoration. This is a quite cost-effective matter to disguise the cracks between the wall and the ceiling.
Can apply different styles: Many of us think that elaborate crown molding is just perfect for vintage homes, but this can give a graceful look to the modern houses too. Different styles and decorations can be experimented to make the house more graceful. From the mantel to the bookshelves, different types of crown molding can be initiated.
Looks great in rooms with high ceilings: The room looms broader and open with high ceilings but sometimes this area looks blank. Here is the need for this molding which adds interest to the house. These open and broad ceiling will become more elegant with the help of detailed crown molding. This feature will no doubt reinforce the planning of your house. This will generate a magnificent addition to the crown molding.
Numerous widths to work for any room type, shape, or size: There is no doubt that crown molding looks great on the broad ceiling but that does not mean you will not apply this option to ceiling with small height. Here you can use a light color or the same as the paint on the wall to give the space a larger appearance. If your room is not perfectly square then you can opt for crown molding. This will no doubt make the room more attractive.
Providing an elegant touch to finish a room: There is no doubt that the crown molding will give an elaborate look to your house. The best feature of this molding is that it gives a detailed and caring appearance to the house. Since the past, the crown molding is mainly used to give a lavish look to a house. Simple polish work of this molding will attract the visitors and will add more value to your house. This will no doubt impress the buyers of your residence. Hence the role and importance for this molding can never be ignored.
Hope you got a clear idea of how effective and beneficial can be crown molding for your property interior look. Experts in this field can give you a more crispy and fine description of the benefits, which can crown molding element offer to your property.
Cost of Crown Molding:
While you are planning to implement crown molding to your house you should plan the budget properly. The average cost of this molding per linear foot ranges from $7 to $16. If you possess a living room measuring 15'x14' then the average cost will lie between $464 to $ 1102. If it is your kitchen and if the measurement is between 10x10 then you need to expend between $210 to $570. Hence you should plan accordingly depending on the measurement of your house. You can contact your nearest crown molding supplier to know the exact cost as per your requirement.
Applications of Crown Molding
In recent days, this molding technology is largely being used in various residential houses for internal decoration. This helps to cover the cracks on the wall or the ceiling. The areas where this molding method is largely used can be mentioned below.
Cabinets: The upper cabinets will get more value after this molding work is done. Especially if you feel that your kitchen is missing something, then the application of this molding is extremely beneficial. This will add more height to the ceiling and will make the room broad.
Entryways: An entryway of your house will become more focused with the help of this crown molding. The application of molding on the entryway will no doubt give a graceful appearance.
Mantels: Mantels can be given a more detailed look with the help of this molding technology. The trim look will generate an eye-catching appearance.
Bookshelves: While you are planning to implement crown molding then never forget about the bookshelves. It will be nice to do the enhancement with a simple bookshelf to give it a graceful look.
Hiding wires: Sometimes open cable or wires look shabby in the room and hence the application of crown molding will give the best appearance. This molding feature will conceal the cables and wires and give a clean look.
Well, this is not the end of the list of different applications of crown molding as there are many other things that it can be applied for. Getting into a discussion with one of the leading interior decoration experts can offer you more information on this aspect.
Conclusion
From the above information you will get an idea regarding how to apply crown molding and how this technology or style of the decoration will be beneficial for you. You should know more about the benefits and areas of applications so that it will be easier for you to understand the fact. There is no doubt that crown molding can add more value to vintage homes.
If you are looking for more information about crown molding, contact us today. We will help you to complete your crown molding project with helpful kit, molding accessories and more.