The Ultimate Guide to Molding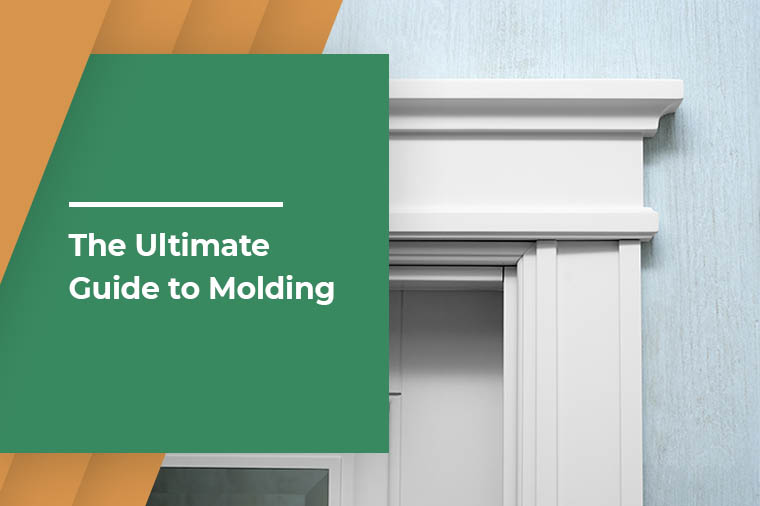 In classical interior design, every surface is divided in regularized compartments through paneling. The moldings line the edges of the panels in order to mediate a shift from one panel to another. Therefore, moldings are not just decorative elements; they are equally useful for the blending of different segments of a room in order to develop a seamless interior design.
In interior designing, molding may be used to call attention to different parts or elements of a room, such as doors, windows, base or other elements. They are available in various styles and can be used to add warmth or elegance to the décor of any room.
What is Molding?
Molding can be defined as a strip of material in varying profiles (shapes), which is used to cover the transitions between different surfaces of a room. It can be used for decoration as well as for practical reasons. For example,
A base molding does not just conceal a joint. It guides the attention towards the wall that rises above it and balances the transition between a room's horizontal plane (floor) and vertical plane (wall).
Types of Molding
The moldings can be divided in 46 categories based upon their profiles. It is also possible to categorize the moldings as Straight and Curved moldings. However, interior designers usually separate the moldings in following categories.
1. Decorative Moldings
The moldings with different profiles fall into this category. Each decorative molding has been designed for a particular purpose. For example, the Astragal molding is one type of decorative molding that is semi-circular in shape and is used if there is a pair of doors. It is used in order to cover the gap in the meeting points of two doors. Decorative moldings are available in numerous curvatures, styling and ornamentation.
2. Casing
Casing is a finish trim that is present around the sides of a window or door opening. It is used in order to cover the gap that is present between a wall and a door/window frame. A casing is available in various styles and the width of casing usually remains between 2-3 inches.
3. Baseboard/Baseboard Styles/Skirting Board/Base Molding
This type of molding is available in numerous profiles and is primarily used to conceal the meeting point between the interior wall and the floor. The baseboard molding adds decorative features whilst protecting the base of the wall from damages resulting from impacts.
4. Crown/Cornice Molding
Crown and Base moldings are more commonly used than any other type of molding. It decorates and conceals the transition between the ceiling and walls. This type of molding is also available in numerous profiles and is known for creating intricate silhouettes.
5. Chair/Dado Railing
This is a horizontal Chair railing molding that is placed on the higher part of the wall. It is primarily used to protect the surface from the chair-backs. However, it is also useful in enhancing the aesthetics. It can be used to delineate two types of wall coverings, such as wallpaper or wall-paints.
6. Picture Railing
It is functional molding that is located 7–9 feet above the floor. This type of molding is usually seen in buildings with plastered walls or in commercial buildings and is used to hang the framed arts.
7. Cove Molding/Coving
This simply designed molding with concave trim is installed at the juncture of the ceiling and walls. Coving is considered to be the less decorative version of the Crown molding. It may even be installed on a staircase at the meeting point of risers and treads of each stair.
8. Dentil
Dentil molding is made of multiple evenly placed small blocks. This type of molding is incorporated with the Crown molding for beautification and is placed at the bottom edge of the cornice.
9. Egg-and-Dart Moldings
In this type of molding, the oval/egg shaped patterns alternate with 'V' shaped dart-like patterns. This type of molding is generally used for ornamentation along with the Crown molding or Chair-railing.
10. Batten/Board-and-Batten
This is a symmetrical molding. This is installed across a joint to hide the meeting point of two parallel panels or boards.
11. Bead Molding & Pearl Molding
They are two different types of trim even though both of these moldings feature a row of symmetrical spheres. These moldings often come together with other designs and are installed along with the crown molding or chair railing.
Molding Materials
Four types of materials are primarily used for molding.
1. Pre-primed MDF (Medium Density Fiberboard which has been primed using alkyd-based primer). It is possible to create a consistent and even-painted finish on this type of molding.
2. Pre-primed Pine molding is a natural molding that can be painted.
3. Pine can be used without being primed. It can be clear-coated/painted/stained for a pleasant look.
4. Oak molding is known for durability. Oak comes with a unique grain pattern and rich color. This molding can be varnished/clear-coated/stained.
In recent years, decorative moldings are being developed using EPS or extruded PVC as the core material and a protective coating of cement is used around the core. A molding may even be carved from stone.
Molding Applications
Moldings can be installed in different locations and their application depends upon this factor.
The Crown (ceiling) molding modulates the transition from the ceiling to the wall and the decorative pattern adds character to the interior décor whilst concealing the meeting point of ceiling and wall. It is important to remember that the width of the Crown molding increases in direct proportion to the size (length/breadth) of a room.
Door/window trim/casing is used in order to hide the gap between the frame of a door/window and drywall.
Chair-rail/handrail/panel molding adds character to the interior décor whilst protecting the walls from the damages, such as dents/scuffs, due to impact. For example,

Chair-rails protect the walls from damages due to impact of back of the chairs.
Handrail enables an individual to comfortably and safely navigate the stairways.

Floor-trim or baseboard molding is used to cover a gap between the wall and the floor.
Molding Accessories
It is essential to have the following accessories in order to properly complete a molding project.
Rosettes (Corner blocks) to be placed at four corners of a window or top corners of a door. It is essential to ensure that the size of Rosettes match the size of the molding.
It is equally essential to have Plinth blocks. These baseboards can be used to join profiles of varying widths. For example, you may need to affix a wider baseboard to a narrower door casing.
You may use a miter saw to cut the Crown corners or may use the preassembled Crown pieces. The preassembled Corner pieces are easier to install, and the butt joints only need trimming.
It is essential to have Divider blocks when installing a molding. It saves you from cutting the moldings at a 45-degree angle.
The Intermediate blocks are equally important. It enables you to cut the molding straight instead of making scarf joint.
Conclusion
Moldings are not just decorative elements, but they can be used to conceal or to highlight an area. Some moldings, such as baseboard or chair railing, also protect the walls from damages whilst making a room look elegant.
On the other hand, Handrail makes it easier to move up and down the stairs and Picture railing makes it easier to hang the framed pictures. Therefore, a molding can enhance the aesthetics whilst fulfilling some practical purposes.
Explore our different types of Molding and contact us here for more information.