Applications and Benefits of Pressure Treated Yellow Pine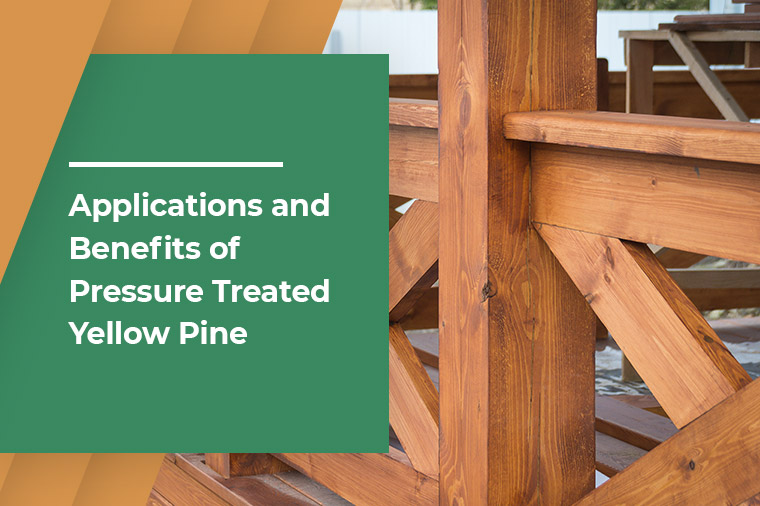 The Construction Products Regulation requires development items to meet the necessities for development works. It accounts for mechanical resistance as well as stability.
Timber treatment is useful for meeting these requirements. The Properties of lumber and timber species impact the quality of treatment that can be done for them.
Few species are grouped as 'tolerably impervious to extremely resistant to treatment', while others are classed as 'porous'. It further empowers the additional preservatives to reach more deeply into the lumber. It helps in the better treatment procedure.
About Southern Yellow Pine
Southern Yellow Pine is not just the name of a single thing or species. It is a term used to portray a collection and group of species of loblolly, longleaf, shortleaf, and slice pine.
These all species are native to the United States of America. They are found chiefly across a wide region. They begin from eastern Texas and approximately at Virginia. Moreover, they are nearly unidentifiable when felled and processed.
Although 97% of American homes consist of timber frames, and more wood is used up per individual in the USA than elsewhere on the planet.
Yet, the woodlands of North America cover a similar land portion as they covered almost 100 years back. It is because more trees are planted each year than they are felled.
Moreover, these woods are instead increasing in size.
Why Treated?
All woods, including Southern Yellow Pine, can be subject to deterioration from fungi and wood-exhausting insects and crawlies. The risk is more prominent in cases where wood is used outside, or in applications where it is likely to get wet.
Good and strategic designing and planning can diminish the danger of the wood getting wet or remaining wet for expanded periods. It can decrease the danger of lumber being decayed and destroyed due to biological degradation. In the sites, where wood is majorly exposed to dampness, the best treatment for the lumber would be giving modern preservative treatments.
While a few types of insects can harm dry wood, they are less dangerous in cold atmospheres, for example, in the UK compared to fungus. In Southern Europe where the climate is hot, termites can pose more danger to construction timber.
Due to the climate changes, it will be fundamental to secure timber against fungus degradation and insect attack in nearly every climate.
Additional Read: What People Ask About Yellow Pine?
Applications for Pressure Treated Yellow Pine
Pressure-treated Southern Yellow Pine has become the chief lumber choice in Northern America for designing, landscaping, construction, and engineering applications. It is due to its inborn strength, treatability, and magnificence,
1. Flooring
They can be utilized for hardwearing floors, with an appealing surface. Pressure-treated Yellow Pine is a good option for domestic purposes and public flooring, where moisture, humidity, or dampness might be a chief concern.
2. External Cladding
They are available in wide varieties of profiles in a normal, excellent pressure-treating finishing look. Besides, they are also available with industrial coatings.
3. Truss Rafters
Its inalienable strength allows longer ranges and more modest cross-segments.
4. Outdoor decking and boardwalks
Southern Yellow Pine is the dominating material in the USA in the field of decking as well as the boardwalk.
5. Landscaping
It is widely used for landscaping For example pergolas, arbors, gazebos, fencing, boundary edges, etc.
6. Bridges
Southern Yellow Pine of a larger size is quite popular for the construction of bridges. It is used for both public and private bridges.
7. Freshwater piers and pontoons
Class 4 treatment is the best option for piers and pontoons, especially those in freshwater.
8. Post and frame buildings
Post and frame buildings are becoming excessively famous structures. It is not only because of their need in the farming industry but also for other structures. It includes affordable structures for business and private applications.
Benefits of Pressure Treated Yellow Pine
There are numerous benefits of pressure-treated yellow pine.
Rigidity and Strength
Southern Yellow Pine is the most strong, rigid, and primary softwood lumber in the US. In the UK it tends to be reviewed to C22.
Cost-Effective
Wood is a financially savvy development material. Southern Yellow Pine's high strength class implies planners can decrease cross-sectional sizes to set aside cash. Drying after treatment limits rejection brought about by shrinkage.
High Density
Southern Yellow Pine gives a very hard-wearing floor or deck surface, which holds trimmings well. It is also entitled to the Janka hardness rating of 690.
Superior Treatability
The high sapwood to heartwood proportion and wood cell character means additive infiltration is profound, great, and continuous.
Natural Beauty
It is the best for exterior cladding when treated. It is so due to alluring grain patterns and coloring and shading effects.
Helping the environment
In contrast to most structure items, wood from very well managed resources is a truly supportable material with a low carbon footprint. The more this wood is utilized the more we relieve climate change by global warming.
Hope the article has helped you work out with all the aspects of Yellow Pine. You can always contact us to know more about Yellow Pine.