What People Ask About Yellow Pine
Posted:
February 11, 2020
|
|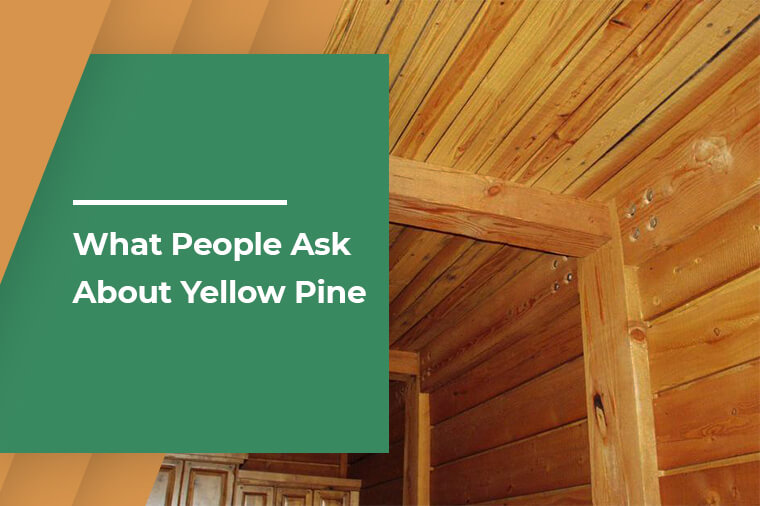 What is Southern Yellow Pine lumber?
Wooden materials should be extremely durable. They also need to be strong in order to absorb processing pressure and environmental attacks. In all, for beautiful and long-lasting wooden material, we need the perfect wood.
Southern Yellow Pine (SYP) lumber is one such wood that has all the required qualities. It is known for its durability, strength and wide availability. According to construction experts, SYP is one of the best types of lumber available today. It is found on a wide scale. It's available in plentiful quantity in the southern United States. It grows in red clay soil. It doesn't disturb the environment. It is quite cost-effective, as well. When you buy this product, you're also supporting local businesses. With such a wide array of appealing qualities, it's no surprise that SYP is in wide demand.
Below are additional features of SYP that set it apart from the rest:
High density makes this wood very strong. It increases its load-bearing capacity, too.

It has a proven record of good performance.

Formidable stiffness and strength.

Because of its wide availability, its price is naturally low. Because of its strength, it can be utilized in modest amounts.

SYP has a great look. Raw or finished, it always looks beautiful.

It's a green building material.
What is yellow pine used for?
Yellow pines are naturally beautiful, so they are always in demand for architectural designs. Their holding power is good and as a result, so is their load-bearing capacity. It comes in golden color, which is very visually appealing. Because of its strength, visual appeal, and high availability, it is often used in applications that require considerable strength and load-bearing capacity.
Framing construction demands high-value wood that can sustain considerable pressure. The wood should withstand heavy loads and should work in all adverse conditions.

Wooden rollercoasters need deep and dense wood. Yellow pine is ideal for this purpose.

Commercial Construction -- Commercial construction is typically performed on a large scale and requires substantial amounts of wood for a variety of different functions.

Bridges and decking: These heavy and risky construction projects need wood that is very tough.
Can you stain southern yellow pine?
The raw yellow pine needs a touch to enhance its beauty. When it is used for architectural designs, it should look very appealing. For its full beauty to shine through, however, it needs to be stained.
Because of its beauty, strength and low price, SYP is mostly used for flooring, furniture, and cabinets. It needs a sanding sealer before staining. As it is smooth, it is very prone to streaking when strained.
The following items are required for staining:
Sanding sealer, bristle paintbrush, sandpaper, wood stain, pad, and cleaning material.
The whole process of staining is quite lengthy. But the end product is a beautiful yellow pine.
Is southern yellow pine treated?
Yes, SYP is normally treated. The wood can decay with exposure to extreme environmental conditions. It serves as a feeding ground for bacteria, fungi, and insects. To protect the wood from these outside dangers, the wood needs treatment. In fact, because it is very treatable, this wood is the consumers' first choice. It's one of the most treated softwoods.
Its uniform structure allows uniform penetration of chemicals. This protects the wood from environmental hazards. The treatment also ensures a long life for the wood. Modern treatment has many advantages to offer. The preservatives are odorless and colorless. It also doesn't have any adverse effects on human or animal health. It's completely safe. SYP is the favorite wood of marine construction and engineers as it is tough and cheap. It is easy to repair and very durable as well.
Some precautions need to be taken when you use machines on treated yellow pine:
Full facial protection to guard against dusting is necessary.

The treated and untreated wood emits sawdust that should not be inhaled.

Clean the exposed skin area properly with water to avoid infections.

Clothes used during treatment should be washed separately from other apparel.

The treated wood should never be burned.
From the above, we can conclude that Southern Yellow Pine Lumber is one of the best woods available today. It has many useful features that make it the ideal wood for a variety of purposes. It is beautiful, cheap, highly available and strong. It needs treatment to increase its life. The treated wood has gained considerable popularity among marine professionals. It's environmentally friendly as well and helps support many local businesses and their workers.