Seasonable Benefits of Trex Lumber
Posted:
February 14, 2020
|
|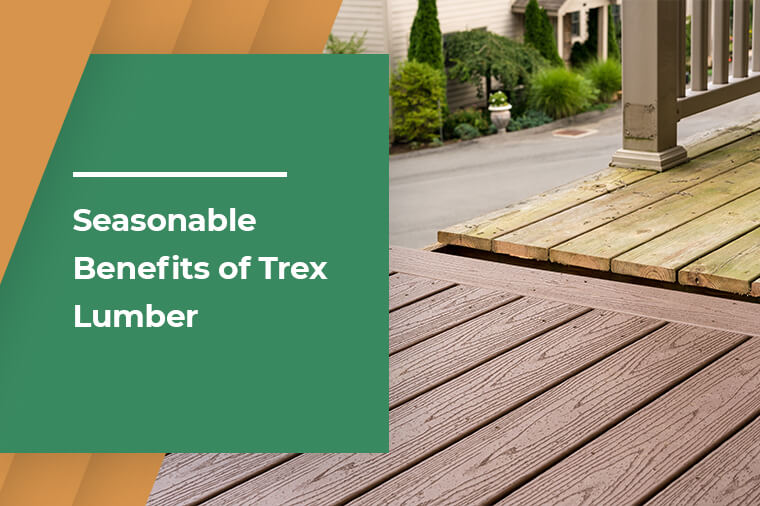 Trex is a composite product that possesses a genuine wood quality and rich natural color. It can be easily cleaned using soap and water, and the quality doesn't diminish as quickly as wood. Compared to wood, Trex lumber goes on for years. Trex lumber is well known for its resistance to different climates and its strength. So, what are the exact seasonal benefits of Trex lumber? Trex lumber doesn't warp, crack, mold or scratch. This lumber is also insect-proof and splinter-free, meaning you don't have to worry about termites or any other insect eating through the wood.
Trex lumber in the Fall
In autumn, leaves can cause significant problems if not cleaned immediately. After a rain, the wet leaves eventually dry out. However, the lower part of the leaves traps moisture, making the wooden deck underneath suffer and deter. The leaves also leave stains on the wood, which ruin its finish. The benefit of using Trex lumber during fall is that the composite material in Trex lumber is much more resistant to decay. Hence, rotting leaves don't leave a very big effect on it.
Trex lumber in the winter
Winter can cause considerable amounts of freezing and thawing, which results in wooden decks being damaged. Over time, even if you buy a new deck, the sealant gets removed. That, in turn, damages the wood by creating warping and large cracks. You can reseal it from time to time, but that involves extra expense and time. Also, there is certain damage suffered by the wood which cannot be reversed. Trex lumber doesn't have any crevices that water can fill, so there are no cracks to worry about. Overall, the cost of repeatedly having to reseal the wood is eliminated.
Trex lumber in the spring
Spring is a wonderful season. However, when it comes to wood, it can be bothersome. This time of the year tends to be a bit damp, which takes a toll on any wooden material. Decks are a different matter altogether, as they get the most exposure to dampness since they are outside all the time. Dampness causes mildew and rot, which needs to be repaired, usually at a high cost. The composite materials in the Trex lumber allow the deck to be more durable and resistant to mold and decay, so even small problems like mildew are avoided. Using Trex lumber helps save a lot of money in the long run.
Trex lumber in the summer
During summer, wood which is exposed to harsh sunlight and heat throughout the season generally loses its luster. However, Trex lumbers stay intact in its shine and color, even after long exposure to light and heat. Trex composite decks don't fade as wooden decks do. Even in harsh sunlight and heat, they remain resistant. The original finish of the lumber stays intact, allowing it to remain beautiful over the long term.
Being a composite material, Trex lumber may cost a bit more than normal wood, but it offers significant durability. You will derive long-term use from Trex lumber as compared to wood, allowing it to easily pay for itself. Finding proper Trex lumber is not an issue, as most companies that manufacture them are easy to find. Trex lumber also usually carries a multi-year warranty, providing additional peace of mind.