7 Design Ideas of Pergola with Roof
Posted:
November 25, 2020
|
|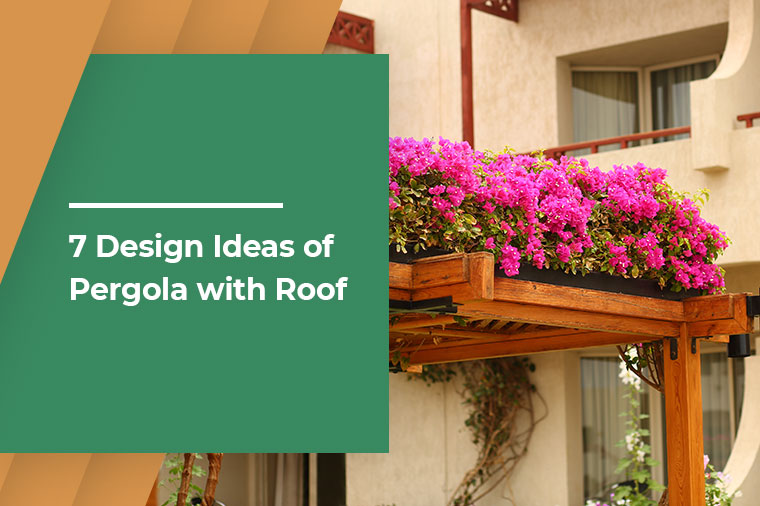 Have you just shifted the look of your new residence? Are you thinking of the best pergola designs with a roof to beautify your backyard? But due to the availability of thousands of designs of pergola with a roof, you are unable to opt for one?
Nowadays, we have been commonly using them on patios and decks. But mainly use them for privacy and shading purposes. Various pergola ideas might be cumbersome for you to choose, but after considering our guide of the best 7 design trends of a pergola, you will never be in a dilemma again! So, without any delay, let's get started!
What is a Pergola?
If you don't know what a pergola is and still looking for pergola designs, there would be a chance that your contractor might be juggling you. Well, a pergola is an outdoor structure that contains columns that uphold a roofing grid of rafters and beams. Such a roofing grid may be left covered just to provide shelter.
Additional Read: The History, Parts and Materials of Pergola
What is a Pergola with a Roof?
A pergola with a roof features a crossbeam shielding to provide some sort of protection from the natural elements. Such a structure can be associated with a home, and it can be a deck, patio, or any broad space, or any freestanding to guard a yard.
7 Design Ideas of Pergola with Roof
1. Premium Vinyl Pavilion - Gabled Roof
In this pergola design, your roof span will evaluate 8'' - 21'' greater than your size. The material is used in making such premium gabled roof pergola is high-density cellular PVC. For your new home construction, such pressure-treated pine faced with Wolf Trim is the superior one. It basically spans over 18' requires a middle post.
2. Premium Vinyl Pavilion - Traditional Roof
Such a traditional pergola with a roof span will be 8 ¼'' greater than your size. It also features Wolf Trim's high-density cellular PVC trim board which will provide your pergola a smooth and matte finish. It wraps pressure-treated pine headers or beams, post crowns, corner braces, and post base moldings.
Do you want a captivating wooden centerpiece to brighten your landscape and deck up your backyard? This top-notch pergola with a roof will make every visitor awe-struck due to its simplicity in wooden designs. It is the best pergola idea to ennoble the appearance. This wooden pergola is classy, sturdy, and would look amazing in every place.
4. Red Cedar Gabled Roof Pavilion
Want to arrange a small get together? Such an amazing pergola with a roof will let you amass all your friends in your backyard. Here you can perfectly relish the comfy breeze with a cup of coffee in your hand. This is also an amazing pergola design where you can enjoy all those outdoor activities.
5. Red Cedar Traditional Roof Pavilion
Cedar material is a top-notch one for those people out there who are thinking of giving their outdoor ambiance a subtle touch of realness. Its base package consists of nominal 6'' * 6'' posts, notched 1 ½'' to accept headers and 8 ft. high. Its roof span of up to 18''- 8'' can be upheld with two posts.
Such a lean-to-style pergola with a roof is a standard option and admired by everybody due to its popularity. Such a backyard shield provides you an airy and open design that will protect you from outdoor weather. It is an amazing outdoor living space where you can set up a firepit and TV to relish the cool breeze.
7. Pressure Treated Pine Gabled Roof Pavilion
This pressure-treated pine gabble roof pavilion is a sure-shot way to create a small party in your backyard with your friends and families. Its size is greater than 18 ft. which requires a middle post. You can also upgrade to longer timbers that extend to greater distances without sagging.
Conclusion
So, these are our best 7 pergola design trends with roofs, which would be amazing for any kind of outdoor activity. Which type of pergola design do you like? Comment below.