Why IPE is the Best Decking Material?
Posted:
December 02, 2020
|
|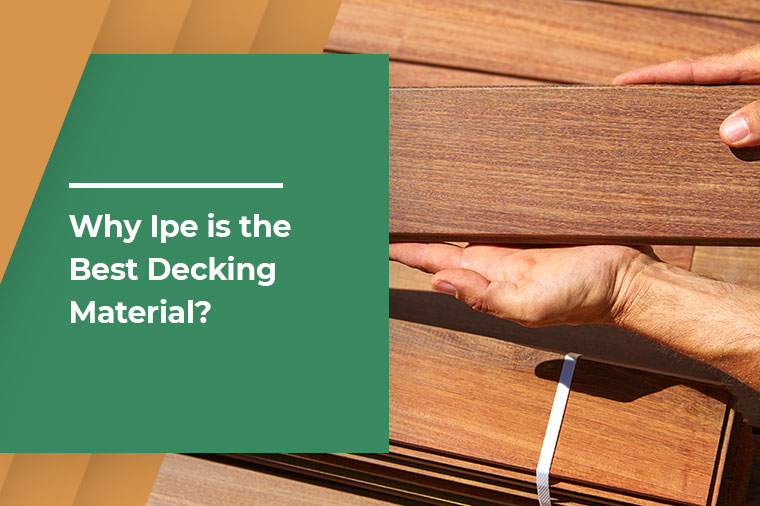 IPE is considered among the best wood for decking work. Due to the multiple benefits that one can derive from it, IPE has gained much popularity as a great decking material all over the world.
What is the most popular decking material that you can think of? The answer that comes immediately to your mind will be wood. There is a great choice of lumber that one can use for deck building.
This solely depends on the weather of the place where you reside, the length of the deck that you want to build, and also the budget that you have assigned for the project. But if you are searching for the best deck building material, then IPE is the best choice.
IPE or Brazilian Walnut is the hardest tropical wood. It can be used to make decks, docks, siding, and any outdoor structure.
Additional read: Top 6 Decking Materials to Design Your Deck
5 Reasons Ipe is the Best Decking Materials
1. Long-Lasting
IPE has been used in decks and commercial broad walks. Some of them have been installed about fifty years ago and they are still in good condition. This proves the longevity that it gives to the structures made from it.
Due to its density, IPE can stand any kind of weather like extreme sunshine or extreme rains. It has a high tannic acid content and this means that it will not rot, mold, or be affected by any kind of insects.
IPE comes from the Amazon Rain Forest where it is always exposed to huge amounts of rainfall and different kinds of insects. The wood has already adapted to all these things and therefore developed resistance against them. Hence it is a good choice for decking material.
2. Eco-friendly
Architects and designers chose IPE due to its longevity. This need not be replaced sooner like the other woods. IPE is dense and resistant unlike the domestic wood or softwoods readily available in the market.
It also does not need to be treated chemically for preservation purposes. IPE can be bought with custody certification too. This guarantees the buyer the tree was sourced from and harvested responsibly.
3. Increase home value
With the help of the IPE deck, you can add an extra area to your home. This will not only increase the space but also the aesthetic appeal of your home. It will increase the area on the outside and help you to get a space for relaxing and entertainment purposes.
IPE is a good decking material and it is therefore used in renowned resorts all over the world. The high-end beach resorts use IPE for making their broad walks and decks. Decks or broad walks made from IPE oozes opulence and luxury.
4. Safe building material
When you choose decking material, safety is an important factor to be considered. These materials will be more exposed to the weather than the indoor items. IPE wood is on par with steel and concrete when it comes to fire rating.
This makes it immensely safe in case of smoking or grilling incidents. IPE wood does not crack very easily. Hence, you can walk barefoot on it easily. IPE does not absorb the heat of the sun and hence it will not scald your bare feet.
5. Selection of sizes
When you select IPE wood as decking material, you have a wider choice of selecting the width, thickness, and length of the board. IPE comes in all sizes and the carpenter can cut it in any size that they need.
This is in contrast to PVC or Composite Decking that comes in only some selected lengths. When the carpenters or the deck installers use these materials, they complain about the limited lengths available.
The other problems with these materials are that they cannot be cut well and they lose the guarantee if they are cut. Hence all these issues have contributed to the popularity of IPE as a good decking material all over the world.
Additional read: Most Vital Tips for Building a Dream Deck that Fits your Budget
Conclusion
IPE is the best decking material that you can use for making various kinds of structures. The great qualities of IPE along with the value that it adds to space make it an appropriate choice for decking purposes.
Are looking for decking materials? Contact us to get a quote.