Top 6 Decking Materials to Design Your Deck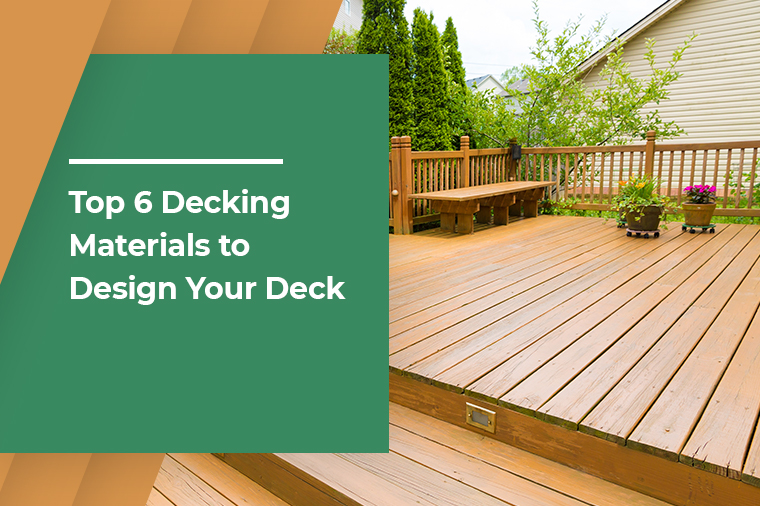 A Deck is the place where you can rejuvenate, recreate or even reflect on life. It may be an extended part of the balcony or may surround a swimming pool. You may use a deck for a pool party or get-together. It is an excellent place to have a barbecue. Hence, it is important to carefully select the decking material before building or renovating it.
When selecting the decking materials, it is important to consider its durability along with the looks of the selected material, as a deck remains exposed to the heat, rain, dirt and other elements.
It is equally important to consider the cleaning process of a particular decking material (whether it can be easily cleaned or is going to require professional cleaning).
Best 6 Decking Materials with Costs
1. Pressure-Treated Wood
The pressure-treated wood remains the best choice for decking despite the introduction of numerous other materials over the years.
A high pressure is used in order to insert a solution of water and preservative agents (ACQ/CA/MCA) into the lumber. The longevity of a wooden plank extends after undergoing this process.
It can slow down the speed of degradation caused by moisture and the treated wood can resist the attacks of fungus, termites or other elements.
Due to having this utilitarian feature, the pressure-treated wood is still the first choice of many for decking. One square-foot of pressure-treated wood may cost $1.50 to $2.50.
2. Cedar
Cedar - this softwood may be the best choice for decking due to having a rich color tone and due to requiring less maintenance.
This durable softwood is naturally resistant to decay, rot or insect attacks. It can also resist the absorption of moisture. Hence, cedar planks tend to last for years (15-20 years or longer).
This softwood may be stained/sanded/treated for a beautiful finish. This softwood is also an environment-friendly option in comparison to any synthetic material. One square foot of Cedar decking may cost $3.75-$5.
3. Redwood
Redwood is another environment-friendly option for decking. The redwood has an equally rich tone and requires no artificial ingredients in order to remain durable.
A plank of redwood can hold its shape for years due to having unique wood grain. It is less prone to cupping or warping. This softwood can naturally resist decaying or termite attacks.
The thick bark of Coast or Giant redwoods contains tannin. Hence, the softwood from these species of redwood is fire resistant. One square foot of Redwood decking may cost $6-$8.
4. Composites
Composite decking materials are made using polyethylene or polyvinyl chloride. You may find these decking materials in a wide variety of colors enabling you to customize the looks of the deck.
The composite decking boards are made from recycled plastic and wood fibers. These materials can resist rotting and insect attack. The composite decking materials do not splinter or warp. The composite decking boards look like real wood due to advancement in manufacturing process. These boards need little maintenance.
One square foot of the composite decking material may cost $7-$10.
5. Tropical Hardwoods
Tropical Hardwoods may even use the wood from exotic plants (Cumaru, Massaranduba, Red Tauari, Ipe, Tigerwood or Mahogany) for decking if you want to add a touch of elegance to the deck.
The tropical hardwoods are known for their longevity and different varieties of hardwoods may last for 20-50 years. Tropical hardwood decks shine with a luxurious glow after being oiled that is unmatched by any other decking material.
The hardwood decking material is low maintenance when properly weathered. One square foot of this decking material may cost $8-$12.
6. Aluminum
Prefinished aluminum planks are also being used for decking. Aluminum is resistant to damages caused by oxidation. No insect will attack aluminum and the aluminum alloy does not splinter, crack, warp or rot. It does not catch fire, stays in shape in extremes of temperature and last for years.
Hence, aluminum may be an excellent decking material if you prefer contemporary looks. The aluminum planks may even be colored using slip-resistant coating. One square foot of aluminum decking material may cost $6-$8.
Conclusion
You may find the right material for the deck after reading about the aforementioned decking materials. Each decking material has unique set of qualities and comes with unique price tags. Contact Florida Lumber to know more about decking materials.