Four types of Wood to select from during Any Woodworking Project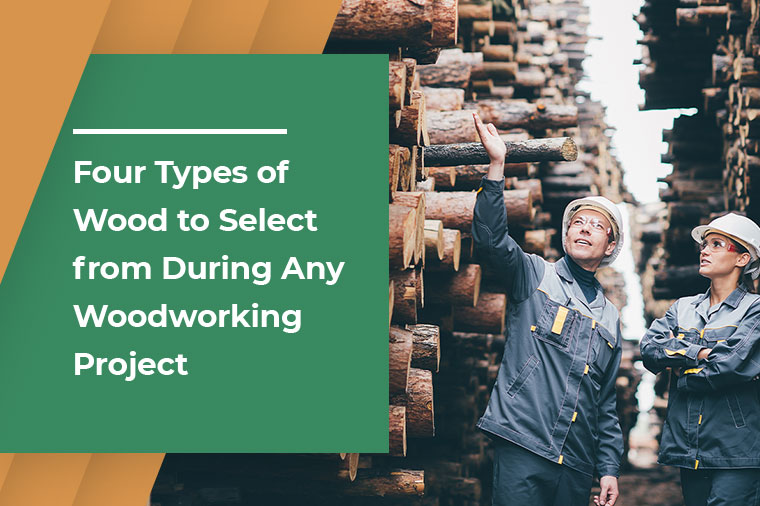 If you are learning the ropes of woodworking, then it may be difficult for you to select the right type of wood for a project than selecting the right type of tool, as you have a wide variety of choices. The industry jargon may even confuse the novice woodworkers or for someone who is working with the lumbers for a school project. Therefore, it is helpful to know the basics before starting any type of project. The hardwood, softwood, plywood or MDF are the four main varieties of wood that you may use for any type of woodworking project and the following points give you the confidence to select the right type of wood for your project.
Different Types of Wood for Woodworking Project
1. Softwood
The softwoods refer to any type of lumber, which has been cut from an evergreen or coniferous tree, such as spruce/pine/cedar. This type of wood is commonly used during construction.
The home-centers usually keep a large collection of 3/4-inch pine boards of varying widths and lengths.
These boards are relatively inexpensive and are commonly used during the construction or framing phase.
In most scenarios, the pine boards are painted for durability and for appealing looks. However, the unpainted pine boards look equally appealing with its grain patterns and knots.
You may choose a board of pine with unique grain patterns and knots if you plan to keep the lumber unpainted.
Pine boards are ideal for DIY projects, as you can easily and smoothly cut these boards since these boards are gentle on saw-blades.
The pine boards may dent or scratch easily and this is the main disadvantage of using these boards along with other softwood boards. This is why the softwood may not be a suitable option for the furnishing articles that you plan to use daily or without gentle care.
It is crucial to check the straightness of a pine board, as many boards are found to be warped and curved.
2. Hardwood
The mahogany, walnut, and cherry are not the only varieties of hardwood, as there are hundreds of local as well as exotic varieties of hardwood. The oak, maple, and walnut are the commonly available hardwoods in the USA.
Durability is the main reason why many individuals prefer hardwood over softwood. Any type of wooden article made of a hardwood may last for hundreds of years.
The color and unique grain pattern also increase the appeal of any article made of hardwood. This is why we find it prudent to coat lumber of any type of hardwood using a transparent coat of varnish or lacquer instead of using any type of color.
You may even combine the boards of two or three different types of hardwood with contrasting colors in order to create unique looks when building any type of wooden article.
Hardwood boards may damage the cutting tools due to their thickness.
You may even notice burn marks on the board if the blade is not sharp.
The varieties of hardwood can be expensive which is why it may be hard to find local lumber who deals in hardwood.
There are online retailers capable of delivering the hardwood at your doorstep these days.
3. Plywood
Plywood is the most versatile building material to use. However, the plywood is available in varying types and grades as well as various coded designations are used to determine the quality of the plywood.
Plywood is not solid wood. It's manufactured using thin veneers of real wood and stacks of thin veneers are glued together in opposite grain directions. This type of crisscross pattern of stacking increases the stability and strength of the plywood.
The plywood is more economic than a piece of solid wood. However, this is not the only advantage of using this material. You shouldn't worry about the expansion, contraction or warping when using a plaque of plywood for any type of project.
The plywood plaques are strong in each direction. Therefore, the grain direction during a woodworking project shouldn't be a problem.
The 3/4-inch plywood plaques are commonly used in various woodworking projects. However, it is important to remember that any plaque of plywood is thinner than its advertised width.
The quality of the plywood plaques improves with the increase of its thickness or width.
It is important to look for the plywood plaques that are sanded on both sides and have no void along the edge.
The Baltic Birch is commonly used for the manufacturing of plywood for different types of projects. However, the specialty plywood plaques are made of hardwood, such as maple/oak/cherry.
4. Medium Density Fiberboard (MDF)
You may even use MDF for woodworking projects. In this type, wood fibers are compressed onto the boards in order to manufacture these fiberboards.
Economic MDF is ideal for various DIY or school projects. However, it is important to remember that the edges of these fiberboards are fragile and may split when drilling screws into the board.
The heavyweight is another drawback of MDF.
The longer shelves (longer than 2-feet) made of MDF may sag, as the faces are extremely strong.
These fiberboards can produce lots of fine dust during sawing or sanding.
If you need wood for your woodworking projects in Miami, contact Florida Lumber.