Florida Lumber Featuring Trex Decking in Miami
Posted:
February 19, 2021
|
|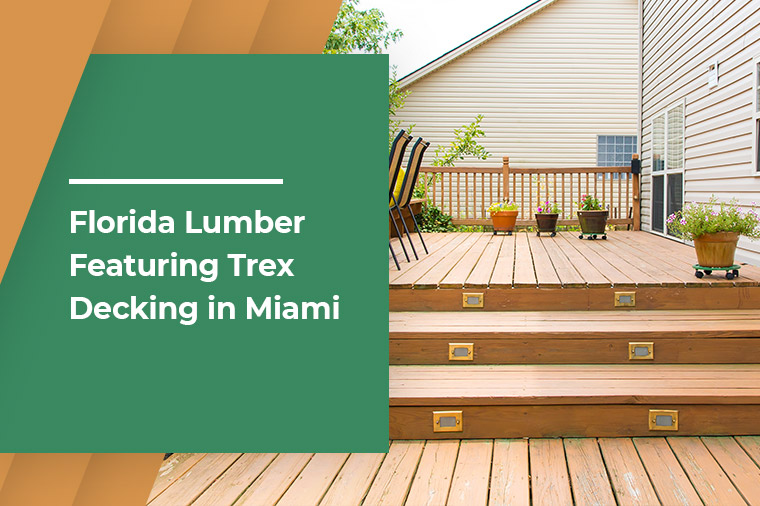 Owning a home and maintaining it is a hefty task in itself. There's a lot of buzz going around about a generation of money through properties. But it can only turn out to be successful if we use the right products for the construction of our home or the commercial spaces.
In this article, we will discuss Trex Decking as an ideal construction material.
What is Trex decking?
Trex decking one of the best construction materials that one can ever come across. You can avail of the material at a very reasonable price which makes it cost-effective. But at the same time, it is an entirely low maintenance material. This is why it is one of the major talks of the town in the construction industry.
There are many other aspects of tracks in Trex Decking that you might be wondering about now. The composition of the product, the affordability, the installation, the availability and the quality, everything about it would be revealed. You will also get your answer whether Trex Decking can live up to your expectation or not.
The core product is made up of polymer wood and fiber. It gives the surface to be nonstructural. Treks take manufacturers lord of decking materials which can be used to state the outdoor living spaces but at the same time, the maintenance of the place would be quite a law.
The composite material is one of the most seamless construction materials and it never requires innovation. It has a durable shell and does not grow mold or mildew.
Trex Decking now available at Florida Lumber
If you are in Florida and you want to start a new deck, then Trex decking is there for you. Trex decking is now available in Florida Lumber. If you want a deck that does not require any renovation, then you should choose Trex because it is the number one decking brand. If you are feeling that it is the best time to renovate your deck and build a new one, you want to take advantage offered by the tracks in Trex Decking over the traditional wooden decking.
If we discuss how Trex Decking is better than wooden decking, then the first point that comes to mind is that Trex decking is resistant to stain. Hence it always stays relevant and you barely require any renovation throughout your life. Unlike the wooden decking, the treks one will not split or crack, or even rot due to microbial actions on it.
The tracks in Trex Decking taken are known to be resistant to mold and fungus outbreak on the surface. Even termites cannot destroy your tracks because of the protective shell it has. As far as your exterior is concerned, you can also get your tracks in various kitchen trendy colors. You can also conclude that you finally are living in peace with the environment because the tracks in Trex Decking materials are 95% recycled.
After the coming of tracks decking in the year 1996, the composite decking group got the definition and perfection with many other benefits like low maintenance eco-friendliness and high performance. This brought a huge change in the life of people outdoors. There is no doubt about the secret of so many smiles of the day deck owners.
You are also allowed to take complete advantage of their unparalleled warranty coverage. This company also makes sure that all the construction materials come with a guarantee of a minimum of 25 years.
Do not miss this opportunity if you are in Florida. you can pay your visit and settle on your list of materials, get a quote of the price and also get one of your projects designed.
Additional Read: Most Vital Tips for Building A Dream Deck that Fits Your Budget
Conclusion
All the property owners aim to use materials for construction that have little to no wear and tear. Trex Decking is a construction material that will live up to your expectations.