Dimensional Lumber – What it is, the Standard Length & Usage
Posted:
February 04, 2021
|
|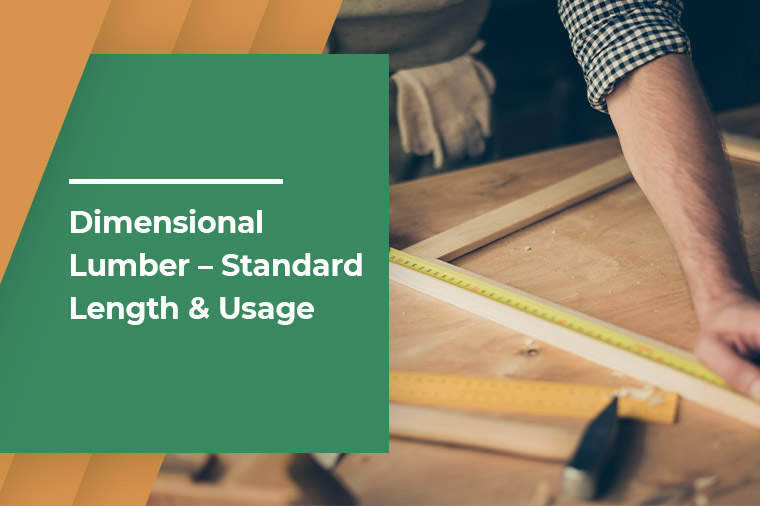 For a regular customer for lumber services, it is quite often for them to hear the term dimensional lumber. But it is not the same case with everyone.
Some individuals have no clue about dimensional lumber. So before moving to any of the figures of lengths of dimensional lumbers let us explore the topic a bit.
What is Dimensional Lumber?
Dimensional lumber refers to the timber which is sliced to conventional and predefined sizes.
They are cut based on their girth and width regardless of their length. For preparation purposes, they are planned rather than being sawn.
Moreover, dimensional lumber is not only available as in rough and arduous texture but also with a smoothened and processed exterior. This selection is according to your own will.
Standard Length of Dimensional Lumber
Like every other thing, these also have some standard measurements. Before proceeding to their measurements, you must know how to read them. When anyone mentions the size of the lumber, the length is often mentioned at the end.
If you are choosing lumber of dimensions 2 inches*4inch*8 feet. So, in this context, 8 feet is the length of the timber being used.
You can have a glimpse of standard lengths of dimensional lumber below.
Usual wall construction lengths
These lengths range from 8 feet- 16 feet, or 18 feet – 20 feet. The most well-known lengths utilized in wall plating, window and entryway outlining and bracing range from 8 feet and 16 feet. Different lengths of 18 feet to 20 feet are seldom supplied and rarely used as they are utilized scarcely. Wall construction normally requires 2-6 and 2-4 timber.
Wall Studs
Ranging size for these types of lumber is
92 5/8 inches

104 5/8 inches

116 5/8 inches
These wall studs can be chosen according to your own will. You can choose the one which suits you best. The height of your ceiling is the main factor for its determination. There are usually different measurements for former and latter parts of the wall studs.
The former part is utilized with the 8-foot walls and the last for the 9-foot walls. For a couple of instances, 10 feet, the pre-cut 116 5/8 inches stud is utilized. This also utilizes 2- 4 and 2-6 timber.
Floor joists
For floor joists, the range lies between 8 feet to 16 feet. The stock lengths utilized in wall outlining are 8 feet to 16 feet, with the regular one being 12 into 14 feet. There is no predefined method of putting the joists; regardless of whether the direction is towards 12 or 14.
In any case, a decent and all around prepared builder will have the option to figure out what direction is the most ideal way. For floor joists, 2 by 8 and 2 by 10 are frequently utilized.
Additional Read: The Grading Rules for Dimension Lumber
Top uses for Dimensional Lumber
Wall framing
Dimensional lumber is most popular for wall framing houses. Making a framework of your room will require 2 x 4-dimensional lumber, along with nailing the wallboard with the use of 4 X 4 lumber and making the frame using a 1 x 2. As a side note, residential framing only uses lightwood lumber below 4.5".
Wall panelling
Wall panelling is another decorative use of lumber. Although it uses the 6x12 or 8x12 planks, there are other kinds and sizes of panelling you can choose from to fit your preferences. Of course, aesthetics play an important role, and the wider the planks, the better the outcome.
Furniture
The wooden aesthetic in furniture is another popular use of dimensional lumber. The tops for outdoor tools use 4x4 and 6x6 dimensions to serve that purpose. For indoor furniture, dimensional lumber is used for making cupboards, dressing tables, and drawers. Sizes drastically vary depending on the demands of the customer.
Post-and-beam
Post-and-beams (like in barns or farmhouses) need larger and heavier dimensional lumber. The most common size for this is 4.5" pot-and-beam construction. This type of lumber is very strong, can hold immense amounts of pressure and weight, and is resistant to water damage because of its thickness.
Flooring and ceiling
This is the most "Instagram" use of lumber - to build floors and ceilings. To do this, typically 6x12 or 8x12 are used to keep the floors strong in light-duty areas. Heavy-duty areas use smaller 4x4 or even 6x6 pieces for frames and brackets.
Dimensional lumber is also popularly used in hardwood flooring. Although the type of lumber required for hardwood flooring is hard to find, you can get it pre-ordered from major wood distributor companies.
Conclusion
Although above-mentioned measurements are the most commonly utilized, there are situations when bigger measurements are also required similar to 2-by-10 and 2-by-12. Such measurements work out best with lengths of up to 24 ft. You can also have them made for you.
We hope the article has given important insights regarding lumber dimensions and their various sizes. For more detailed information about dimensional lumbercontact here.