Different Grades of Plywood Sheets to Determine the Quality and Aesthetics
Posted:
February 10, 2020
|
|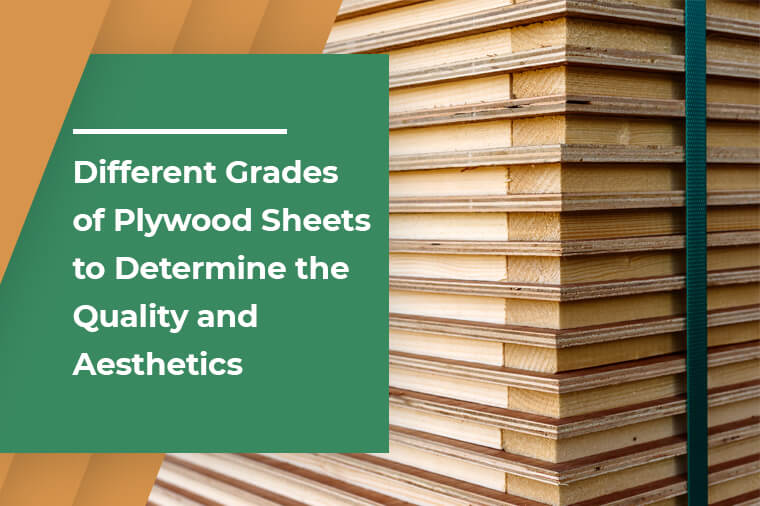 Plywood is a durable building material. It is used to build various structures and furniture items. This versatile building material is manufactured with plies/layers of wood veneers. These layers are pressed together incorrect angles to ensure optimum durability. The durability of plywood also makes it useful for different items in the aviation industry. However, not all plywood sheets show equal durability. The strength and resilience of a sheet depend upon the plywood's grade. There are four grades for plywood sheets overall.
Grade A/AA Plywood
Grade A signifies the finest quality of plywood. The plywood sheets with 'A' grade have smooth surfaces that are achieved through sanding. You may easily paint these plywood sheets. Grade A sheets of plywood may have minor defects; however, these are imperceptible to the naked eye. Grade AA plywood comes without any knots/blemishes; however, these sheets are harder to find. The A and AA grades of plywood are expensive, but they do ensure high levels of durability. These sheets may last for years without any damage. Grade AA or Grade A sheets are used to making some of the finest quality furniture items. These plywood sheets are also used for molding or in the making of architectural paneling.
Grade B Plywood
Grade B plywood sheets also ensure great quality and feature a solid surface with minor repair marks. The Grade B sheets do not have holes; however, these sheets may have larger patches. This grade of plywood may even have tight knots throughout the wood. These knots are smaller than one inch in size. The solid surface of these plywood sheets may contain minor splits with repair marks, but they remain free of major splits. These sheets may also have slight vine spots and mineral streaks. Grade B sheets of plywood are used to make fine-quality furniture items in which the wood is highly visible.
Grade C Plywood
Grade C plywood sheets usually have visible defects and knots. These sheets may have knotholes up to one inch in size. The Grade C plywood sheets may have tight knots that are 1-1/2 inch in size. These plywood sheets usually do not have sanded surfaces. The surface of these sheets may have some minor discoloration, along with some splits. These plywood sheets also have a larger number of vine marks and mineral streaks. Grade C sheets are economical and easier to find. There is more room for filling or patching when using these sheets. The Grade C plywood sheets may use MDF material as a face veneer to enhance aesthetics and durability.
Grade D Plywood
Grade D plywood sheets have visible knotholes. These plywood sheets do not have a sanded surface. The knots or knotholes on these plywood sheets maybe 2 or 2-1/2 inches in size. These average quality sheets of plywood show evidence of splits without any repair or filling. The Grade D sheets of plywood are generally used in the making of sheathing that remains under another surface. These plywood sheets are used under flooring or sliding.
Conclusion
Grade marks remain on both sides of a plywood sheet. The AA/AA or A/A grade plywood sheets are harder to find. It is easier to find the A/B or A/C grade sheets that combine the features of both A-grade and B/C-grade plywood and that feature a finer quality face veneer.