Wood Decking Vs Composite Decking - Which one to choose?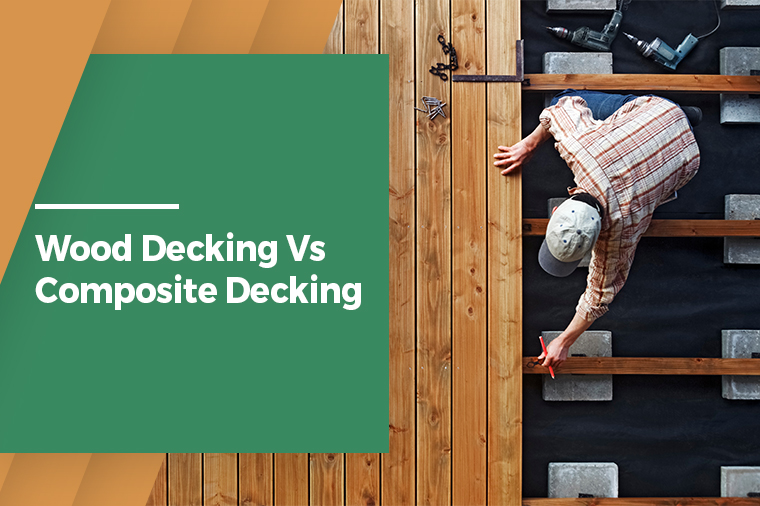 Incorporating a deck into your house can build a wonderful outdoor living and entertaining space. They're ideal for everything from summer barbecues to relaxed evening hours.
One of the most important decisions you'll have to make as you design your dream deck is what kind of decking to use.
However, depending on the location, what you want, and your availability of funds, the best decking substances for you may vary.
Wood and composite materials are the top two choices. Both are viable options for the majority of people, each with advantages and disadvantages.
According to one study, CBS News reported that while wood products continue to dominate the market, composites are gaining traction as well.
So, what should you do now?
Based on the advantages, expenses, visual appeal, and performance of each type of decking, our thorough comparison will assist you in determining whether wood or composite materials will create a fantastic deck.
Let's find out!
What is Wood Decking?
Wood decking is an organic and less costly deck material option. Because of its organic, warm looks, many individuals prefer actual wood for their decks. It simply feels really good. The type of lumber you choose as a wooden deck is crucial to its durability and level of service.
However, there is an explanation why wood is the most affordable option for decking. It is prone to warping, dividing, and breaking, so it must be maintained on a regular basis.
Chemically-treated wood lasts longer and is more resistant to rot and insect damage than untreated wood. Regular staining or sealing can help to prolong the life of treated wood.
What is Composite Decking?
Composites, on the other hand, are man-made components made from a mixture of recycled wood or bamboo and plastic substances that are closely packed and compressed into deck forms to build a robust type of decking.
Composite has a very similar structure and their colour will last for a long time. Composites require a slight curve to allow rain and water to run off of them, making them less appropriate for roof gardens.
It is made up of wood fibres that are encapsulated in plastic. It is not as aesthetically attractive as wood decking, but it is extremely durable and weather resistant.
It requires far less maintenance-intensive than traditional wood decking and appears more genuine than plastic alternative solutions.
Composite Decking Vs Wood Decking
Look:
When it comes to decks, you definitely deserve to have a good-looking deck. After all, you'll be the one spending quality time enjoying it.
Wood has always been the benchmark for deck looks, and man-made components strive to achieve that natural appearance. Redwood and cedar make lovely patio decks, and with regular maintenance, you can enjoy them for a long time.
On the other hand, while composite decking can never be as wonderful as wood, still manufacturers have made progress in improving its aesthetic over the years. To make decks look more natural, the decks are painted in contours and textured to look like wood grain.
It's not flawless, however, there are a lot of colour and texture alternatives to choose from. Composites will retain their appearance for years with no unappealing cracks or smudges.
Moisture:
One major issue with wood decking is that the boards freely absorb water. Wood decking is prone to warping, splitting, breaking, and rotting if not treated regularly with smudges, sealers, or paint.
To protect a wood deck from moisture, homeowners should paint, stain, or seal it regularly.
Composite decking, on the other hand, is fully moisture-resistant to the core, allowing it to be placed in high moisture circumstances without decaying.
To keep composite boards clean, simply sweep or wash them.
The only suggestion for composite deck owners is that they clean it twice a year.
Maintenance & Repairs:
When it comes to selecting between composite and wood decking for home or business owners, maintenance and repair costs are one of the most important factors to consider.
Scrubbing, handling, and re-staining natural wood decks require every one to two years, based on the weather. A yearly procedure can range between $300 and $1000.
A composite deck, on either side, necessitates very little upkeep. And a good clean-up with water and cleanser once per year will do the trick. We can manually do this or with a low-pressure power dryer.
Coming to the repairs, small to moderate repairs can be made more affordably on wood decks, but as long as they are cleaned once a year, composite materials are less likely to involve repairs.
Durability:
The sturdiness of a wood deck can vary greatly depending on how well the deck is preserved and the type of wood used.
If a wood deck is left alone, it may succumb to rot caused by water or insects, distorting caused by water, and other issues that reduce its sturdiness. However, if you maintain your wood deck properly, it can last 10-20 years.
Contrarily, composite is well known for its tensile strength. Depending upon the nature of composite decking used, the lifespan can range from 25 to 50 years.
The only disadvantage is that the boards may require additional support from closer joists to avoid sagging.
Overall, both materials necessitate care and assistance over time.
Insect Damage & Splinters:
As you know wood is more prone to insects, and so does this wood decking. So, if you are going for wooden decking, you need to make sure it is away from insects, termites, bugs, etc to maintain its workability for a long time.
With regard to composite decking, it helps to keep your decking guarded for a long time and is not susceptible to damage from termites and other destroying insects.
In addition, wood decking will ultimately splinter in all weathers, so that's another potential issue. So, if you want to go with wood decking, choose high-quality wood to get the most out of it.
Splinters are not an issue with composite decking because it is manufactured of small wood fibres encapsulated in plastic. This is particularly crucial for those who are barefoot on the deck, as well as for kids and animals whose feet are delicate.
Costing:
If you're on a tight budget and the cost of a composite deck is prohibitively expensive, a wooden deck is an excellent alternative. The lowest cost per square foot for a pressure-treated pine deck is about half the price of composite, at $25 versus $30 installation.
Even high-end woods like cedar and redwood are less expensive than the cheapest composite decking.
When it comes to composite deck pricing, $30-$60 per square foot for installation, costs can quickly add up.
However, because of the benefits of composite deckings, such as minimal maintenance, sturdiness, and long-lasting character, the price of composite decking can be probably offset over time, ultimately saving you money down the road.
Slippery:
Nobody seems to want to fall on their deck and suffer an extreme thigh or hip injury.
Therefore, if you intend to configure a wooden deck or composite deck by the pool or if it rains regularly where you live, you must first consider whether or not the deck is anti-slip.
These possible risks may go unnoticed throughout dry weather, but they become a potential hazard in moist areas.
If you set up composite decking, you can count on it to be non-slip and have peace of mind knowing that algae won't grow on the decking's surface.
However, you must take into account that pollen, leaves, and other particles that land on the composite decking will not become slippery when wet.
Surface Temperature:
When deciding between Wood Decking and Composite Decking, the surface temperature is critical.
When it comes to summer weather, wood decking has traditionally had an edge over composite materials, as composite materials could become pretty warm in direct sunlight because of their density.
However, compared to conventional capped composite materials in colours similar to your deck's, there's enough heat-reduced heat assimilation due to new and sophisticated manufacturing capacity to maintain your deck cosier on hot days.
So, without a doubt, wood decking wins because it keeps the surface temperature to a minimum and is easy to work with.
To wrap it up!
Here's everything that you should know about Wood Decking V/s Composite Decking.
In the end, the choice between wood and composite decking comes down to preference. If you adore the rich, natural appearance of genuine wood and don't mind the time & expense associated with the maintenance, then natural wood may be for you.
However, if you want a low-maintenance deck that can last considerably longer than a natural deck, the composite may be the way to go. It is entirely up to you!
Whatever your choice is, make sure to choose only the best-in-class materials. Because in the mind, the material can make the difference.
And if you are looking for high-quality material, then Florida Lumber has a wide range of high-quality stuff to ease down your process.
So, what are you waiting for? Reach out to us right away!