Most Common Tools and Accessories for a DIY Drywall Project
Posted:
February 13, 2020
|
|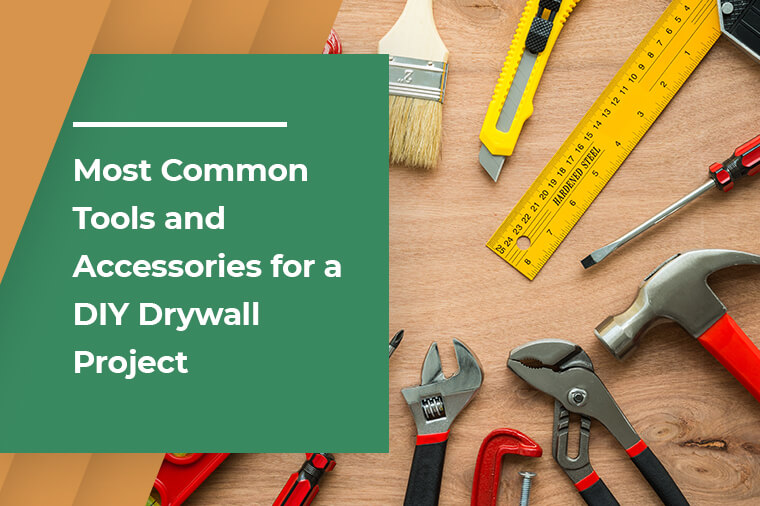 Drywall has emerged as the most popular alternative to a plaster-based coating for a home's interior. It is considered cheaper than plaster walls and naturally is much more convenient to work with. It is a panel of gypsum plaster wedged between two sheets of paper, which are specially made with extra thickness for this purpose. In better varieties, the sheets are also made from fiberglass instead of paper. They're also ideal for use in regions with a humid climate, since the fiberglass prevents mold growth.
However, working with drywalls requires some special tools. These are a little different from other types of tools and equipment typically used in the building industry. Builders and technicians working with drywall carry this equipment with them.
There are complete kits of drywall tools available for the finishing, sizing and appropriate installation of a drywall board. The availability of a drywall tool can help you to make these look like properly fitted and finished products.
Types of Drywall Tools & Accessories
Drywall Adhesive Glue Guns: These gun-shaped gluers are specially designed to work with drywall. They need particularly strong glue that is formulated for drywall and that can only be applied with ease utilizing these glue guns.
Drywall Jack: They are stronger than normal jacks, which facilitates working with drywall sheets. The drywall jack does require some experience and uses in order to master it.
Drywall T-Square: This is used in the drawing of lines for cutting. You can achieve that perfect finish and the straight line that you need with this tool. It also enables you to make measurement marks.
Drywall Lifter: Drywall Lifters are very easy to work with and prevent many of the common glitches that typically occur when working with drywall.
Rasp: This is a tool that scrapes off the excess paper or edges out of aboard. While fitting aboard, there are adjustments that will have to be made in its measurements. The rasp is the tool used for that purpose.
Keyhole Saw: You can make incisions for switchboards and electrical box placements with a keyhole saw. The tip of the saw is pierced in for strong placement and then moved when cutting is necessary.
Power Jig Saw: This is similar to a keyhole saw. This can be effectively used for the same purpose.
Circle Cutter: This is used to make a neat circular incision in a drywall board.
Drywall Router: A powered version of a circle cutter, a drywall router is best used when a circular incision needs to be made on a drywall board that is already affixed to a wall.
Screw Gun: Some screw guns are specially made so that the screw can be bored deep into the drywall panels. They require more power to operate than normal construction screw guns because the screws require greater effort to be bored into drywall.
Drywall Hammer: Drywall hammers are sturdier than other hammers because of the overall sturdiness of drywall material. As a result, a particularly powerful hammer is required in order to be able to pound something into drywall successfully.
Tape Measure: When you are fixing your drywall, a substantial number of measurements are required. A tape measure ensures a proper fit for your drywall board. You will take the measurement and cut where necessary.
Utility Knife: This is a multi-purpose tool and useful for a wide variety of markings and cuttings. It is also an essential component of a drywall kit.
Taping Knife: This is a knife that allows for superior finishing of a drywall board. You can smooth out all uneven edges and rough sides with this knife.
Drywall Fastener: Drywall fasteners are used to join the edges of two drywall panels. When the different sheets converge near the corners, they are held together in place with the help of drywall fasteners.
Drywall Pencil: This is used to make markings on the drywall. You can draw a line to direct you where to cut the board with a drywall pencil. It is among the most used tool in drywall projects.
If you want to buy these Drywall tools yourself, they are available at very affordable prices. With drywall increasing in popularity among homeowners, every flat or apartment keeps them in case there is a need for repair. Keeping the tools handy will help you to fix cracks or chipped areas with ease in your DIY projects.