Building Material Quality Plays a Vital Role in Final Outcome of Projects
Posted:
February 10, 2020
|
|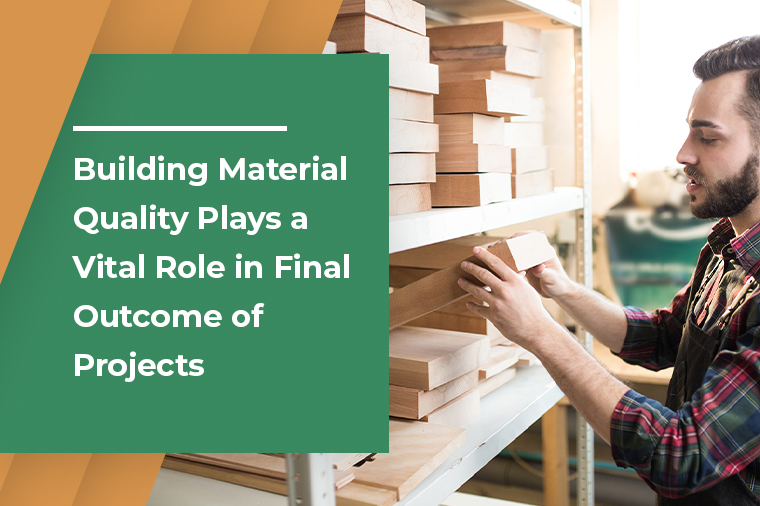 Cheap building material can seem like a blessing at first. However, this blessing may turn into a nightmare after a few months or years due to cracks and fissures. You may also notice patches of plastering falling off or drywalls growing damp. It's also possible for any structure to collapse due to the use of subpar quality materials. The collapse of Sampoong Department Store in 1995 is the best evidence of damage stemming from the use of inferior quality material. This single incident led to 500 deaths along with 1000 injuries. It is possible to avoid these types of accidents or untoward events using premium-quality materials from the start of a construction project.
Problems with Poor-Quality Materials:
Absence of Durability
Durability of any structure depends upon an engineer's knowledge and the building material quality. A premium-quality material may last for years. Hence, it is prudent to purchase high-end materials at the start of any project. For example, you may purchase cheap materials during the construction of foundation, which happens at the beginning of any project. The poor materials may lead to weak foundation and may cause a structure to lean on one side or to break down. Hence, the quality of building materials plays a vital role from the start of any project.
Deterioration of Aesthetics
It is possible for any structure to shine in the first few months with application of paint or other materials. However, this shine may start deteriorating after a few months and you may notice the walls dampening. Loose chunks of paint or cement may fall off due to this. It is possible to avoid this damage by using premium-quality materials. The use of high-end materials throughout a project also improves the overall appearance of any structure.
Builder's Reputation & Wellbeing of Occupants
The quality of building materials also determines the reputation of a builder or a supplier of materials. If a building or structure collapses due to poor quality material, then it may severely damage the reputation of the builder and contractor. In addition to the damage to a builder's or a contractor's reputation, the use of poor-quality material may even lead to injuries for the occupants. The collapse of hospitality facilities, commercial facilities or flyovers may lead to thousands of casualties. The quality of building materials plays a vital role in ensuring the safety of all living beings.
Ensuring the Quality of Building Materials
A reliable contractor knows the importance of quality when using any type of building material. However, it may not be possible for a contractor to evaluate the quality of all materials. It is a time-consuming task and a contractor may have difficulty finishing the project on time, which is unacceptable. To avoid this problem, many reputable contractors purchase materials from a reliable supplier. The suppliers of building materials have the time and knowledge to evaluate the products' quality more efficiently. Hence, many contractors maintain a liaison with reputable suppliers of premium-quality materials. On one hand, it saves a contractor from spending time and energy on testing the quality of materials. On the other hand, the use of high-end materials enhances the reputation of a contractor due to the durability of the finished projects and low maintenance cost for the owners. The building material's quality does not just play a vital role in ensuring the final quality of a project. It also determines the reliability of a contractor and the safety of the occupants.