Benefits and Reasons to Choose WPC Waterproof Vinyl Flooring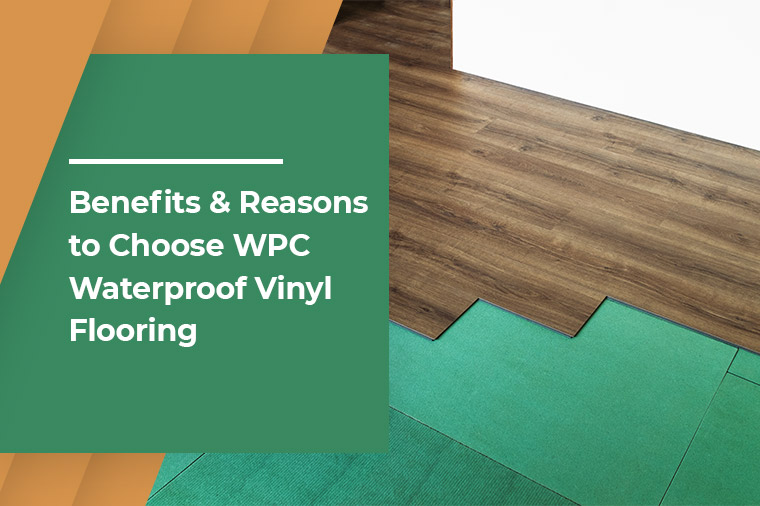 It is a popular thing in the vinyl market today. It is a wood-plastic composite as well as a waterproof layer. WPC Waterproof Vinyl Flooring is now popular due to its amazing durability, classy visuals, and a wide range of beautiful textures. Sometimes, it also comes with the attached underlayment. According to experts, Luxury vinyl has paved a strong place in the modern industry. People consider it as the best waterproof flooring option. It does not require that much maintenance and that's why it has become one of the favorite choices for homeowners. It is even becoming popular in commercial places and businesses.
WPC waterproof flooring generally comes with 4 important layers.
Backing layer- It is considered as the main support of the plank.
WPC core- this is the main attraction center of this flooring option. WPC flooring comes with a solid and water-resistant WPC core. No matter how much liquid you spill on it, it will not result in ripple, swell, or peel.
Printed vinyl layer- the photo part of this flooring option. This part helps you with getting a dreamy vinyl look like stone or wood on the floor. Experts consider it the best quality vinyl available in the market today. You can say that it gives a realistic view and fewer people will understand that it is not the real stone or wood.
Wear layer- It acts as a bodyguard for your floors. It is there to protect your floor from scratches, dents, and other marks. Most of the homeowners prefer WPC indoor flooring to add some extra protection layers. You are suggested to check the thickness of the vinyl flooring so that you can enable maximum protection to the floors.
Reasons for choosing WPC Waterproof Vinyl Flooring over other options
There are some specific reasons for choosing it over other available options. Now it is the superman of the industry.
Ultra-strong- the most popular and the thickest luxury vinyl with protective wear layers. Scratching is a very common problem especially if you have toddlers and pets. This kind of flooring offers the ultimate protection from scratches and other similar harms.
100% water-resistant- liquid spill is another common problem. Liquid spill not only damages the floor but also create a foul odor. If the floor is water-resistant, you can easily clean the water while there is no chance of soaking as well as bad odor.
Best for imperfect subfloors- you know that this kind of flooring comes with thick and durable layers. That's why it is able to easily hide an imperfect subfloor. Making the subfloor strong and perfect means that many homeowners need to spend a few extra bucks. However, if you choose WPC vinyl flooring, you can easily shed this kind of expense.
Realistic stone or wood-look- top-end vinyl flooring is able to create a natural look better than anything. It creates an amazing and realistic view so that the homeowner can show his/her true class to others.
Better than ceramic tile- standing on a floor tile is not good for your health. Floor tile is hard and can cause discomfort to your feet and back. Vinyl is comparatively more resilient and comfortable. It gives a realistic look, waterproofing benefit adds an amazing comfort to your home and workplaces.
The Benefits of Waterproof Vinyl Flooring
Liquid spill and splash are very common problems. Even any kind of pipe leakage can cause moisture buildup problems even before the homeowner finds out the problem. Apart from actual liquid, steam, and high levels of humidity can make moisture buildup in the home. But you can easily avoid this kind of problem if you choose waterproof flooring. Moisture buildup in the home can lead to mold and mildew. And after a time, it will make your home unhealthy to live in. Mold and mildew can cause itchy eyes, sneezing, nausea, skin infection and so many other diseases.
Due to its waterproof nature, it is also easy to clean as it repels stains and spills. You can easily wipe the dirt and other liquids from the floor. Keeping the floor clean and dry is important especially if you have elderly persons and/or toddlers in your family. Just with a wet mop, you can clean the floor easily. Due to its water-resistant nature, there is no worry to use a wet mop to clean the floor. It helps to keep kitchen and bathroom areas dry.
If you have a pet and a toddler, you cannot be sure when they will use the bedroom floor as a toilet. And there is no way to make a bathroom habit unless days of training. But if you have vinyl flooring then there is no need to worry. There will be no scratches, no-spill, and splash. This kind of flooring does not soak water and that's why there is a less chance of bacteria growth. Your children and pets can play on the floors according to their wish and you do not have to worry about them and floors. A lot of flooring benefits come with this option if you are yet to install it, do it ASAP!