Things to Know About Custom Doors – Benefits, Design, Cost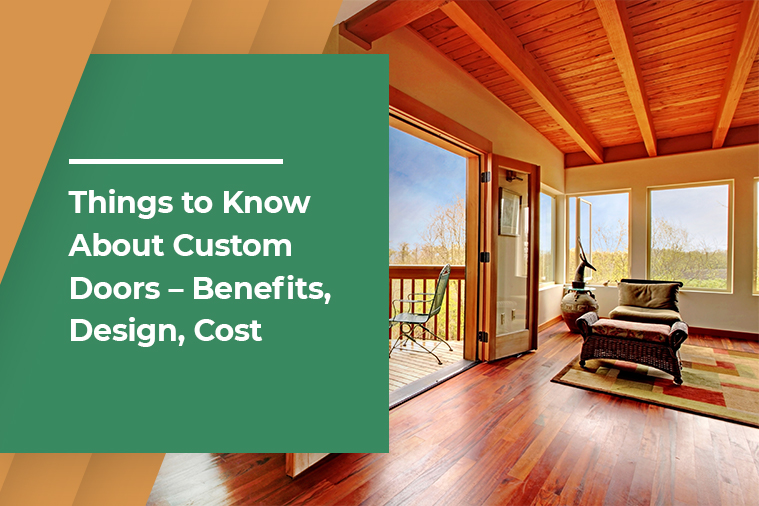 Your front door is the first thing guest notice upon entering your home.
The homeowner's personality and the choice of property are easily represented by the front door of a building.
Custom doors allow you to create a unique identity for your property.
When using custom doors, you also have the chance to select the building material to ensure the highest quality.
Benefits of Custom Doors
1. Beauty, Quality & Durability
When installing a custom-made door, you can make sure that the front looks unique and blends with the overall appearance or architecture of a building. However, a custom-made door is not just a work-of-ark. You can also make sure that the exterior door lasts for years if you install a custom-made door, by selecting the building material or consulting with a manufacturer to determine the best material for a door based upon your budget.
2. Safe and Secure
It is also possible to increase the safety of a premise if you install custom-made doors. For example, the doors made of fiberglass offer better protection from natural calamities in comparison to the wooden doors. You may choose this material for protection during a storm. On the other hand, you may even install an advanced lock operating system to enhance security.
3. Energy Saving
You also have the opportunity to keep the indoor temperature comfortable when installing a custom-made door, as you can select a building material that prevents unnecessary heat-exchange. For example, fibreglass is a poor conductor of heat. If you choose this material for the front door, then the HVAC unit needs to work less in order to keep the indoor temperature comfortable.
4. Less Insurance Premium
You may receive discounts (up to even 40%) on the premium paid for the homeowner's insurance policy if you install a hurricane impact door. These doors are recognized by the insurance companies as Class A hurricane protection. This is another benefit of installing custom doors.
5. Low Cost
A custom-made door may cost more than a standard door. In reality, these doors can cut down your expenses. For example, if you choose an energy-efficient material to build a custom door, then you will notice abatement in the energy bill. You also have to pay less insurance premium if you plan to install a hurricane impact door as a custom-made door.
4 Steps to Design Custom Doors
A custom-made door can be designed in four simple steps.
Step 1:
At first, you have to select a service provider to manufacturing the custom door. After the selection, you have to communicate your requirements to the service-provider enabling them to customize a door.
You have to measure the current opening where you want to install the door. It enables you to determine the size of a custom-made door. You may even use the measurements of a presumptive opening in order to calculate a door's anticipated size.
You may ask a carpenter/contractor to measure the opening if you do not feel confident.
Step 2:
Select a design from home magazines or online sources where you may find a wide variety of classic and contemporary designs. You may even sketch a design for the door.
Step 3:
You have to select the door hardware and accessories, such as locksets/handles, after selecting the design.
You may even use sidelights to design a door. It also works as the entryway for natural light.
Step 4:
You have to communicate the aforementioned data (door's size, design, accessories and hardware elements) to a manufacturer. They will quote a price for your project after reviewing these data.
Checklist to Design Custom Doors
You may go through the following checklist before taking measurements or determining a door's style.
1. Location of Installation
2. Door's Dimensions
Height:
Width:
Thickness:
3. Architecture of House
Victorian
Modern
Colonial
Country
Mediterranean
Ranch
Craftsman
Bungalow
Tudor
4. Desired Species of Wood
Douglas Fir
Maple
Red Oak
Mahogany
Western Hemlock
Knotty Pine or Clear Pine
Knotty Alder
Cherry
Poplar
Birch and others
5. With Glass or Without Glass
6. Type of Desired Glass
Clear glass
Colored glass
Decorative Leaded Glass
Textured glass
Cost of Custom Doors
Cost of building custom doors can vary depending on the material, accessories and door hardware. It also depends on the type of project. If you need to install door-hardware, change the size of a doorframe or repair the rough frame, then these tasks are also considered as custom work. However, these are minor projects and may cost $1500 or more.
On the other hand, you may have to spend around $20,000 to build a custom door from scratch. The outcome of these large projects depends upon the expertise of multiple professionals. These projects demand extended hours of labor and this factor increases the overall cost of a project.
Conclusion
Custom doors are the best to protect your home against a hurricane. Designing your own door will not just save your money but it will stay long-lasting with you. Contact Florida Lumber, if you need help to build your custom doors.