Things to Consider Before You Install or Replace Exterior Entry Doors
Posted:
February 14, 2020
|
|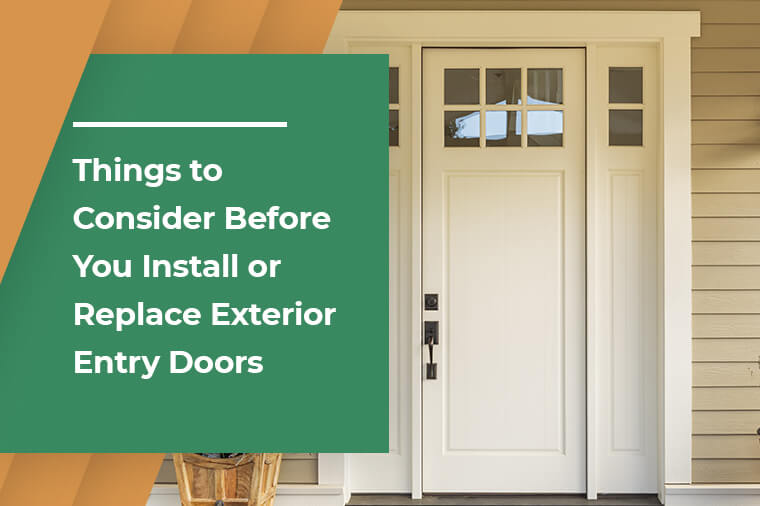 Entry doors are the first thing that people see when they visit your shop, home or office. Most entry doors serve their essential functions, but selecting one really depends on your particular needs. All have their strengths and weaknesses. A low-priced option may be subjected to wear and tear, but it might fit your budget. Conversely, a costly one may be out of budget for some but could offer considerable durability.
Online searches can help you locate the exterior doors you may need. Manufacturers provide every detail of each door on the sales pages for each on their website. Even if you don't find the specific door you want, chances are you will find a suitable alternative. Doors also need to be energy-efficient. Those of the steel and fiberglass variety don't offer as much insulation as the wooden ones. Focusing on models which are energy-star qualified is prudent, as they boast tighter-fitting frames and energy-efficient cores. If you wish to reduce heat transfer because of the temperature outside, look for glass models, or ones which are double- or triple-insulated.
What type of door would you like installed?
Fiberglass
A very popular choice in terms of exterior doors, these doors are available with a very smooth surface and are typically embossed with a wood grain texture. They resemble authentic painted wood. They are very sturdy and resistant to wear and tear. However, they are also subject to cracking if they sustain any severe impact.
Steel
Really inexpensive, steel doors can offer a huge sense of security and weather resistance as compared to those of other materials. They do not require much maintenance, except in cases of dents. These doors are also very energy-efficient. However, these doors are not very weather-resistant, so they can be subject to corrosion when exposed to rain.
Wood
Wooden doors offer an elegant look and are formidable in terms of being resistant to wear and tear. They are also highly impact-resistant. Wood doesn't dent, and any scratches are also easy to get rid of. The best part of wooden doors is that they are likely inexpensive, so replacing them does not typically put a strain on one's budget.
Have you already purchased the doors for your project?
If you have already purchased the type of door you want, then you need to ensure that it does the job well. It is always advisable to research whether the door you are going for works well for your needs. There are many options for panels and glass designs, as well as upgrades. Accessories like adjustable thresholds help the door stay weather-tight over time, and you can also a sweep to the bottom of the door. You can also incorporate glass inserts, however, they do reduce insulation and represent an extra expense. In case of glass inserts, you also need a special lock so that burglars can't simply smash the glass and reach in to unlock the door.
In Case of an Emergency
Installation of a door can also be tricky. Often, exterior-door installations can take a few hours, so make sure that you choose ones that can be installed quickly in case of an emergency. If you are low on time or are buying one similar to your existing one, then go for a pre-framed door. Ensure that the dimensions are the same as your previous door so that it can be installed easily. Hire a pro to help install the door, as the process can be a challenging one and you want to make sure to avoid gaps in between the frames and the wall.
How many doors do you want installed or replaced?
Think of how many doors you need to change. Always choose same-model doors for aesthetic and expense issues. They are inexpensive if you buy them all together. Also, they are much easier to set up once you know how the process works. Entry-door projects are not impossible to complete; however, careful planning and professional help should not be overlooked. Furthermore, you should try to replace all doors individually, as you want to avoid the problem of taking off doors and then not having time to replace them in a timely fashion. Spreading out the task over a couple of days when dealing with multiple door installations makes the entire process a lot more manageable.