Must Buy Hardware to Install Closet Doors in 2020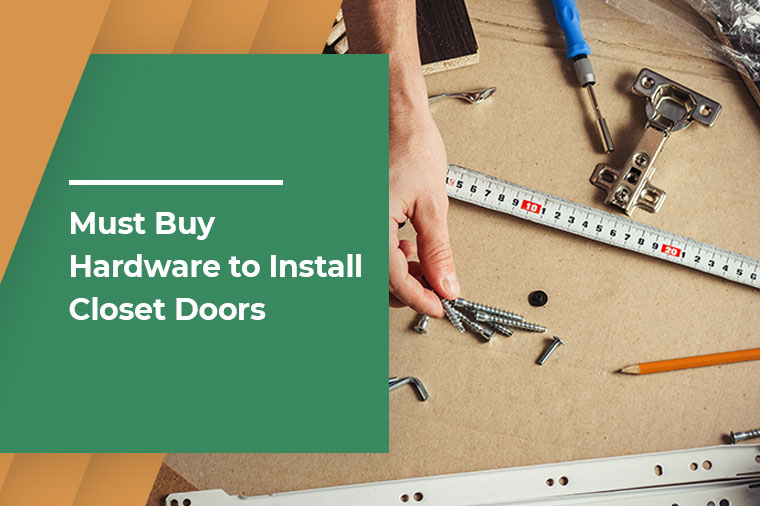 Making a home look beautiful takes a lot of time. Some people invest a lot of money yet they fail to make the home look exactly as they wish. We do not want you to fall under this category.
That's why today we have come with this super helpful article. There is a lot of hardware stuff that you need for your new home. The closet is one of the most useful parts to a house and today we will start with this.
In order to make a closet fully functional and beautiful, closet doors contribute a lot. In other words, we can say that you can make your closet functional only when you install the doors rightly and use the right set of hardware.
Related blog: 12 Ultimate Closet Door Options to Explore
Double Closet Doors
When it comes to installing closet doors, making the closet properly useful and increasing the overall aesthetic value of the room should start with the right closet door hardware. Double closet doors are great examples of it. Most of us are pretty familiar with the double closet doors. They are one side by one-side style doors and open towards us. These doors are pretty easy to use and last for a longer span of time.
In order to make the opening and closing regime easy, you have to install smart knobs. When it comes to smart and useful knobs, dummy knobs can be a great choice. Dummy knobs come with a simple surface and mounted appearance. They do not move or get loose easily. This is one of the best benefits of having a dummy knob for a closet with double closet doors.
According to usages and preferences, installers use one pair or two pairs of knobs. If you wish you can install a pair of knobs on the back portion of the closet doors. But if you ask any professional, they will suggest not to use knobs on the backside otherwise a lot of space will be wasted. According to the ease, you can install one or two pairs of knobs on the front part of the closet doors. In this way, each pair will face less pressure, which means users can use it according to their choice.
When it comes to installing closet doors hardware, you should hire professionals otherwise you could end up ruining the appeal and polish of the closet doors.
Sliding Doors/Pocket Doors
You may know that sliding doors and pockets doors mainly have the mechanism on the top of the door jam. All the service providers do not offer this kind of mechanism. So, if you are planning to install such doors, you should do proper research about the service series of your chosen service providers. For such a closet door, you will require flush pulls. This kind of hardware generally does not protrude from the closet doors.
According to experts, using this closet doors hardware is super beneficial as it stops crashes between two sliding doors. Experts suggest using two flush pulls for double sliding doors. For pocket doors, you can use 1 passage pocket door lock.
Generally, pocket doors come with a lot of hardware choices and you can easily choose the most aesthetically pleasing one. Instead of using anything from outside, it will be better if you use pocket door hardware that has come with the door. It has been noticed that professionals face problems installing hardware from outside. So, while buying the closet or closet doors, try to check if the hardware is in the package or not.
Bi-fold Doors
Bi-fold doors seem like the sliding and pocket doors. Bi-fold doors also come with the same mechanism. There is only one difference and that is bi-fold doors fold up and it is easy to maintain in comparison with a sliding door or a pocket door. The bi-fold doors come with their own door pulls and they are known as bi-fold door pulls. Generally, you will require one to two bi-fold door pulls based on your door number (a single door or double bi-fold doors).
Single Closet Doors
Generally, more and more people are familiar with the single closet door style. Actually, this closet type is also known as the coat closet. Over the years, we have seen a huge use of this kind of closet. In official as well as residential places, we have seen a closet with a single door. These doors are not only easy to use but also easy to maintain. Just like the double closet door knob, you can use the same style ball catch to make the opening and closing regimes easier and smoother.
There are some specific suggestions from experts. These are also foolproof ways to enhance the overall appeal and functionality of the closets and their doors. If you have a passage closet door, you can buy one passage door knob. For the pull closet door, you can use a dummy door knob or one ball catch. You may need to install two or more for better functionality and other requirements.
Related blog: How to Measure Closet Doors?
Conclusion
These are the popular as well as most useful closet doors hardware that you can use in 2020 to enhance the overall appeal and functionality of your closets. While installing, you should take the help of expert professionals otherwise there is a chance of money and time wastage.