Interior Door Buying Guide at Florida Lumber
Posted:
December 16, 2020
|
|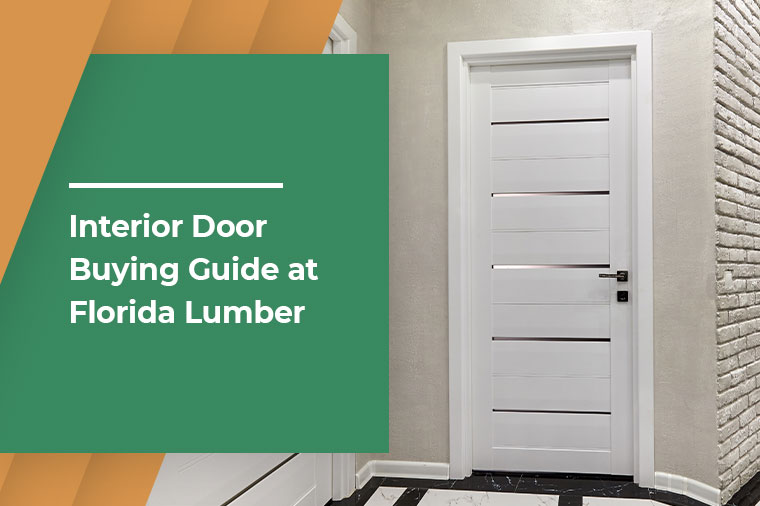 Proper knowledge about various aspects of interior doors will enable you to buy the best doors for your homes or offices.
When you are making the selection for an interior door in Miami , you must remember that the doors serve multiple functions. Not only can doors protect your privacy and reduce the sounds between two rooms, but it also can increase the beauty and decor of the house. Many stores offer a variety of beautiful doors for enhancing the beauty of your home.
In this article, we will be throwing light on various aspects like the placement of the doors, the materials that you can select, and so on. This guide will help you to choose the best doors for any room.
Door Only vs. Bifold Doors
If you are opting for installing interior doors in a place where there was never a door before, then select door only. For installing this kind of door, you have to measure the opening at the top, bottom and middle and then use the smallest measurement.
Next, you have to decide whether you need a right in-swing or a left in-swing. After you decide which side you want your door handle to be on, you can install this door.
Bifold doors are the other kind of interior doors available for customers. These are hinged along with symmetrical door panels. These have outward folds and also to the side when they are opened. Some of the doors are louvered for better circulation of air than the conventional doors.
Bifold doors take less space than hinged doors. This is the reason why they make an excellent option for making laundry rooms, closets, utility rooms, and even room dividers.
Door Styles & Materials
Panel Doors
When you are looking for an interior door in Miami, you can choose panel doors if you want to make depth in a small area. There are a lot of panel door styles that can suit any decor. The panels can either be flushed with the remaining door or can be raised. This kind of door adds a level of depth to any room in your home.
Louvered Doors
Louvered doors have slats that allow proper air circulation between different rooms in the house. They are perfect as they fulfill the job of a standard door and also add style to the existing room.
Flush Doors
If you are the type looking for a simple interior door in Miami, flush doors will suit your needs. These doors are practical and simple and can protect the privacy of a room. They have a streamlined, practical, and sleek design.
Usage & Types
Most individuals are familiar with different door systems. The swing in and out on hinges are the most popular choice for any kind of interior doors. You can select bifold doors that are similar to hinge doors. They fold in the middle and are perfect for houses that have less space.
If you need wide openings, then you can choose bypass doors that hang on the rollers. This helps them to pass each other gracefully. The pocket doors are made of a pocket door frame and an interior door only. They are perfect for small areas and they slide into the wall directly. These interior doors do not need space to swing in and out.
Flush or Panel?
Flush and panel are the two kinds of interior doors available. The flush doors have plain and flat facings on either side of the door. These are solid or hollow core doors that have clean and elegant lines. Hence, it complements the decor of the room well.
The panel doors are the most popular choice. They are equipped with stiles, flat panels between them, and rails. The six-panel doors are the classic ones and the three-paneled ones are also easily available in today's times.
Additional read: Popular reasons for choosing panel doors and flush doors
Door Hardware
You have many choices when it comes to selecting door hardware like knobs, hinges, or locks for your door. If the door does not need latching and uses the push or pull feature, then buy dummy knobs or handles. If you do not need a locking function in the doors, buy a passage doorknob. They can be easily installed and are available in different designs and finishes.
Read more about tools and materials to install or replace interior doors.
Looking for a Door?
If you are looking to express your creativity, then customize a door for your home. There are a wide variety of wood species, styles, and finishes available here at Florida Lumber that you can choose for your interior doors.