Interior and Exterior Door Options For Designing a Custom Home
Posted:
February 10, 2020
|
|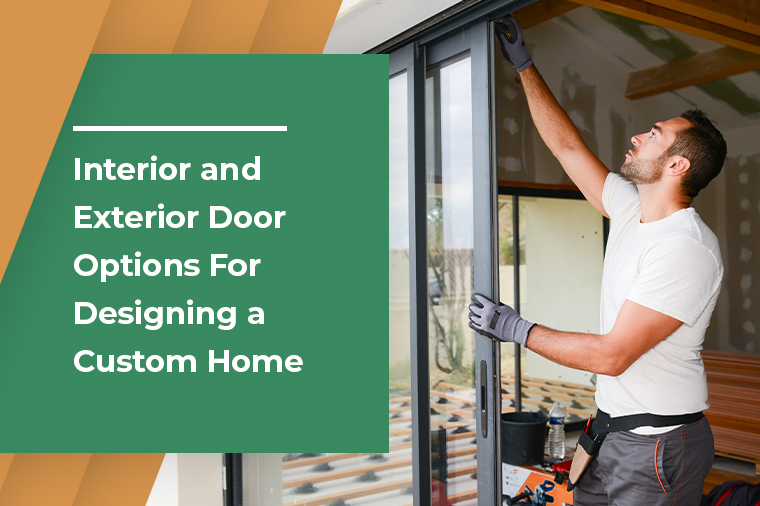 Interior doors determine the aesthetics of the rooms and ensure the privacy of a room's occupants. Hence, it is not enough to consider the style of a door. It is equally important to consider the quality of raw materials. Different types of materials, such as wood/fiberglass/vinyl, are used to build doors of varying styles.
Interior Door Design Options
There are different types of interior door designs available in the market, and some of these designs have won the hearts of homeowners by combining utility with novel looks.
Panel Doors
These doors feature the simplest installation and maneuvering mechanism. Frames and panels of these doors are available in various sizes. Hence, users have a wide variety of options when choosing panel doors, as all sizes (large/medium/small) are readily available. A homeowner may paint these doors in colors that contrast or complement the color of the walls/ceiling. It is also possible to decorate these doors with printed fabric or wallpaper.
Pocket Doors
Pocket doors have sliding frames. This type of door is an ideal option for studies and compact apartments. The frame of a pocket door has metal rollers at the top edge. The rollers run on a track that is fixed onto the wall present above the door. The frame slides into an opening that is present on the adjacent wall with the help of rollers. It is prudent to use premium quality hardware materials when installing these doors to avoid frequent maintenance and repair.
Folding Doors
Alongside the pocket doors, the folding door is another excellent option for studies and compact apartments. These doors may be made of timber/PVC/aluminum. The folding doors offer excellent circulation of air without taking up a lot of space, as the separated frame folds to one side.
Roll-Up Doors
Alongside folding doors and pocket doors, roll-up doors save space inside a room. Slats of aluminum/galvanized steel/stainless steel are used in the manufacturing of these doors. These slats roll up in a coil and remain inside an opening present above or on top of a door.
Pocket doors, roll-up doors and folding doors are equally suitable for residential and commercial buildings.
Overhead Doors
Alongside roll-up doors, overhead doors offer larger openings to facilitate the movement of larger articles through the doors. The frames of these doors are attached to a horizontal axis that gives support when opening/shutting the doors. These doors are commonly used in garages or warehouses.
Barn Doors
Barn doors are available in pairs. These doors hang from a metal bar present above the doors. To open these doors, the users may slide the frame across the door and inside an opening adjacent to the wall. These doors can separate large studio rooms into multiple rooms.
French Doors
Traditionally decorated or vintage-styled residential/commercial facilities are fitted with large French doors. These doors are made of either wooden or transparent/frosted glass panels. The wooden slats are used to separate multiple French doors. These large doors allow maximum passage of light.
Exterior Door Design Options
All exterior doors influence the appearance of an entire building, as it becomes the face of an establishment. The security of a building also depends largely upon a front/exterior door. Hence, it is equally essential to consider the design and hardiness of exterior doors during selection.
Door Material
The exterior doors are designed to be strong to prevent intruders or to withstand the extreme effects of nature. The maintenance requirements also vary from one material to another. Wooden doors require waterproof/weatherproof coating to prevent damage due to humidity or UV rays. Fiberglass and steel doors are equally durable and require less maintenance than wooden doors. These doors do not become rusted or damaged due to scratching.
Impact Glass Doors
The latest exterior doors include glass frames with higher impact rates. These frames have one sheet of high-end plastic film placed between two glass frames. These doors offer adequate safety without compromising decorative looks. Impact doors can withstand the force of strong winds. Interior film can prevent glass shards from scattering if the frame breaks.
Additional Decorative Features
Sidelites/Transoms are included into many current exterior door designs. The sidelights are placed on either/both sides of a door. The transoms are placed at the top of a door. These narrow glass windows are available in different shapes/sizes/colors. Sidelites/Transoms make passage for natural light while improving the exterior and interior décor.