How to make a custom Exterior Door?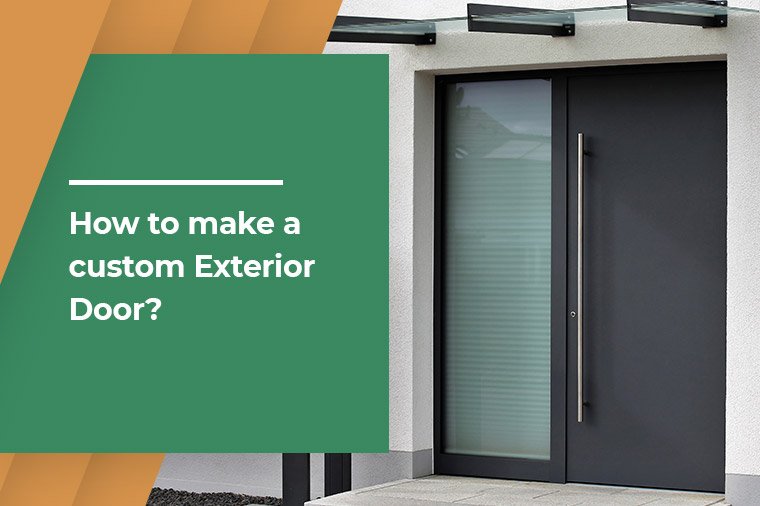 Often it is said that every door has something to say about you and your lovely home. People tend to buy exterior doors that match their taste and home décor, but hardly people think of creating their own.
How to make an exterior door?
How does it feel if you can make your door and customize it according to your taste? Great right? Yes, you can have your custom door built on your own and without depending on somebody else to fit it for you.
If you are a beginner and wondering about how to make a custom exterior door, then you need to keep certain important points in mind like what are the materials required to make a door, what are the steps to follow, and more.
The main outline that one needs to make before going into the main job is:
Ø One needs to draw an inner view of the door
Ø An overall idea of the door frame
Ø A basic plan of the door, how you want it to look like
After you are done making the scratch work, you need to make a list of the raw materials that are required for the work to get completed smoothly. One would need some of the following or more:
Ø Wooden ply
Ø Planks of wood
Ø Nails and screws
Ø Clamps
Ø Paint
Ø Set of locks
Ø Hinges
While you arrange the raw materials for your project of making exterior doors for your house, then you also need to have a set of tools that would be very essential, like a hammer, clamps, glue, brushes for painting, and much more, which would help you have a basic idea about making your custom door.
After you are done arranging all the materials and tools required for the job and you also have a clear idea about the design of the door overall, you need to get started.
Additional read: THINGS TO KNOW ABOUT CUSTOM DOORS – BENEFITS, DESIGN, COST
The following steps might help you build your custom door very quickly:
Ø You need to make a proper design of the door be it using graphics or normal paint.
Ø By this time, you must already have an idea how your door would look, be it the width, length, depth, and everything else that matters.
Ø Now comes the fitting part, one has to make the fittings in a way that it doesn't break when it's time for the door to contract and expand.
Ø Make places and join the pieces together and assemble the rest of the pieces.
Ø For a perfect look, you need to paint the door in the color you want.
Ø After you are done with the paint, you can coat it with some waterproof paint as well, to protect it from both sun and rain.
Ø Now comes the installation part and it has to be nicely installed with a nice lockset.
Number of Layers
While learning about how to make a custom exterior door, you also need to know that exterior doors are made with materials suiting the environment of the particular place. This increases the longevity of the door and protects the home as well. Exterior doors come in basic three options, which you should know while making an exterior door for yourself.
Ø One layer- This type of door layering is mainly for the temperate climatic regions which doesn't require much insulation.
Ø Two layers- Mainly made for the homes having moderate or mild climate and need a bit of insulation, need these two-layered doors.
Ø Three layers- The last and most effective layer for the doors of the cold regions, that doesn't allow the outer cold to enter the house and inner warmth to leave as well. This ensures the full protection of your house.
Material of Construction
Going to a shop and buying a door is easy but that lets you get a suitable one that somewhat matches your idea and taste, but when it comes to making one for yourself then you can exactly create what you want.
So, for creating your personalized door, you need to have the following set of materials ready:
Ø A pencil for marking
Ø A dust protection mask
Ø 2-3 Wooden ply
Ø 3-4 Planks of wood
Ø Some Nails and screws
Ø Sheets of insulation foam
Ø Glue for pasting the wood
Ø Drill machine for drilling
Ø A set of clamps along with a tape for measuring
Ø Paint
Ø Set of locks
The exact figures for all the materials vary according to your need and requirement, so you need to buy accordingly.
Required Tools
While you want to create your custom door, you need to have your tool kit, that would help you in building one like: A hand saw, drill machine, a set of chisels, a square tool, glue, brushes to paint, and some more.
Conclusion
When you have the will and ability to create something like an exterior door, then you should build it. At the same time, let us protect our doors as they do.