How to choose Interior Door Hardware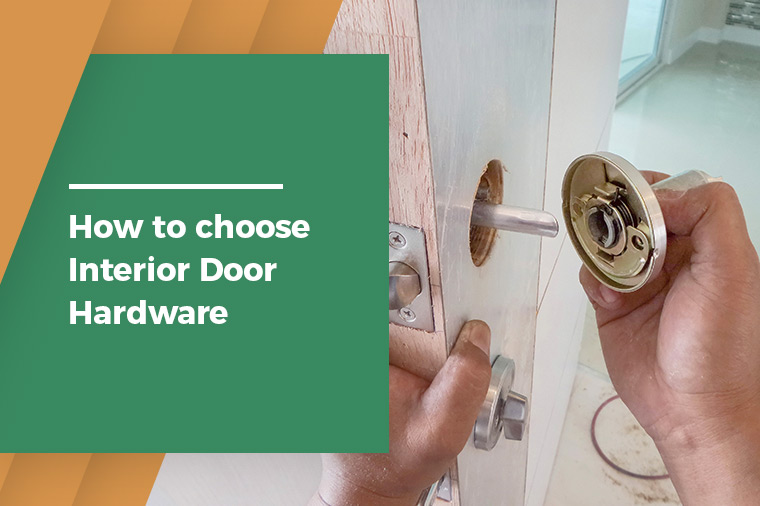 Doors not only protect your home from intruders but also add beauty to your home. Among the most important hardware choices for a home is the selection of door handles. Because doorknobs and levers are installed throughout a residence and handled on a daily basis, they're impossible to ignore. There are many companies that are providing effective and stylish door handles and levers for making your home looks better. If you are in search of interior door hardware, then all you need is to follow these blog to get the best out of your invested money.
Different forms and finishes can also help shift the feel of a room, serving as the finishing touch to a grand space or an unexpected element in a more eclectic composition. Many door knobs are created by using metals and they come in a variety of finishes, shapes, sizes and many others. This is the quite tricky part that makes you feel stressed and tensed when it comes to select the door knobs and hardware for your interiors. Here, we are providing promising guidelines that might help you to choose the best interior door hardware that beautifies your home.
Determining the types of doors
Each home is different and so does the door. Different kinds of doors are having different types of requirements with respect to hardware. Swing doors, sliding doors and pocket doors are having different functionality. So determining what type of hardware suits your interior better completely depends on the type of the door.
Determining the functionality of locks
Whether you want to lock your door or just want to latch it completely depends on how you are going to use the space. Non-keyed locks are more convenient for doors that aren't necessary to close. Doors for the bathroom, bedroom and other rooms that required lock can be managed by a push button lock system. So, all you need is to decide what type of lock you need to install before finalizing the handles and knobs for your interior doors.
Determining the type of handles
While selecting the hardware for your interior, you must consider these three types of handles before jumping for one. It is advisable for selecting the handles with respect to the features and functions of the door. The wide range of varieties may confuse you, but all you need is to select the best one for your home interior.
Knobs: knobs are well known as the traditional round or oval hardware that is generally used to hold the grip for opening the door.
Levers: levers are usually the best hardware that is providing firm support with its long tail handles.
Rosette: Rossetti is the face plate on which the handle hardware should rest on.
So, now you have four options to select the best type of handle hardware that matches with your interior.
Traditional knobs
Knobs with rosette
Traditional Levers
Levers with rosette
Determining colors and finishes
Handle hardware color plays a vital role in identifying the function of your doors or kitchen cabinets. You can combine matching colors or can add a contrast to your interiors. Here is a brief for your interior to select the perfect colors and finishes.
You need to make sure that the doorknobs are having same color and finish across your home. No matter your door knobs match the same size and shape, but you can match the color.
You also need to select the door knobs to stand out in contrast with your door color.
Materials like stainless steel, chrome, brass, nickel, and pewter, satin are providing the most modern feel to your interior. And these silver tones work goods with any kind of color.
Bright colors and stainless steel knobs are ideal to retro decors.
If you are looking for dull and matt finished door knobs, then all you need is to select chrome or nickel.
You can even experiment by combing awkward metals like zinc, chromium, aluminum with matching colored furniture. Or you can create a contrast by selecting the different colored handles and accessories.
Handles with different colors can stand out from the furniture and catch the attention of the user. It creates a sense of ease for your beloved ones.
Different companies are also offering different types of finishes; you can select the best suited finish for your handles.
Determining door stoppers or holders
Door stoppers are playing a vital role in preventing any damage to walls and furniture. Door stoppers are generally a traditional rubber spring that can be installed at the back side of your door, while the holders are having a different concept. Holders are used to holding the door and prevent it from closing automatically. Hooks and magnets are the vital elements that can be installed as the holders for your doors.
Determining the company
Accessorizing your home interior with handle hardware is a lifetime investment. For this, you must need to invest into quality products. There are many companies that are offering different types of handles, but those companies that are offering quality must be given priorities. Right from getting a recommendation from your friend to searching the internet, you can get out several ways to find out the best manufacturer or supplier for your interior door hardware.
One of the companies that are effective in supplying interior door hardware is Florida Lumber. By visiting the site you can find out more options to accessorizing your home interior. Right from plywood to paint, you can get an access to varied types of building materials that is essential for building your home. You can even find out impact glass doors that are helpful in preventing heavy winds from entering your home.