Exterior Impact Door Buying Guide at Florida Lumber
Posted:
November 04, 2020
|
|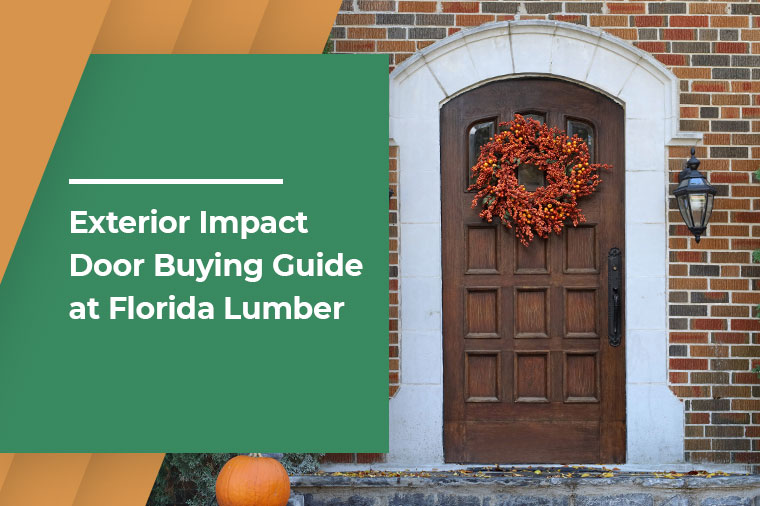 Nowadays, everyone wants to enhance the beauty of his or her home by adding every possible décor that will aid in doing so. This is why exterior doors are becoming popular day by day. Exterior doors are the first things that guests generally look at before stepping into your house.
To enhance the overall beauty of your house, you need to have an eye-soothing exterior impact door that will perfectly go with the personality of your home. These doors are well secured and strong to protect you from the worst weather. If you want to know about exterior doors in detail, then go ahead and read this blog.
What Types of Exterior Doors are Available?
Fiberglass
One of the most popular types of exterior doors is the fiberglass door. The reason for the popularity is due to easy maintenance, and hard to get rust, cracks, warp, or rot. In fact, they are quite strong and last long. These doors are highly energy efficient as they contain polyurethane foam core. This core is free of CFC (Chlorofluorocarbon) and HCFC (hydrochlorofluorocarbon). Hence, they are eco-friendly and offer high insulating value.
It is quite surprising to hear that these eco-friendly doors are available in various texture as well as finishes. So, with fiberglass exterior doors, having a customized look that is perfectly suitable for your house decor.
Benefits of Fiberglass Doors
Easy maintenance and durable

Can be painted or stained

Contains foam core insulation
Metal
Are you looking for an energy-efficient exterior door? Then, you must opt for a metal door like a steel door. They are quite energy-sufficient and have the highest insulation value. These types of doors are highly resistant to warping, shrinking, and swelling. They are not only strong and durable but also require low maintenance. As they are composed of steel, they can easy any harsh climatic weather. In fact, the lockset and doorknob remain attached to the steel doors to make the installation procedure easier for you.
Benefits of Metal Doors
Comparatively stronger than wood as well as fiberglass door

Comes in prefinished in faux-wood choices or solid textures. Even the painting option is also available

Resistance to warping, swelling, and shrinking

Have high longevity and maintenance is easy
Additional Read: Tips for Choosing the Right Exterior Door
Which Types of Hurricane Impact Doors You Need?
Wood Impact
Wood impact exterior doors will be of the best choice if you desire to increase the curb appeal of your home. With a bit of maintenance, a wood impact door can last for a longer period of time. Let's have a look at the benefits of wood impact doors.
Benefits of Wood Impact Doors
Get a customizable option: The easiest materials to cut it in any way to make the entry door. It can be painted to any of the chosen colors to match the exact decor of your house.

Highly durable: Woods can last for decades and have the potential to withstand the worst climatic condition.

Eye-soothing look: They increase the beauty of your house by adding their beautiful appearance.
Glass Impact
Nowadays, glass impact exterior doors are widely used by homeowners. Here are the benefits of using it.
Benefits of Glass Impact Doors
Prevents The House From Structural Damage: The impact glass protects the house from any structural damage. The thin layer of polyvinyl butaryl also maintains the same existing structure of the windows and doors.

Give Protection: This glass impact exterior door not only protects the residents from the harsh climatic weather but also prevents unwanted trespassers to enter your house.

Provides UV Protection: They act as a barrier between you and the harmful rays of the sun. Thus, keep you and family members safe from the damaging effects of the sun.
Additional Read: Hurricane Impact Doors Cost and Key Factors
Which Types of Door Hardware You want to Install?
Hinges
If you are thinking of renovating your old backdated house then you shouldn't neglect the processing of your door, especially the exterior doors. Exterior doors form the first interaction point of any visitor. So, you need to add top-notch and durable quality door fittings to make sure it lasts long.
Hinges are the mechanical bearing devices that connect two parts and make them rotate about a fixed axis. Nowadays, hinges are available in various texture and devices to suit your house decor.
Types of Hinges Finishing
Polished Brass

Unlacquered Brass

Brushed Brass

Antique Brass

Oil-rubbed Bronze

Polished Nickel

Paint Black

Polished Chrome

Brushed Chrome

PVD Polished Brass
Additional Read: Door Hinges – Types, Applications and Buying Guide
Conclusion
To sum all this up, whether you are considering taking a new house or planning to invest in a renovation project, exteriors doors are the key element to every house. So, it should be perfect in every possible way.
We have with this above-mentioned information; it will be easy for you to choose your appropriate exterior door that matches the decoration and style of your house. Contact us or call us on (305) 635-6412 for more information.