5 Custom Door Options to Choose for Your Home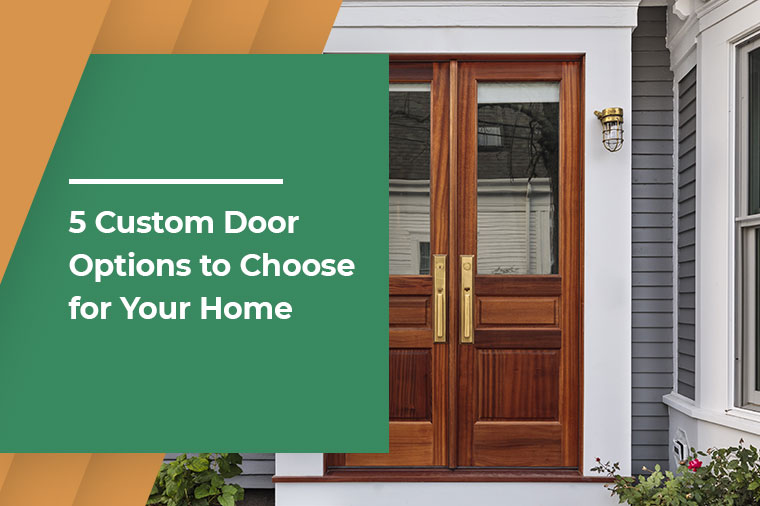 Do you know that the first impression matters? - Yes we all know this fact. But what can you do when it comes to increasing the aesthetic value of your home, or creating the best first impression? You can do lots of things such as paint the home, install stunning interior & exterior designs, and so on.
But if you are in search of a cost-effective and a time-effective way, we will suggest you go for custom doors. A door is the first thing that a person will notice while entering your home or office. You can create a great impression of your home even before the person enters your premises and has a conversation with you.
Read the benefits of custom doors.
Following are 5 custom door options to choose
Option 1: Wood Custom Doors
If you are planning to install custom doors, you can go for wood custom doors. These doors can be made from various wood species. Based on your budget and style preferences, you can pick the best style for you.
But we can say that regardless of the wood type, your custom doors will be strong as well as easy to use. Along with this, you should also remember that each custom door type would have its own pros and cons. That is why before picking one, you should do thorough research.
Alder Custom Doors- Alder Custom Doors are popular options among a lot of people. Mainly there are two reasons behind this much popularity. One reason is, it is really a cost-effective option and you can decorate your home within your budget. And the second reason is that it offers a stunning finish or look. You cannot easily differentiate its aesthetic look from an expensive wooden custom door.
But this option is soft and not so durable as it is dented. So, it will be better for you if you pick this option for inner custom doors. You should not pick this one for exterior doors.
Mahogany Custom Doors- If you are looking for a door option with amazing durability, the mahogany custom door will be the best choice. According to wood experts, this option is very strong and comes with no visual defects. And another pleasing fact is that its natural color is reddish-brown and gets darker with the time. Here you will face only one downside and that is its expensive price range.

Cherry Custom Doors- a cherry door is a favorite option of a lot of people when it comes to installing custom doors. It looks stunning with mirrors and glassworks. It is harder than alder and less pricey than mahogany.

Black Walnut Custom Doors- Black Walnut wood comes with a rich aesthetic. According to the experts, it is able to offer the best look among all the discussed woods. It can fade if it gets exposed directly under the sun. It is also durable as well as pricier than the alder custom doors. If you do not want mahogany custom doors for the budget but want something moderately durable, this one will be the best choice for you.
Read steps to design custom doors.
Option 2: Stylist Custom Doors
We can say when it is a custom door, it will automatically look better than a ready to use option available in the market. With a custom door you will get endless design options and you can customize it properly to match the doors with your home style.
So, when you are going to install custom doors, you should do proper research on the styles and designs. While selecting the style and design, you should consider the width and height of the entrance. These options are highly customizable and that's why getting the perfect style will not be a headache.
Option 3: Glass Custom Doors
Since the royal time, glass has been used in the front doors. It not only enhances the door look but also improves the overall look of the house. When it comes to glass custom doors, you can set the proportion, spacing, and location according to your own choice.
This is also a budget-friendly option and lasts for a longer span of time with care. Yet it will be better if you choose a glass custom door for an inner location of your home or office. Or else you can install another door prior to it for adding protection.
Option 4: Distress Custom Doors
Just by installing distress custom doors, you can instantly boost the overall appeal of your home or office. Nowadays, we can see the rise in the use of distressed custom doors in all the places. With this door option, you can easily hide the normal wear and tear signs over the years and save some bucks.
Option 5: Stain Custom Doors
There are a lot of stain options available in the market and they are able to custom your door looks. Generally, we see such doors where owners want to add some antique feelings. Here you will be able to see the grain through the stain.
As an expert professional lumber supply company, we will suggest choosing custom doors with transparent or semi-transparent wood stains. If you prefer to conceal the grain, you can apply a thicker opaque stain as it offers better coverage.
Conclusion
These are the top five custom door choices that you can actually use this year. It will be always better if you take the help of expert professionals before choosing as well as installing the custom doors. Before buying or enabling any option, you can do more market research.
Which type of custom doors are you going to design? Share with us in the comments.